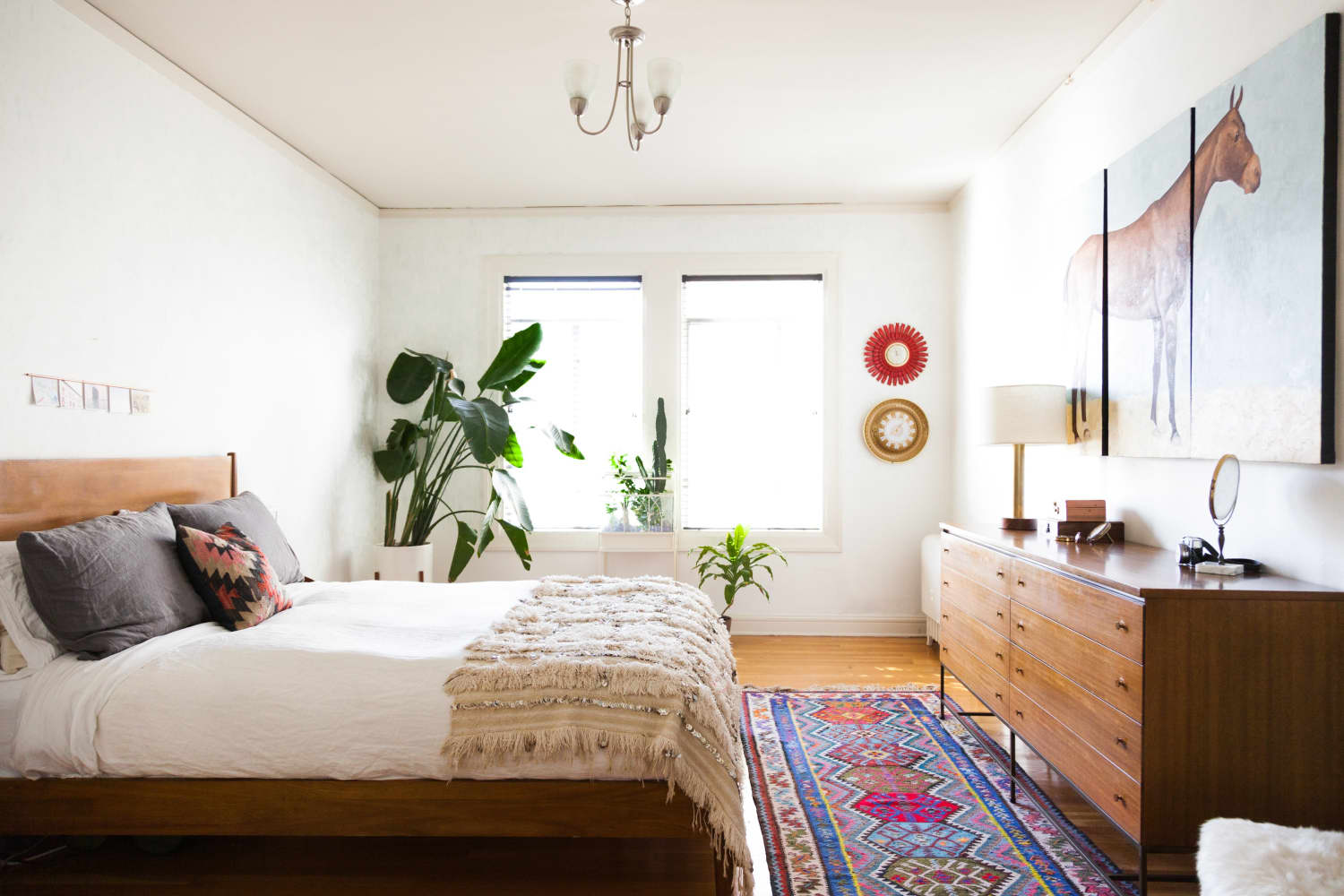 We independently select these products—if you buy from one of our links, we may earn a commission.
I'm always searching high and low for bedroom inspiration in particular, so when a decor expert has a tip or hot take on an interesting way to decorate a sleep space, I'm always down to listen. Case in point: Joanna Mahserdijan, an antique rug expert and founder of Upstate Rug Supply in Hudson, New York, recently said something that struck a chord with me. According to her, runner rugs work extremely well in bedrooms!
"A common theory has been that runners are for hallways, but they're much more versatile," says Mahserdijan. "People are using them in kitchens and foyers, but the length of a runner creates a creative opportunity to anchor them at the foot of a bed." I've seen beds placed on rectangular rugs, either horizontally- or vertically-oriented. Some people choose to float a rug or faux sheepskin on one or both sides of the bed. A runner, though? I can't say I've seen a lot of that — but when I thought about it, I realized that runners are a smart bedroom idea in terms of their cost, size, and decorating second-life potential (which I always try to keep in mind as I acquire pieces for my likely not forever home).
"It's a budget option if you are not ready to invest in a room-size rug," says Mahserdijan, who notes that smaller sizes are perfect for bedside applications while larger designs can make a statement near the end of the bed. "Runners will provide the texture, pattern, and a color palette to ground the room, and down the road, it's a size that you can move around your house if you want to change things up."
If you're looking to go the antique route, you're in luck. According to Mahserdijan, runners actually come in wider sizes than the two-foot-wide pieces you're used to seeing. These slightly larger styles are perfect for bedrooms and often can be priced competitively, since market demand for said sizes isn't super high (after all, most hallways are fairly narrow).
In terms of runner placement, Mahserdijan loves a one that's four feet or wider anchoring the foot of a bed (similar to what you see in the image from Upstate Rugs just above), going just beyond the width of the bed frame where possible. "Alternatively, a couple of six to eight feet long runners look great along the bedside — do some pattern play with complimenting rugs," she says. Runners are also a great solution for smaller or narrower bedrooms, where larger rugs can look a little too big.
No matter what kind of rug you choose for your bedroom, Mahserdijan suggests keeping these general rug buying tips in mind. First, if you like the look of distressed rugs — older pieces with natural patina that can be somewhat fragile — a bedroom might be the best place to try one out, since it tends to have lower foot traffic than other areas in the home. You should also pay attention to the height of the wool pile, which affects how cushy a rug feels underfoot. That's nice in a space like a bedroom, where you'll likely be barefoot more often than not. "You can find antique rugs with a thick, soft wool pile or almost paper-thin," says Mahserdijan.
Ultimately, rug selection comes down to personal preference; thinner styles can be easier to vacuum, but they certainly aren't as cozy as plusher designs. That said, if you ultimately choose something thinner, adding a rug pad will help beef it up a bit, and rug pads are important for preserving shape and helping to minimize shifting. So whether you go with a runner in your bedroom or not, remember to always add a rug pad!