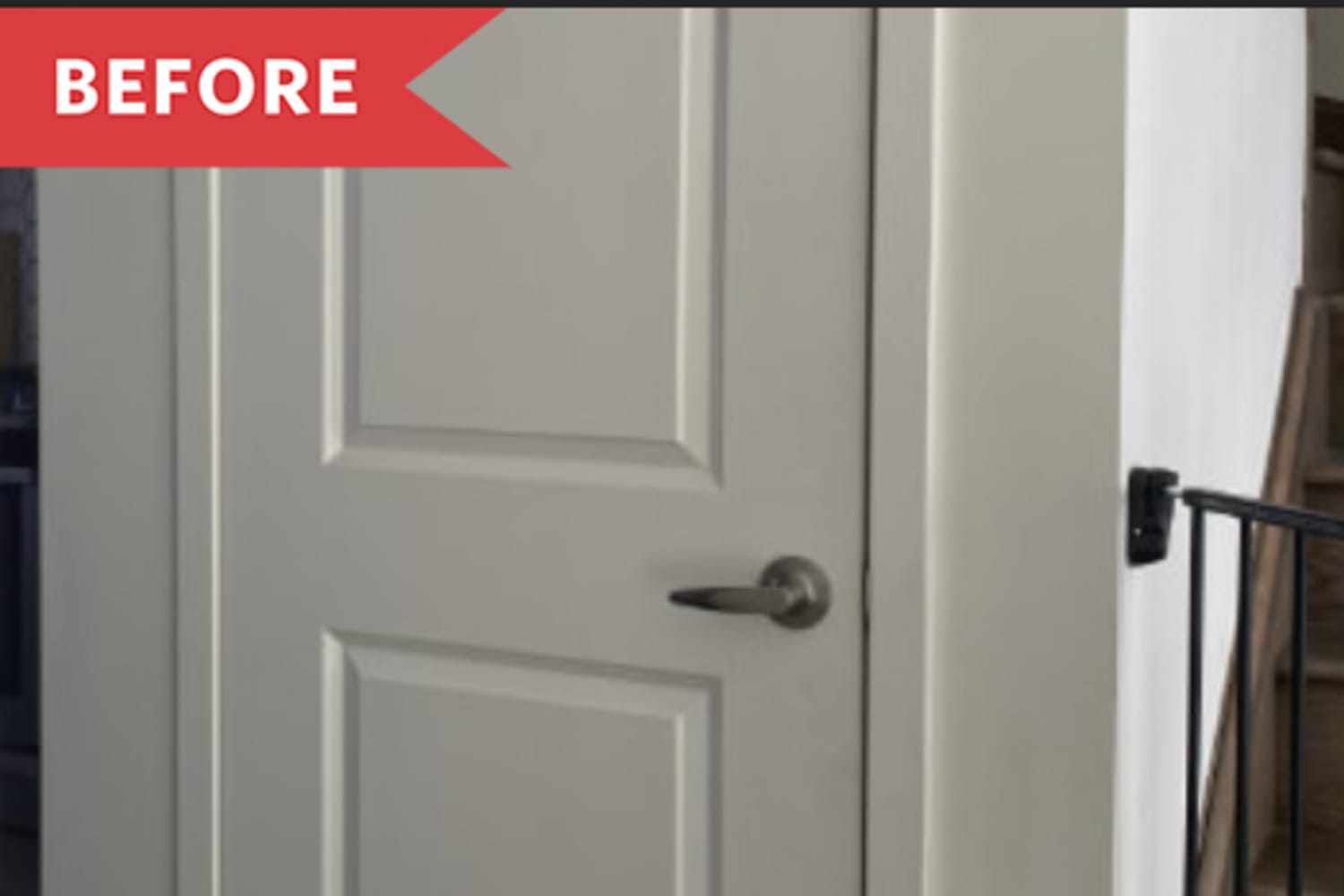 When kitchens are being renovated and re-decorated, most of the attention goes to cabinets, floors, countertops, and backsplashes. But that doesn't mean that some of the quieter parts of a kitchen — like, say, pantry doors — can't have a moment to shine.
DIYer Hana Sethi's pantry door started as a plain white two-panel door — fine, but basic. But because of its placement, every single person who comes to Hana's home can see straight to this door from the entryway. Hana sees plenty of it, too, which gave her an idea. "I walk by it about 1,000 times a day and I felt like it would be a great place for a focal door," she says.
While Hana wanted this door to be a statement, she says, she didn't want it to overpower everything around it. "I didn't want it to be too over the top, so I picked a simple design," she says.
Hana is no stranger to redoing doors (you can see her previous redo here), so she knew she could work with more than just paint. So she bought an MDF panel and got to work.
Hana started by removing the old door lever, then cut her large panel of MDF down to smaller rectangles so she could make a herringbone design on the door. She secured them in place using a brad nailer.
Once Hana finished mounting the MDF pieces, she painted the door with a matte black paint (Sherwin-Williams's Tricorn Black) that she already had on hand. Hana found painting in between the MDF panels was tricky: "I had to bust out my paint sprayer," she says. "In retrospect, I should have painted the door before I attached the panels to it."
Once the paint was dry, Hana added a long brass pull she got from Amazon for $20 — a much sleeker option than the old lever, and certainly worthy of the dramatic new door.
In the end, this project was done in four hours for under $40. Using leftover cut down the costs of this already affordable project even more. "You really only need a little bit of paint for the door," Hana says, so you can easily dip into paints you already have or buy an affordable can of sample paint.
Now, the door's no longer a, ahem, bore. "It adds a punch of color and interest to this otherwise bland space," Hana says. "I'm proud that I thought outside of the box."