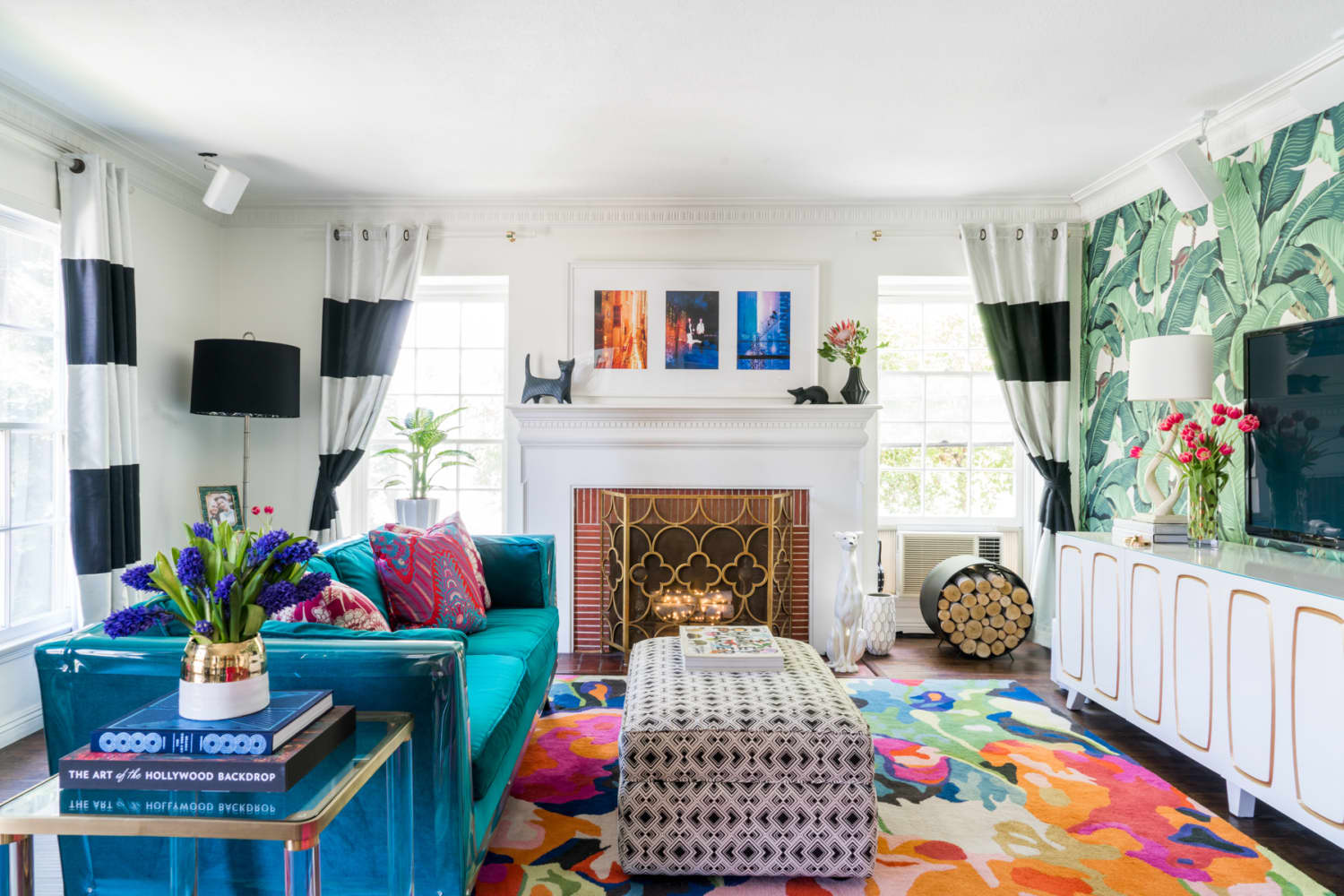 We independently select these products—if you buy from one of our links, we may earn a commission.
Some say boredom sparks creativity, and they're not wrong. Spending the majority of the past year-and-a-half at home caused some to take to social media platforms like Instagram and TikTok, looking for inspiration that they weren't getting through travel or being out in the world. Interestingly enough, that use of technology sent people back in time: baking bread, knitting scarves, puzzle assembling, and partaking in other low-fi activities. When it comes to home design, however, one old-school trend emerged on TikTok that's still going strong: rug making.
Once thought to be an unapproachable art form, creative young people are reinventing the niche art of rug making in a fun, totally new way, crafting rugs of all sizes and shapes. Thanks to this new batch of TikTok artisans, you can find custom rug creations of your favorite anime characters, tiny blue and pink strawberries, cow print stunners, and rugs that look like amorphous melting puddles of color.
Regardless of your personal style, you can find a unique accent rug to suit your space on TikTok. If you're looking to shop, I've found that of the best hashtags on the platform to scour are #rugtiktok, which has close to 475 million views, as well as #rugtok, #tufting, and #rugmaking. To get you started on your search, I've flagged a handful of vendors that caught my attention, particularly if you're hoping to add a funky, colorful touch underfoot in your living room, bedroom, kitchen, or even bathroom. No worries if you didn't get around to trying your hand at rug making; let these craftspeople do the tufting for you!
Rug artisan Madeline Ronzoni of Happy Rugs from Los Angeles is only 22, but she's amassed an impressive TikTok following of nearly half a million people, who are drawn to her page by her quirky, colorful creations. From large scale flower rugs to smaller sneakers, red lips, rainbows, and squiggles, Ronzoni regularly plays around with the idea of what rugs are supposed to be —even turning them into purses, tube tops, pillows, and drink coasters.
Based in New York and founded in November 2020 by two friends, Jacob Winter and Franki Peroff, Mush Studios aims to make "imaginary, childhood-reminiscent spaces a reality" via their tufted creations. They've already amassed over 100k TikTok followers, where they post progress videos of their abstract rugs that have an ASMR vibe. Reminiscent of psychedelic splats of colors, Mush Studios rugs are released in "drops" on their website, and they also accept custom requests.
Anime fans and collectors of hype art will obsess over the creations of Fire Rugs, which has racked up nearly 700k followers on TikTok. There, they use their quickly-growing fan base to show off realistic rug creations of rappers like Juice Wrld, Naruto characters, Pokemon, and interpretations of works by Japanese artist Takashi Murakami (as shown above). Their rugs are so artful, many choose to use them as wall hangings as well.
Los Angeles-based designer AJ of Magic Carpets makes rugs that lie "at the intersection of my queer identity and spirituality," according to the Magic Carpet website. Besides making and selling their own designs, they also have a section on their website that can help you learn how to tuft at home if you're interested. Magic Carpet's most iconic design so far might be their Queer Queen of Hearts rug, tufted to look like a playing card.
Nashville-based Chrissy Crater over at Crater Rugs makes some of the funkiest floor coverings in the TikTok game. Her pieces are certainly colorful but also display a masterful black-toned shading that adds a nice depth to each piece. Mushrooms, psychedelic moths, hyper-realistic animal crackers, and cowboy boot wall hangings are just a couple of her typical creations. She drops new batches of rugs available for purchase at the end of every month on her website.