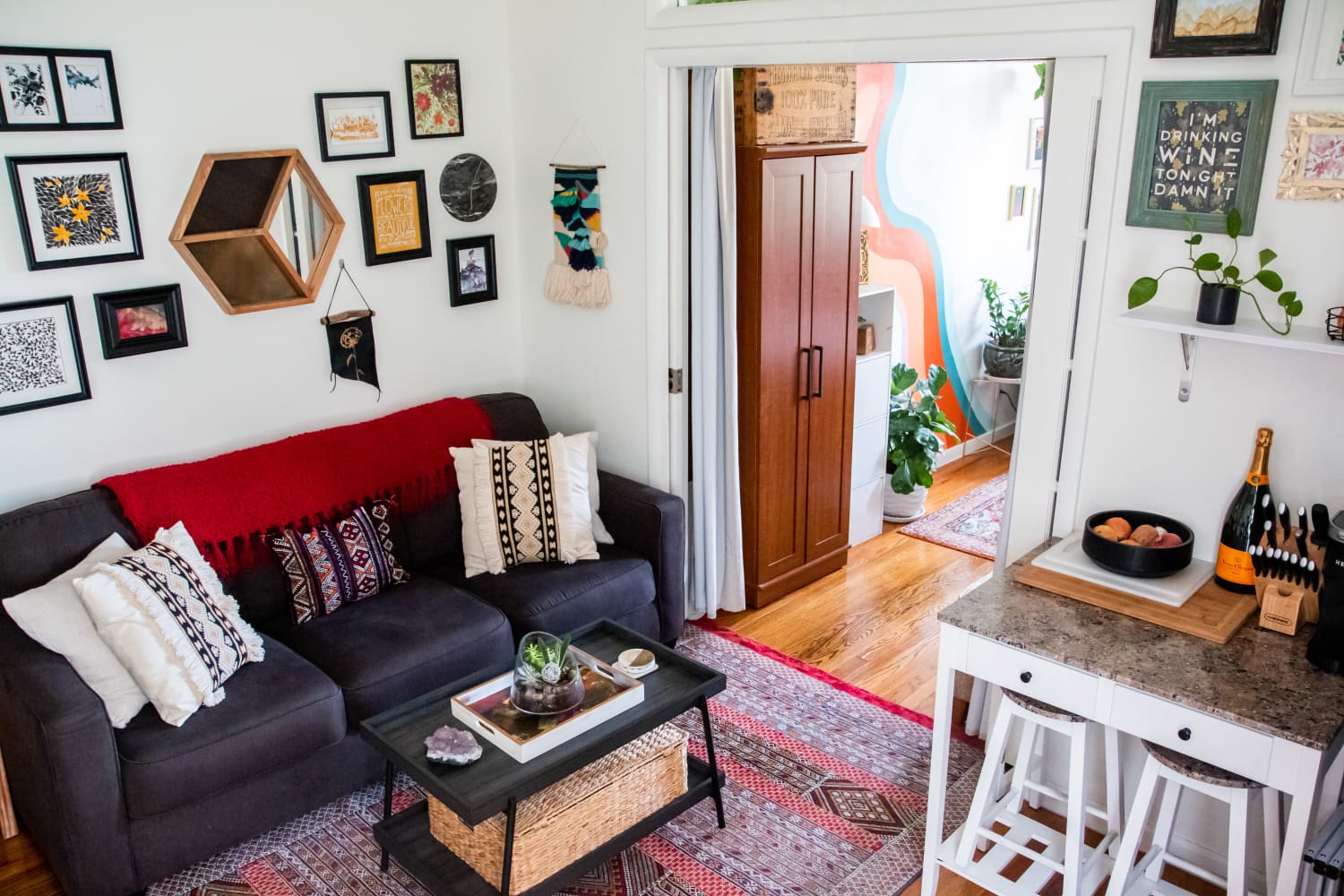 We independently select these products—if you buy from one of our links, we may earn a commission.
Name: Maggie Antalek and one roommate
Location: Lower East Side — New York, NY
Type of home: Apartment
Size: 600 square feet
Years lived in: 1 year, renting
Tell us a little (or a lot) about your home and the people who live there: My name is Maggie, and I'm a creative director for an events company based in Greenwich Village. I am also an artist focusing mainly on watercolors! I moved from Astoria to the Lower East Side last year and have spent a lot of time making this spot feel like home with items I have collected from overseas trips, art I have made or purchased, and items I have thrifted or bought cheap to redo/DIY at home to make them work with my aesthetic.
I would say I have made my apartment look and feel like a fantastic home without the huge price tag. With a little work and creativity, anyone can do it! It's a small space, but I have optimized every area for storage and adding shelving. I also have TONS of plants for aesthetic purposes, but also for air quality while we are now working from home.
What is your favorite room and why? My bedroom, for sure! My windows get the most amazing sunlight all day, and especially in the evenings. I am on the fifth floor with no tall building directly across the street so it's bright and sunny in my room. I created a cozy nook with a reading chair near the window, a gallery wall of artwork that's special to me, DIY pillowcases on my bed, and most importantly, I painted a mural on my large, plain white wall. [Since this house call's publication, it looks like Maggie paints murals for others, too!]
Describe your home's style in 5 words or less: Eclectic, bohemian, worldly, cozy, colorful
What's the last thing you bought (or found!) for your home? I found an awesome storage ottoman to hold purses below my coat hangers! The perfect spot to perch to put on shoes before heading out the door.
Any advice for creating a home you love? STORAGE SPACE, COLLECTABLES, AND PLANTS! It's so important to have ample storage so everything has a place and nothing becomes "clutter." Collecting items like artwork, pillows, or rugs can add a sentimental value to your home and remind you of your experiences while enriching your space. Plants add color to your home even if you stick to neutrals, bring life into your space, and create an environment that is nurturing.
This submission's responses were edited for length and clarity.