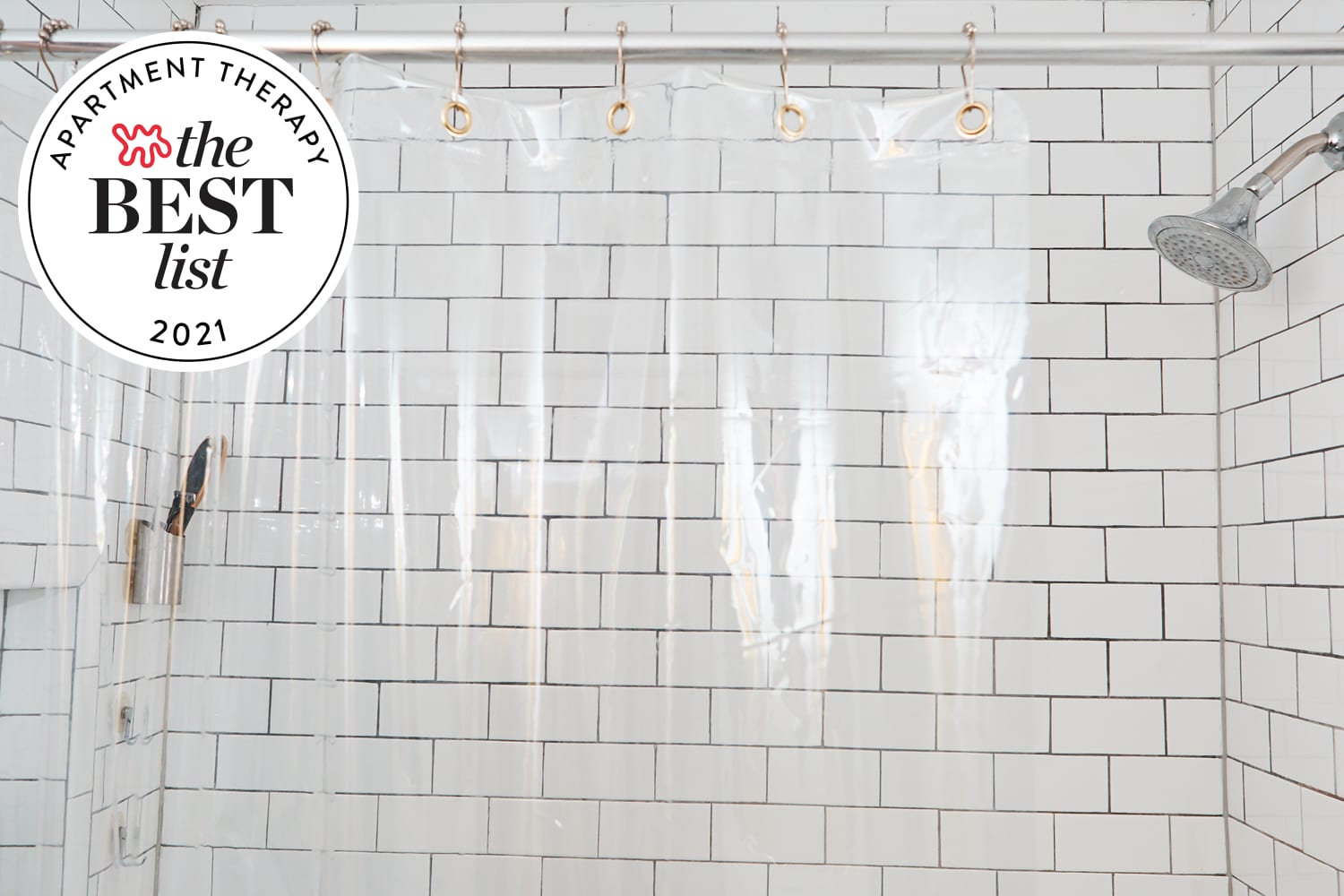 We independently select these products—if you buy from one of our links, we may earn a commission.
I'm going to take a wild guess and say that choosing a shower curtain liner isn't a decision that's ever kept you up at night, right? For most of us, buying a shower liner is a pretty thoughtless process. Personally, so long as it keeps the shower water from seeping out and making a puddle onto my bathroom floors, I tend to not be too particular about the brand, make, or style of the liner. But after testing out shower liners here at AT, it turns out there are a few that really stood out from the pack. We looked for ones that were sturdy, had features (whether weighted material or built-in magnets) that prevented shower leaks, and that didn't leave us with a damp, moldy smell after prolonged use. Since it's generally recommended that shower curtain liners be changed out every 4-6 months, we made it a point to test these liners within that length of time to inspect how resistant they were to mold and mildew. Here were our favorites:
The Best Shower Curtain Liners
The primary purpose of a shower curtain liner is to keep water from the shower contained in the tub and off your bathroom floor. But shower liners have evolved, and now come in a variety of styles, colors, and even have storage options (who knew?). Shopping for the best shower liner tends to be straightforward for most of us, but getting a quality one that will get the job done requires a bit of research.
Most liners are made from inexpensive yet durable plastics that are designed to repel water. They're easy to maintain by wiping them down with your favorite household cleaner and a sponge or cloth. Some can even be thrown in the wash for a more thorough clean. You can and should replace them once they've developed too much buildup or begin to smell damp. Since not all showers are created equally, you'll want to measure the width and height of your shower so you don't end up with a liner that's too short (thus, ineffective) or that will crowd you with excess fabric.
The Best Shower Curtain Liners
Sitting at the top of our Best List is the Glacier Bay PEVA shower curtain liner, an item that wins for its effortless texture and impressive mold resistance. I typically never go for a white shower curtain because of how easily it highlights stains and buildup (and nothing grosses me out more than a dirty, mildewy shower curtain). However, I can say that this was not the case with the Glacier Bay curtain. It had just the right amount of thickness that I needed without feeling like a stiff sheet of plastic. It kept clean even on the weeks that I skipped giving it a thorough wipe down. I kept it on for about four months before replacing it with a new shower curtain, and I noticed no mold/mildew buildup within that time. The metal grommets that reinforced the liner head kept the curtain from tearing away from the shower hooks (a common occurrence that happens when I'm clumsily stepping into the shower). I'm sure it could've lasted months longer than I used it, but I was missing my usual clear plastic liner. Some things never change!
Who It's Best For: Those who want to use a shower liner in combination with a fabric shower curtain or by itself as a solid-color shower curtain.
Good to Know: This curtain is easy to clean with a quick wipe down or sponge.
Clocking in at just $3, the Room Essentials PEVA shower curtain liner packs a serious punch. It's one of the most inexpensive PEVA liners you can find, and it's also one of the most effective. The liner is soft and flexible, and the liner head comes with a reinforced buttonhole top that allows for the curtain rings to easily slip through. The three magnets at the bottom keep the liner in place and flat against tub walls, ensuring water won't seep onto your floor. Perfect for any bathroom, this white shower liner easily fits in with any decor… but you can also get it in clear. Our entertainment editor, Nicoletta, was impressed with its durability. "It's been about five months that I've had this liner, and I would say within the last month I've been noticing a small amount of mold/residue. However, up to that point I was impressed with its resilience of staying clean," she says. "This got the job done at a dirt cheap cost. Would definitely get this one again."
Who It's Best For: Those shopping on a budget or who like to switch out their shower liners often.
Good to Know: This liner is on the lightweight side, so if you're looking for something more heavy duty, it may not be the right one for you.
We know and love The Company Store for their plush, hotel-quality comforters and sheets. And we love them just as much for their soft and breezy fabric shower liner, which is as luxurious as shower liners get. An excellent companion to any shower curtain, this synthetic liner is water repellent, mildew resistant, and machine washable. Since you can pop it in the wash every couple of weeks, you'll never deal with unsightly mold and mildew growth (hallelujah!), and it'll last for as long as you take care of it. Its weighted hem also does an excellent job of keeping the liner in place. We asked editor Sholeen to try it out, and she was wowed. "I previously had a plastic shower curtain liner, so The Company Store's fabric curtain liner seems like a luxe upgrade," she says. "I paired it with a brand-new shower curtain from West Elm, and my shower situation has gone from 'ho-hum' to 'I think I'll stay in the shower for a little bit longer.'" Sholeen also notes that the curtain liner itself didn't leave a damp smell, and so far, she hasn't noticed any mildew or discoloration.
Who It's Best For: Those looking for a luxe upgrade from their usual plastic shower liner.
If you're on the fence about switching to a fabric liner, the NUITA standard washable shower liner is the perfect starter. Its clean white synthetic fabric repels water like no one's business, and the heavy-duty magnet string on the bottom of the hem keeps the curtain liner in place so you never have to worry about it shifting. We also love that this liner dries quickly, which should quell your fears about being left with a damp, smelly liner hanging out in your bathroom. Amazon customers were stunned that this $10 shower liner turned out to be hotel quality, and our commerce coordinator Emily, who just moved into a new apartment, was equally pleased. "I love the soft white look for the bathroom, so this liner's elegant, silky look was definitely the right aesthetic," she says. Emily, who loves high-temperature showers, noticed that this liner didn't trap a lot of steam and remained very lightweight. "My hair-dye stains and other things were able to wash off with a very light wash," she adds. "I definitely think it's a great budget option for a durable liner that can easily match with a variety of shower curtains."
Who It's Best For: Those looking to experiment with or transition to a fabric liner.
Good to Know: If white shower liners aren't really your jam, this curtain also comes in navy blue, gray, beige and black.
AT Tested (and loved!) so many shower liner options we found on Amazon, but the Amazon Basics heavyweight vinyl liner takes the cake. With almost 10,000 five-star reviews, this PVC shower curtain liner is most loved for its durable construction. "This shower curtain is one of the most well made I have ever come across," says AT commerce editor Amy. "The thickness and sturdiness of the material, the weight of it — it's all fantastic. You know that awful feeling when the shower curtain blows in and touches your skin mid-shower? Since this one is weighted, that's not an issue. It keeps water inside, where it should be, not on the bathroom floor." What's also great about this liner is that the rivets are double reinforced, so they don't tear through the shower hooks. The material is highly resistant to mildew and mold, so it's a safe bet that this liner will go the distance so long as its wiped down every once in a while.
Who It's Best For: Those who love a tried-and-true vinyl liner that won't get grimy after a couple of months.
Good to Know: This shower liner comes with complimentary white hooks, which is great for those outfitting a starter apartment.
Consider our minds blown! The Maytex quick dry mesh shower liner and organizer is not only fantastic at keeping water inside the tub, but it also has the added benefit of provided extra storage for your personal goodies. This clever liner features nine mesh storage pockets to hold bottles of shampoo, razors, loofas, or anything else you need to grab in a pinch. Each pocket has the capacity to hold up to one pound of product, and the metal grommets are sturdy enough to ensure that your shower rod and the hooks never cave under the pressure of the added weight. Our commerce editor Amy says this double-duty liner lived up to the hype. In fact, she's utterly obsessed. "If you're more of a minimalist who wants to get rid of as much extra bathroom clutter as possible, this is the perfect accessory," she says. "It eliminates the need for shelving in the bathtub corner, a caddy that hangs on the faucet, or a ledge or bench crowded with lotions and potions." Amy adds that her shower curtain rod hasn't budged a millimeter with all of her products inside.
Who It's Best For: Those who need extra storage space in their shower but may not have the room for a caddy or shelves.
Good to Know: This versatile liner can hang outside as a curtain or be positioned inside as a liner.
The Crate & Barrel white fabric liner with magnets is not only chic, clean looking, and machine washable, but it also does a fantastic job at staying put thanks to its six strategically placed magnets along the hem. We consider this one of the must-have liners for tubs and showers, as the white polyester material keeps bathroom floors dry and your shower curtains pristine. AT projects editor Megan made the switch to this fabric liner from her old plastic liner and says it performed way better in terms of staying put. "The fabric wasn't as billowy when showering (I feel like I constantly got the old liner stuck to me when i turned around) and also has six magnets in the bottom to help weigh it down," she says. Megan also notes that this liner resists soap buildup and dirt better than her previous liner, and also doesn't cling.
Who It's Best For: Those who want an extra-secure shower liner that won't billow or budge.
Good to Know: If you have a fiberglass tub, this liner won't magnetize but it will help weigh the curtain down.
We've already sang Brooklinen's praises for their cooling percale sheets, and this brand isn't letting their foot off the gas when it comes to top-notch products. We tried a couple of different shower curtain sets for this Best List, but Brooklinen's linen shower curtain set reigned supreme. It comes with a breezy linen shower curtain made of 100 percent linen and a PEVA liner that is waterproof, recyclable, and biodegradable. This set also comes with 12 sturdy metal hooks, so you don't need to make any additional purchases for your spa-quality shower to come to life. If you're looking for a shower curtain set that doesn't feel bulky and cumbersome, this is it. We asked associate commerce editor Britt to test out this set just so we could be sure it was as low maintenance as it seemed. "The lightweight linen curtain and vinyl liner aren't fussy to deal with, and I was glad to see they came with stainless steel S-hook attachments for the curtain rod rather than rings," she says. "Both the curtain and liner were extremely easy to clean. The curtain held up in the wash and the clear liner has shown no signs of mold, mildew, or wear and tear after months of use." While this set is only available in indigo blue and white, Brooklinen has been known to continuously add new color options to their beloved products. We're hoping that will be the case here.
Who It's Best For: Those who want a laid back yet quality shower curtain set that will stand the test of time.
Good to Know: Currently, the indigo colorway is sold out, but we anticipate that it will be back in stock soon.
Let's face it: Shower curtain liners weren't exactly made with maximalists in mind. If you're looking for a fun departure from your run-of-the-mill clear or white shower curtain liners, the Ianthe magnetized vinyl shower liner from Wayfair will add the perfect pop of color to your shower routine. This brand has 16 fun colors to choose from (think sunny yellow, sage green, and sky blue), and it stays clean for months on end. I tried this liner and can say that the weight of this curtain is the sweet spot. It's not stiff and hard to maneuver like some of the heavy-duty liners that didn't make this list, and it had great flexibility that made getting in and out of the shower hassle free.
Who it's Best For: Those who want a reliable shower curtain that's available in bright and vibrant colors
Good to Know: This pick is exclusive to Wayfair.