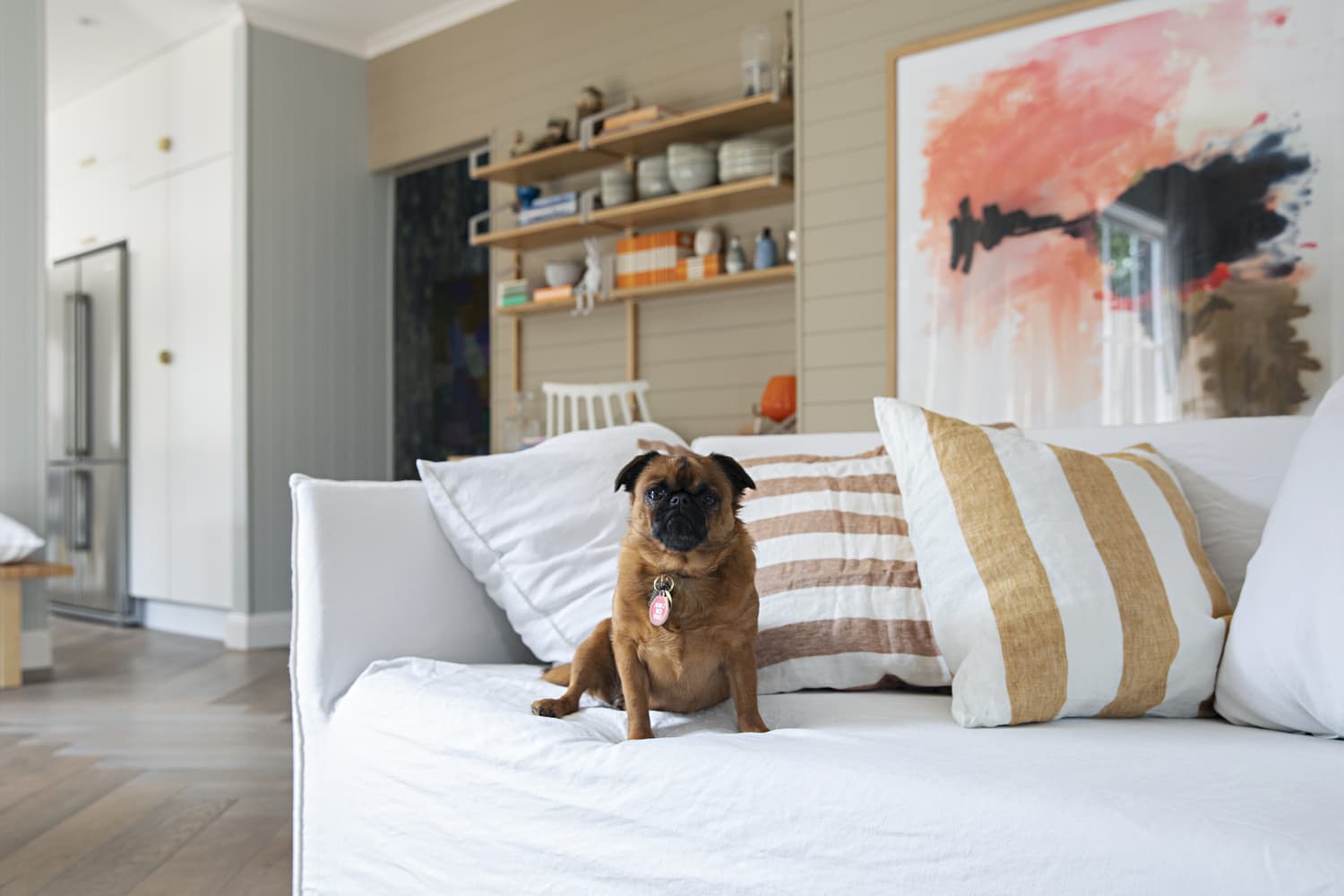 We independently select these products—if you buy from one of our links, we may earn a commission.
If you have a pet — particularly of the furry, four-legged variety — then you're well aware of how easy it is to swoon over your fur baby each and every day. From the way they sit, sleep, cuddle, follow you around, and just look adorable during every waking moment is one of the best parts about being a pet parent. One of the not-so-swoon-worthy downsides? All the fur floating around in your home and sticking to furniture, decor, and your clothing as a result. Of course, there's a simple solution: Brush your pet's hair more often so that it will shed purposefully, instead of haphazardly. But don't just reach for any brush. The Hertzko Self Cleaning Slicker Brush is the way to go — and it's currently on sale.
The Hertzko Self Cleaning Slicker Brush is an innovative pet tool (great for both dogs and cats) that gently removes loose undercoat and makes disposing of it easier than ever. Rather than having to painstakingly pull hair out of the bristles, simply press the button on the handle and the ultra-thin wire bristles will retract inside of the brush head so that you can dispense the hair in the most mess-free way possible. No wonder the brush has earned over 43,000 5-star reviews!
"I have always had a love-hate relationship with slicker brushes…Love because they're effective and comfortable, and HATE because they are the absolute biggest pain in the butt to clean, especially without damaging the thin bristles, or bending them in such a way that they poke the animal uncomfortably," a veterinarian began their review. "This brush, [however,] is AMAZING—just press the button, pull the pad of hair off, and it doesn't fill up until after nearly a full session of brushing."
But shoppers love this brush for more than just its easy cleaning. "I have had multiple dog brushes with these types of wires before," one reviewer wrote. "The best part about this brush is that the wires actually go back inside the brush when you're not using it. It makes it easy to clean so you're not bending in the wires while you're trying to get the hair out and it also makes it so the wires don't get bent when they're just in your basket or your drawer or wherever you keep your dog's brushes."
As convenient as it is to clean and store, it's even more beloved for how effective it is at removing clumps and clumps of hair. "My cat has short hair, but a thick undercoat," another reviewer shared. "I have tried other types of brushes and they don't get much hair at all. Now, I KNOW this cat sheds cause when I go to pet him, it's like a puff of hair in the air. I was on Amazon and found this one and thought I'd give it a try and I am SO glad I did! I brush him two to three times a day and I always find a good amount on the brush. I didn't think I would care that it was self cleaning, but it is seriously the best feature about this brush. So easy! He loves how it feels and I love how it works."
Best of all, now through August 10, Apartment Therapy readers can earn 20 percent off this brush with an exclusive discount code. Simply enter code 20PETTHERAPY at checkout to change the way you view grooming and shedding once and for all.