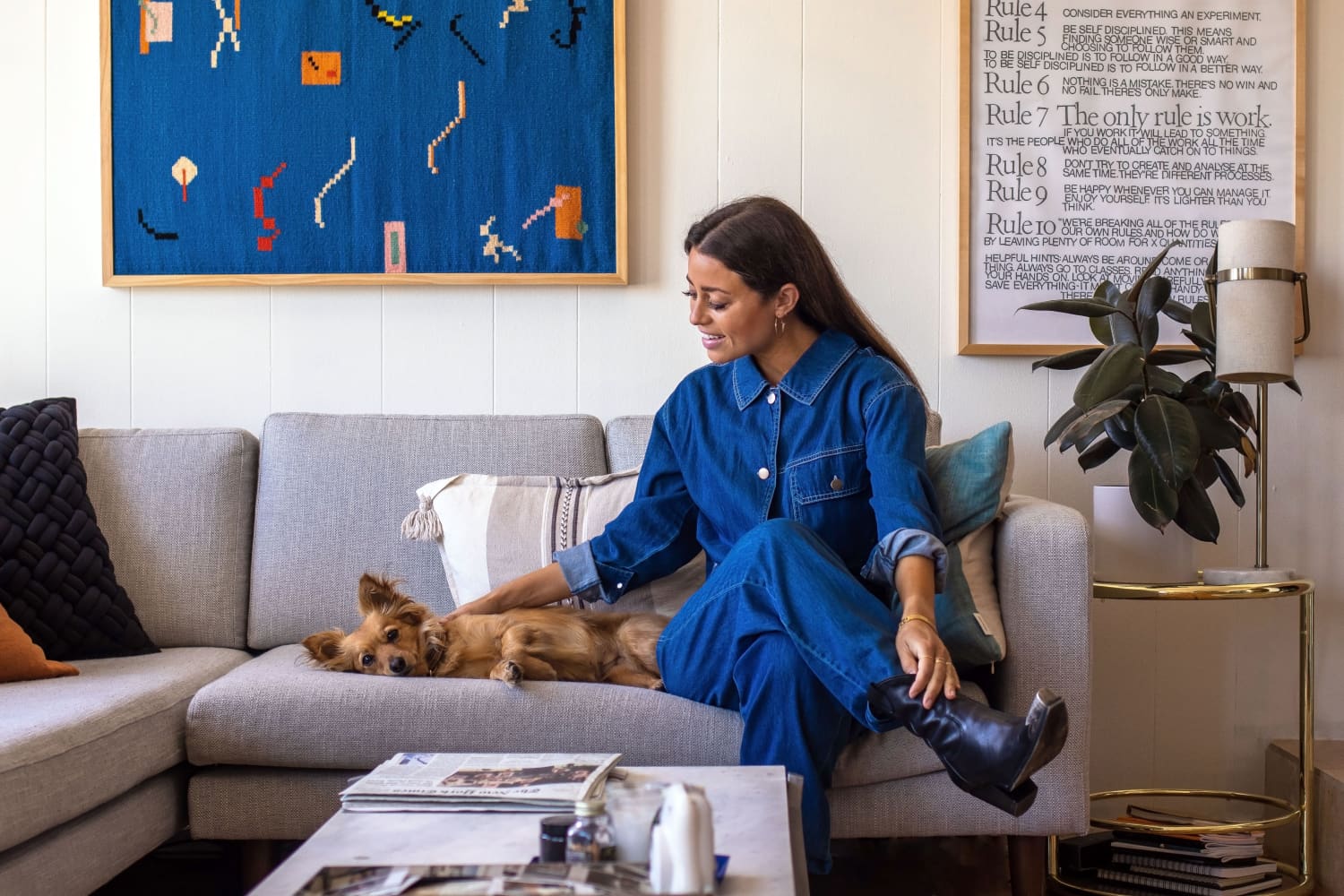 We independently select these products—if you buy from one of our links, we may earn a commission.
Name: Maya Goldfine and dog, Stevie
Location: Sausalito, California
Type of Home: Apartment
Time lived in: 10 months, renting
I had previously lived in San Francisco for eight-plus years and I outgrew both my time and the physical spaces I had lived in there. I'm a self-proclaimed nature nerd and it made sense for me to live where I was already spending the majority of my time. So, I moved north across the Golden Gate bridge to be even closer to nature. I was drawn to this apartment for its location, views, and privacy. It's tucked away on a quiet street and yet it's only steps away from both restaurants/bars and beaches/trailheads. I half jokingly think that my mood is directly related to the quality of my surroundings and my proximity to nature; the closer I get to a salty sea breeze or an open trail, the more relaxed I feel. This apartment checked those boxes.
Since this apartment was a decent upgrade, square footage-wise, compared to the tiny studios I had been living in, I challenged myself to live in the space for a few weeks to really understand how I'd utilize it before acquiring new furniture. That strategy paid off and I'm glad I settled on the layout I have now with the pieces I have. It felt nice to not rush into a layout I might have regretted.
For the past few years, from both an interiors and apparel perspective, I gravitated towards a minimal and neutral aesthetic, but when I moved into this apartment I decided to breathe more life into my home by embracing the mixture of textures, color, and styles, which was primarily inspired by a trip to Mexico City. It feels much more fun and personal to play with those design elements.
Apartment Therapy Survey:
My Style: Mid-century meets Mexican and Spanish inspo
Inspiration: My heritage: I am half Mexican and I wanted to draw inspiration from my roots. I love the natural materials, rich-hued colors, and textures found in Mexican design, but I wanted to tone down the vibrant colors with more neutrals and mix in some modern and mid-century modern design pieces.
My friends: I love to entertain friends and therefore, they were a source of inspiration as well. Creating an inviting living and dining space was important to me. Whether they come over for a fika break or come over for cocktails, I love that I have more space to host and that I've created a welcoming environment for them.
Favorite Element: My bedroom wall. I had been studying Georgia O' Keeffe's work and became obsessed with her home at Ghost Ranch. I then saw Backdrop's paint color "Ghost Ranch" and knew that warm, earthy terracotta was a must-have for me. That bedroom wall is so rich and grounding.
Biggest Challenge: The main room in the apartment has a funky layout that is long and narrow, which made combining the three different uses of living, dining, and office spaces into one space challenging. Rather than trying to section off each space to make it feel more divided, I embraced the open flow.
Proudest DIY: Translating the inspiration I took from the Diego Rivera and Frida Kahlo House Studio Museum into my space was fun. My favorite color has always been royal blue and I am deeply fond of earth tones such as terracotta. The unexpected pairing makes me happy.
Biggest Indulgence: My Kardiel sofa and Floyd shelving unit were the two big investment pieces that I purchased new. Everything else was secondhand. I love the functionality and aesthetic of both items. I think they were well worth the investment, especially the shelving unit because it fit the current space perfectly, but can easily adapt to a new one.
What are your favorite products you have bought for your home and why? I think my bargaining skills and love for buying secondhand set me up for success when it came to furnishing my space. I am an eBay, Craigslist, Etsy, Chairish hound in a never-ending search for new pieces and completely in love with the hunt. I believe that creative spaces are not meant to be static and should be changed; to do so sustainably requires utilizing a circular economy, aka buy used as much as possible! It requires patience, but it pays off in both the money saved and slowing down the production of new goods. The vintage Moroccan rug and marble side table were found on Craigslist and the Vitra chairs in the dining room were secondhand finds on Chairish. I love all the texture of each of the pieces, especially combined in the same room.
I also love the commissioned art above the sofa that I enlisted a talented friend to make for me to bring the space together. I have a lot of talented friends and to have their work in my space makes me happy.
Please describe any helpful, inspiring, brilliant, or just plain useful small space maximizing and/or organizing tips you have: If you're tight on space, ask yourself if you really need something before buying something. I think to maximize organization, one should have fewer, but better and more useful things.
What's your absolute best home secret or decorating advice? Build a home that inspires connection. That could mean connection to yourself and what you love and it could also mean connection to others, if that is important to you. Figure out what is important to you. What I value might not be what you value and that should be celebrated. Homes should be a reminder of just how human and individualistic we all are.
This house tour's responses were edited for length and clarity.