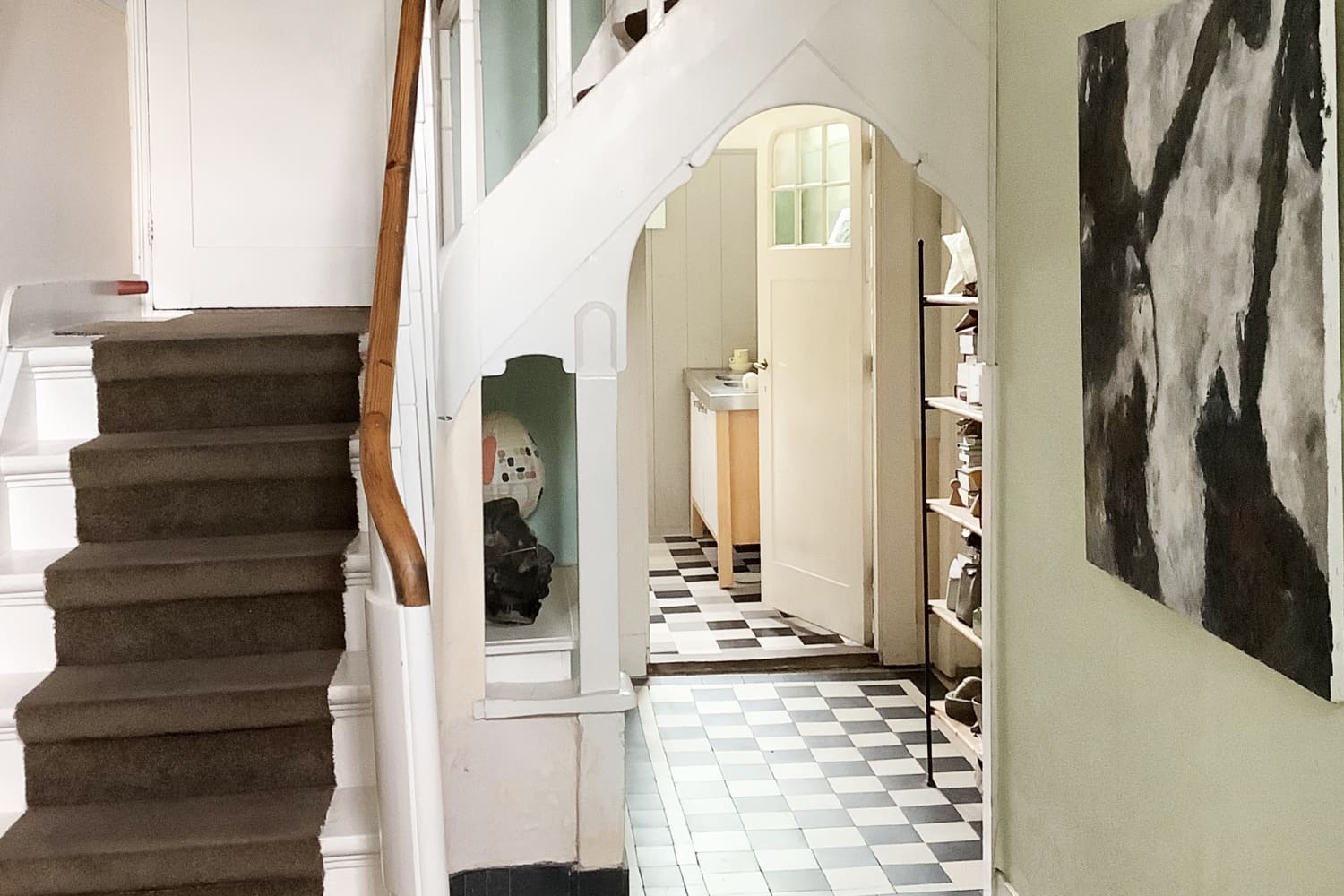 Name: André Keikes, partner, Ineke (she), and our two tomcats, NekoNeko and Sensei
Location: Leeuwarden, Netherlands
Type of home: Canal house
Size: 1940 square feet
Years lived in: 17 years, owned
Tell us a little (or a lot) about your home and the people who live there: Both Ineke and I work as artists and illustrators, so our canal house, which was built in 1904, is filled with art, both paintings, drawings, and objects of colleagues and friends and our own artwork. Every week I make a drawn portrait of a Dutch writer for tzum.info, a popular blog in the Netherlands and Flanders about literary books, for which I also write weekly reviews. So also lots of books can be found in every room. Ineke specializes in autonomous artwork and is an inspired reader, too.
For over 25 years Ineke and I worked together on a three-dimensional piece of art, named Argus, that was expanded with new supplements every six months. We designed it like a magazine, so that buyers also became subscribers. Just like in a paper magazine the "articles" (new parts) never were the same, but Argus nevertheless was recognizable in its basic form. Argus is still a valuable piece of art to us in our home. We lived in different places, but fell in love with this house, because we liked the possibilities to change it into a sustainable home-atelier, which means a place where we can live, work, and create without worries about the friendly mess we cause: the perfection of imperfection.
You can definitely find books and art objects in every room. Even colorful cartoons and little drawings in the small room on the mezzanine between the ground floor and the first floor, where you can find the toilet. Very important to us is the dreamy filtered natural light in every room that comes in through the small upper windows.
Describe your home's style in 5 words or less: Nice and easy
What is your favorite room and why? Our favorite room is our spacious living with its high beamed ceiling, access to the garden, and wonderful view on the canal. We can live and work there where and when we want: it's our creative space, filled with peaceful energy. But it's a difficult choice. Our hall is a really exceptional one, with its detached staircase, mezzanine, nice details in wood, and the magnificent tile floor.
What's the last thing you bought (or found!) for your home? The last thing we bought is a small vintage lampshade at vintagemrkt.
Any advice for creating a home you love? To keep your rooms as spacious as possible, we prefer to choose compact furniture on elegant feet, so that you can see the floor beneath. It isn't necessary at all to fill the middle of a room. By avoiding chairs and tables in the center, you achieve what everyone wants to have: a lot of space to live. And above all, live your life nice and easy. Don't be afraid of some scrapes or dents; these only reflect that you're human. In the evening we like to switch on several little lights instead of two or three powerful light elements. In our living room for instance you can find 22 lamps. Some are quite traditional, but a lot are only small luminous objects. Together they illuminate our rooms in an enchanting way.
This submission's responses and photos were edited for length/size and clarity.