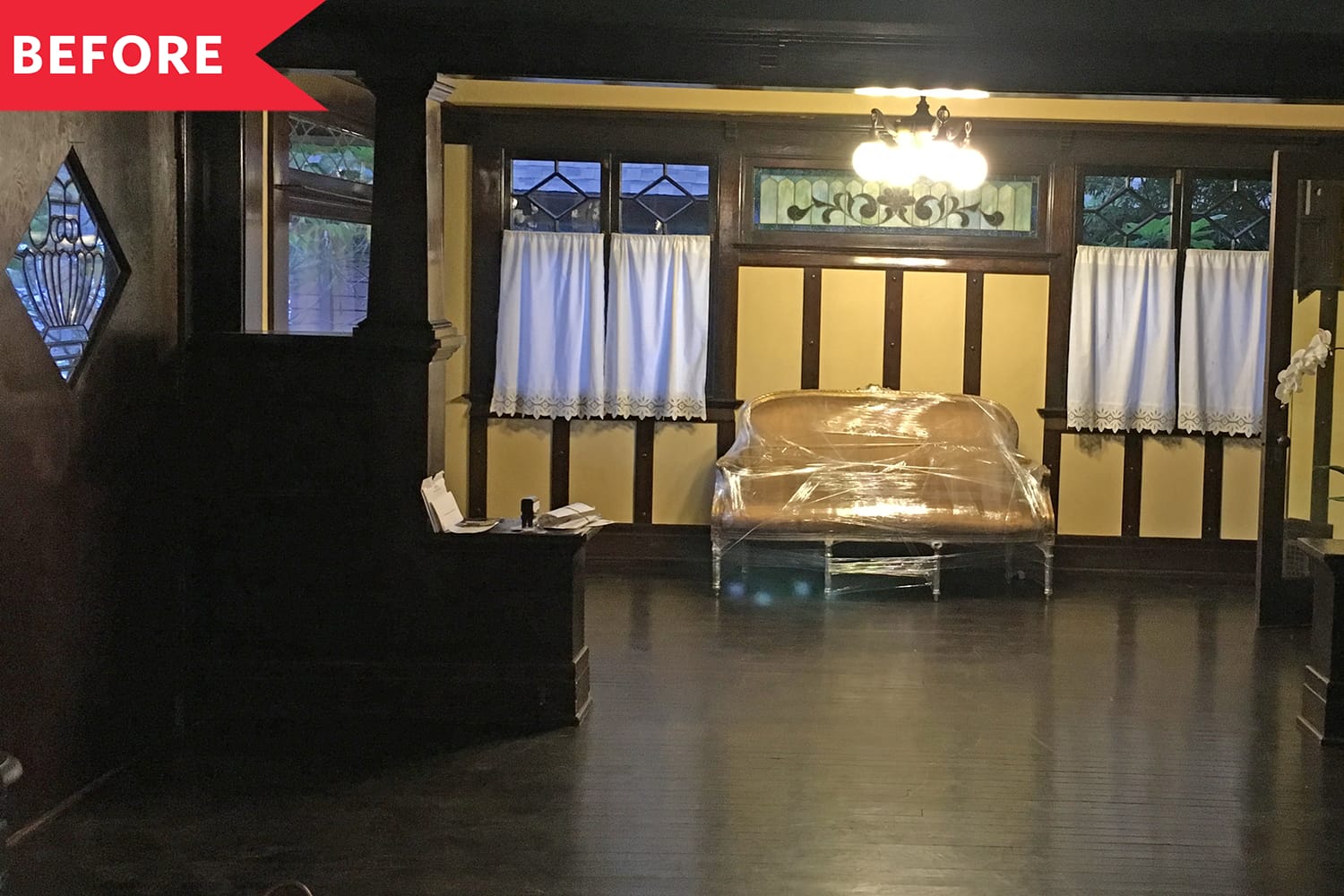 We independently select these products—if you buy from one of our links, we may earn a commission.
Name: Jennifer Robyn Laskey, fiancé, Hunter Grantham Hall, Kingsley the Puppyman (Husky/Pomeranian/ Samoyed rescue ploof), Mr. Muffin (silver shaded Persian cat), and Kitty Capone (Himalayan cat that has lived with me in my past four historic apartments and homes)
Location: Los Angeles, California
Type of home: House
Size: 2,478 square feet
Years lived in: 3 years, owned
Jenn Laskey, owner of Red Light Special Events, is almost certain she was an interior designer or an architect in a past life, probably from the 1920s or 1930s. She loves ornate, showstopper vintage sconces and chandeliers — in every room. She loves a vintage stove, a pedestal sink, a wallpapered bathroom, and a rich-toned vintage Persian rug. She "can't get enough of anything tufted, velvet, or mirrored."
She's the type of person who makes vision boards with restoration plans for old homes before she's even moved in. "My partner and I offered on 12 historic-style houses, trying for about a year before we found and won this gem," Jenn says of her most recent restoration project and the place she calls home, a 1909 Craftsman-style with lots of Victorian accents located between West Adams and Koreatown in Los Angeles.
Remarkably (and enviably), the home is full of original, gorgeous architectural details, like "untouched hardwood floors, windows with diamond-shaped panes, an original fireplace, stained glass built-ins, majestic woodwork, cabinetry, tile, hardware, and an astounding collection of vintage light fixtures," she explains.
Jenn's home, also known as the Historic Hobart Wallsworth House, is in an HPOZ (historic preservation overlay zone), and is a Mills Act home. The Mills Act is a California-based tax incentive awarded to a select amount of applicants per year. In turn for a property tax credit, homeowners submit a plan to spend the tax savings (and then some) on repairs to preserve the character for the home."This was a huge plus to me and luckily scared away most other buyers," Jenn says. "I am a big fan of these programs and protected enclaves."
Three years after purchasing, Jenn has returned the historic home to its roots by restoring antique light fixtures, switches, sinks, knobs, hardware, and more. "I feel really strongly that the design has to be partly based on the architecture and the bones of the house," she says. "In this house, it's easy to see that I channeled the creepy, sexy, vintage vibe with Victorian elements."
Apartment Therapy Survey:
My style: I'm a big fan of Spanish, Moroccan, and Parisian design influences … I feel you should never buy more than a few pieces from the same store, but instead collect gems and treasures from a variety of sources. It took me a long time, but I finally acquired all of my dream furniture, vintage fixtures, and antique accents.
Inspiration: I feel constantly moved and inspired by the original charm and ornate details of original architecture all across Los Angeles, and its architecture has hugely influenced my design eye and the way I decorated our home. I love that you can see such an array of historic architecture in LA, styles ranging from Spanish Colonial revival (as found in Miracle Mile and Carthay), to French Normandy, Tudor, Storybook and Hacienda, Queen Anne, modern, Craftsman, bungalow, and Eastlake. (I do love Angelino Heights!). I live for it, and it has inspired so much of my life! Famed architects Arthur and Nina Zwebell have also influenced me greatly. I have researched them and every one of their buildings, and I wish I could find out more about them, though there isn't much information available.
Favorite element: Oh for sure the dining room is my absolute favorite. The built-in cabinetry, with its stained glass and dark wood, is to die for. I also love the very rare rounded room/windows. Most of the windows in the house have this very cool paned diamond pattern that I hadn't seen before I moved here, but many homes by our architect, Frank Tyler, have these windows.
Biggest Challenge: I installed air conditioning and went with a referral from a friend who used to work in the HVAC business, and it was a nightmare. They used the existing heater ducts and blower unit, but for whatever reason, the pressure of the AC was absolutely terrible. After, like, 13 visits to try to fix what was basically a useless but large investment, the company gave up and couldn't figure out why the AC wasn't reaching the rooms well, especially the second floor. Maybe that's a historic house problem. In the end, we had many more days of construction after I already lived here … After a painstaking process, though, we now have AC and beautiful vents, too! It did take me weeks to accept cutting floor vents into my original hardwood floor, but after exhausting literally every other possibility, this became the only solution, which wasn't as terrible as I thought it would be.
Proudest DIY: This was assisted by my handyman, but I found this incredible set of French doors on eBay that were actually very close to me, so we picked them up. They had the same rare diamond pattern design as my windows and seemed meant to belong in my house.
Biggest Indulgence: One of the pricier purchases I got in the past 15 months after eyeing it for years and years was a vintage-inspired very hand-aged leather Chesterfield by Timothy Oulton. YES it was worth it.
Is there something unique about your home or the way you use it? I have a large wardrobe collection. No closets ever suffice. I took the smallest of four bedrooms and made it an entire walk-in closet/dressing room complete with deep red paint.
Finally, what's your absolute best home secret or decorating advice? My best advice is never settle. Search, wait, save, scour, research, etc. until you can find exactly what you want. I feel this goes not only for finding your apartment or home, but every piece you put inside it as well. I recommend you get exactly what you want, what your heart desires, and what inspires you even if it takes some time.
This house tour's responses were edited for length and clarity.