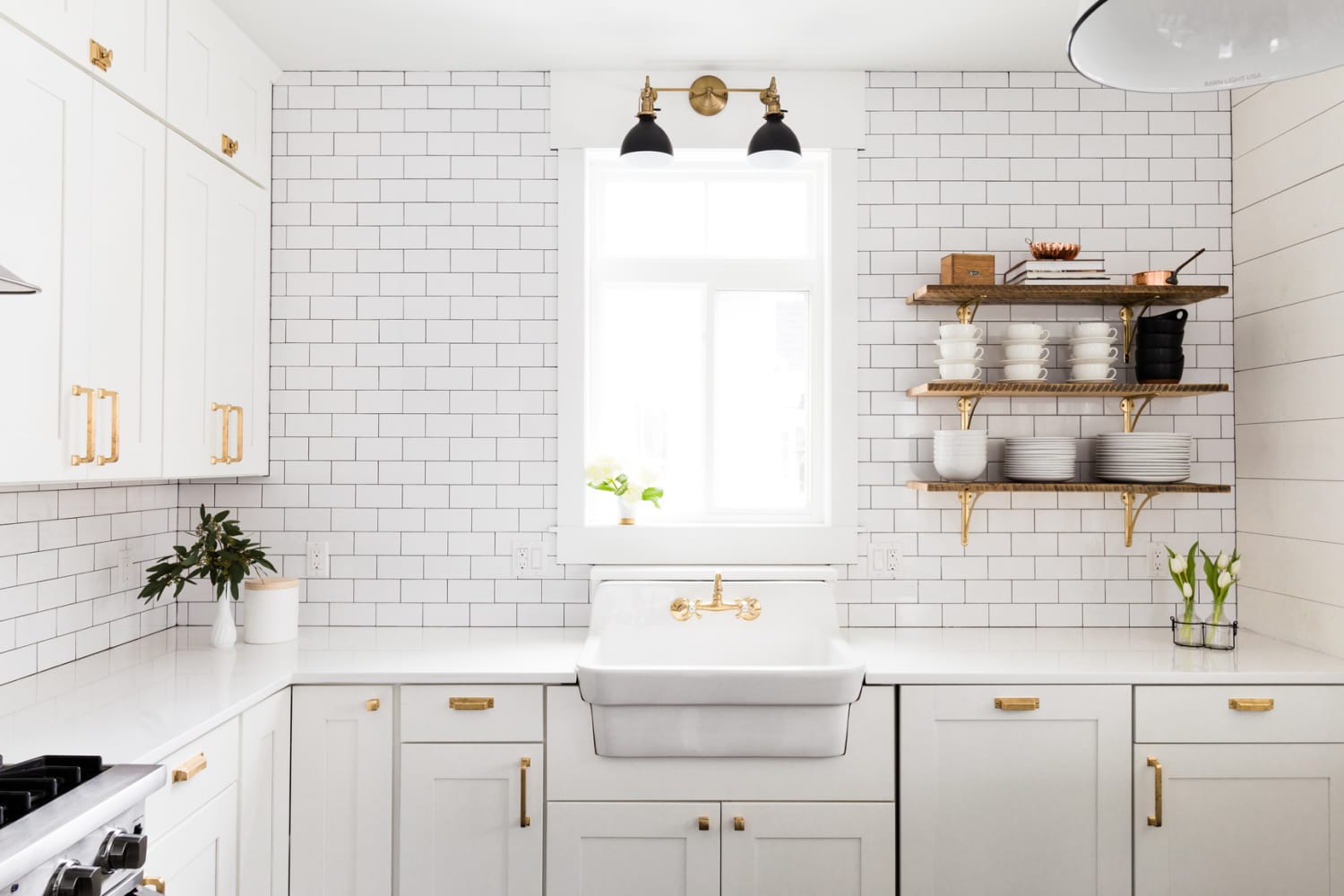 Kitchen renovations often become a paint-speckled love story on how the transformation came to be, punctuated with delightful twists — ideal countertops found by mistake, downtrodden appliances that got a second chance, or hardware that sparkled like fine jewelry — to make the final reveal seem entirely worth it. But much like a fairy tale, before-and-after unveilings tend to wrap up just as "happily ever after" gets underway. What happens once the heroes of the story get what they were looking for?
While we might not get the postscript on "Cinderella" or "Snow White," we can know what some homeowners thought of their renovations once the honeymoon phase ended. The designers and DIYers I spoke to didn't regret the overall look and feel of their kitchens, but they did wish they had handled the details and execution a little differently. "When budgeting for a kitchen renovation, you have to think about regrets you might have and what it could cost to fix it later," says designer Bari J. Ackerman. "Take your time when designing, and think about how you plan to use the space."
These homeowners shared their six biggest renovation regrets and why things didn't quite work out as they had planned. From partnering with the right contractor, to determining the best fixtures, to planning where to put even the smallest appliances, there are plenty of plot points to cover when bringing a rundown kitchen into the present. And when it comes to a renovation, even though it's not exactly romantic, you still deserve a happy ending that lasts.
"I wish I'd thought about an appliance garage."
When Ackerman designed her remodeled kitchen in Scottsdale, Arizona three years ago, she considered where the big appliances would go, but overlooked the visual clutter smaller appliances would have on the countertops. She also didn't think about how she likely wouldn't use other small appliances stored in different drawers as much as she intended. Ackerman wishes the idea of creating an "appliance garage" in the pantry came to mind during the design phase, which could've concealed all of those daily and once-in-a-while appliances behind a large front door. "Then the upper cabinetry above it would have glass panels for a balanced finish," she says.
When you're planning your own renovation, don't forget to take those smaller appliances you use every day into account. You may know where the dishwasher is going to go, but what about your blender, toaster, or coffee maker? Whether you decide to hide these away or leave them out, it's important to create a place for the things that you know you'll use on the daily.
"I should've purchased for functionality first and beauty second."
DIYer Sarah Madeira Day and her husband Wes Day just finished fixing up a Cumberland, Maine, property as an office and art studio for her business. Given that she's both a DIYer and artist who routinely works with paint, her current faucet doesn't exactly suit her needs even though the rest of the kitchenette does. Instead, it fits the design aesthetic but falls short of its task.
"We have enough cabinetry for a microwave and toaster to be plugged in while being tucked away, a small espresso machine that sits on an outlet-outfitted counter, and a large soapstone farm sink that easily cleans the dishes and brushes alike without staining the stone," she says. "But I wish I could have found an affordable faucet that had one mixing valve, rather than two, in the traditional design I was after. It's a silly grievance, but mixing your own hot and cold water makes both handles dirty. It's tricky to find a consistent temperature when your hands are covered in paint!"
Think about not only how you want your kitchen to look, but how you'll use it. Maybe, like Day, you need your kitchen to function as as a clean-up station for all your DIYs; maybe instead, you need a kitchen that can handle your cookie-baking marathons or a space that has bar seating for kids or guests. Make a list of what you'll be doing in your kitchen, and prioritize those practical necessities.
"I shouldn't have picked a lazy Susan."
One of the seemingly ingenious details to Ackerman's deep cabinets is a lazy Susan, which ostensibly stores handfuls of different items in one easy-to-grab place. And yet, that hasn't been her experience. "It's rickety and unbalanced," she says.
In the future, Ackerman said she'd rather use square containers to store her goods, which would capitalize on the shape of her shelving while keeping any items from falling off spinning sides.
Pull-out shelving might also help you take advantage of deep or awkward cabinet space, allowing you to reach even items at the very back.
"I should've hired a vetted contractor."
Lauren Caron, principal designer and owner of Studio Laloc in Seattle, Washington, hired a contractor who was referred to her by a colleague to oversee her kitchen renovation beginning in 2018. Three-quarters of the way through the project, after falling short on quality standards and time management, she and the contractor parted ways — a nightmare scenario, even for someone who is accustomed to transformations. Looking back, Caron has this hard-won advice: "Hire the contractor that's the absolute most you can afford," she says. "I also know all the questions to ask, too. For example, how does this contractor handle billing? Exactly how many employees are on their team? Who are their subcontractors? Do they have referrals from past clients? Even though this contractor was referred to me by another designer, I'll only work with one who was vetted by several different people from now on."
"I wish the kitchen didn't feel so much like a kitchen."
In her kitchen remodel, Ackerman sought to build a colorful kitchen that would be an effortless place to gather, as if it were a natural extension of the living area beside it. And while she says that was accomplished — thanks in part to the coffee and wine bar — she wishes the island contributed to this feel with more polished finishes. "I didn't add details like feet to the island," she says. "That would've made it look more like a piece of furniture."
And speaking of making the kitchen lose a little more of its utilitarian aesthetic, Ackerman would've also streamlined the appliances behind fronts that matched the cabinetry for what she refers to as an "integrated" finish.
In your own kitchen reno, think about how you want the space to feel — like a real-deal kitchen, or more like a living/gathering space? Your answer will help you decide on what kind of details you want to incorporate.
"I didn't think it was going to take that long."
Day started her renovation last June, and while she anticipated that there would be pandemic-related delays, she also figured that they could be mostly offset by the scope of her small kitchenette and the fact that she and her husband are handy. Nevertheless, the kitchenette was finished in May 2021. While COVID-related pauses in a project might not be the case in the future, there will always be things that pop up in the course of a renovation.
Besides allowing for more time, Day says, you should pad a bit of your budget, too. "Budget 10 to 15 percent more than what your contractor quotes, because many projects run into unforeseen costs," she says.