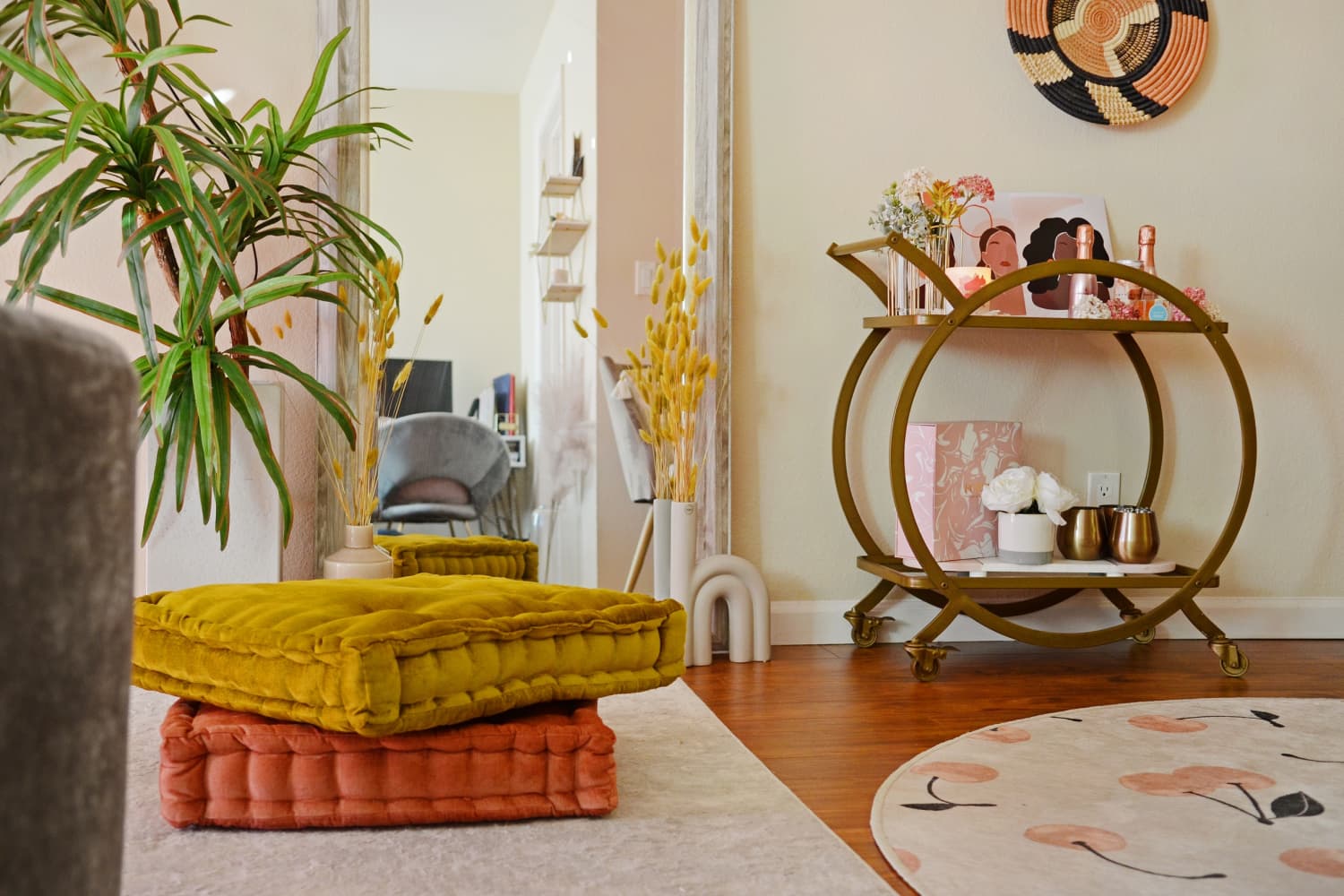 We independently select these products—if you buy from one of our links, we may earn a commission.
Whether you live in a house or an apartment, certain spots can always be a little tricky to decorate. For some, it's the tiny half-bath that barely has room for a sink. For others, it's the empty wall space looming above a headboard. For Abigail, the entryway by the front door was her trouble spot. Luckily, she found a fun little fix that can literally work for anyone, and spoiler alert: It includes a bar cart.
In fact, when Abigail moved into her 415-square-foot studio apartment in San Francisco, she found creating distinct zones in one big open room to be difficult. But she was up for the challenge. "I was very intentional about every inch of space," Abigail says. "I was able to maximize all 415 square feet and create an entryway, living room, dining room, bar, bedroom, and office out of my tiny space!"
Getting back to that entryway, Abigail didn't quite know what to do with the little U-shaped slice of space she had to decorate. A tiny half-wall sits opposite her door, and diagonal from that, she had a somewhat sizable stretch of blank wall space just looking to be filled. First, she placed a small bench into the nook right next to the door, as pictured above. Then, instead of opting for a traditional console table to anchor that longer bare wall area, she wheeled in a round rolling bar cart with a pretty gold finish. "I love the aesthetic bar carts bring to a space," she says.
Abigail styled her bar cart with flowers, art, and tiny champagne bottles — everything you'd need for a warm welcome upon entering her place. The real genius of this decorating move though is the piece's mobility. In a small space like a studio, flexible furnishings can really help you make the most of a tight layout, and I don't know about you, but I haven't seen many classic console tables on wheels just yet.
Bar carts can be a little pricey, ranging from $70 to $700 at stores like Anthropologie. So Abigail says she was "real hype" when she found her chic bar cart at World Market for just $40! No only did she score a great deal, but Abigail's bar cart also fits perfectly in the entry. If you're on the hunt for a bar cart of your own, The Home Depot sells one for $131 that's almost identical to the cart Abigail has. Lowes sells a bigger, rectangular gold bar cart with wood shelves and racks on the second tier that can hold up to six wine glasses and five wine bottles. The one I have is from Lowes, and I absolutely love. It's chilling in the living room next to my IKEA bookshelf, but now, after seeing Abigail's place, I just might move mine towards the entry.