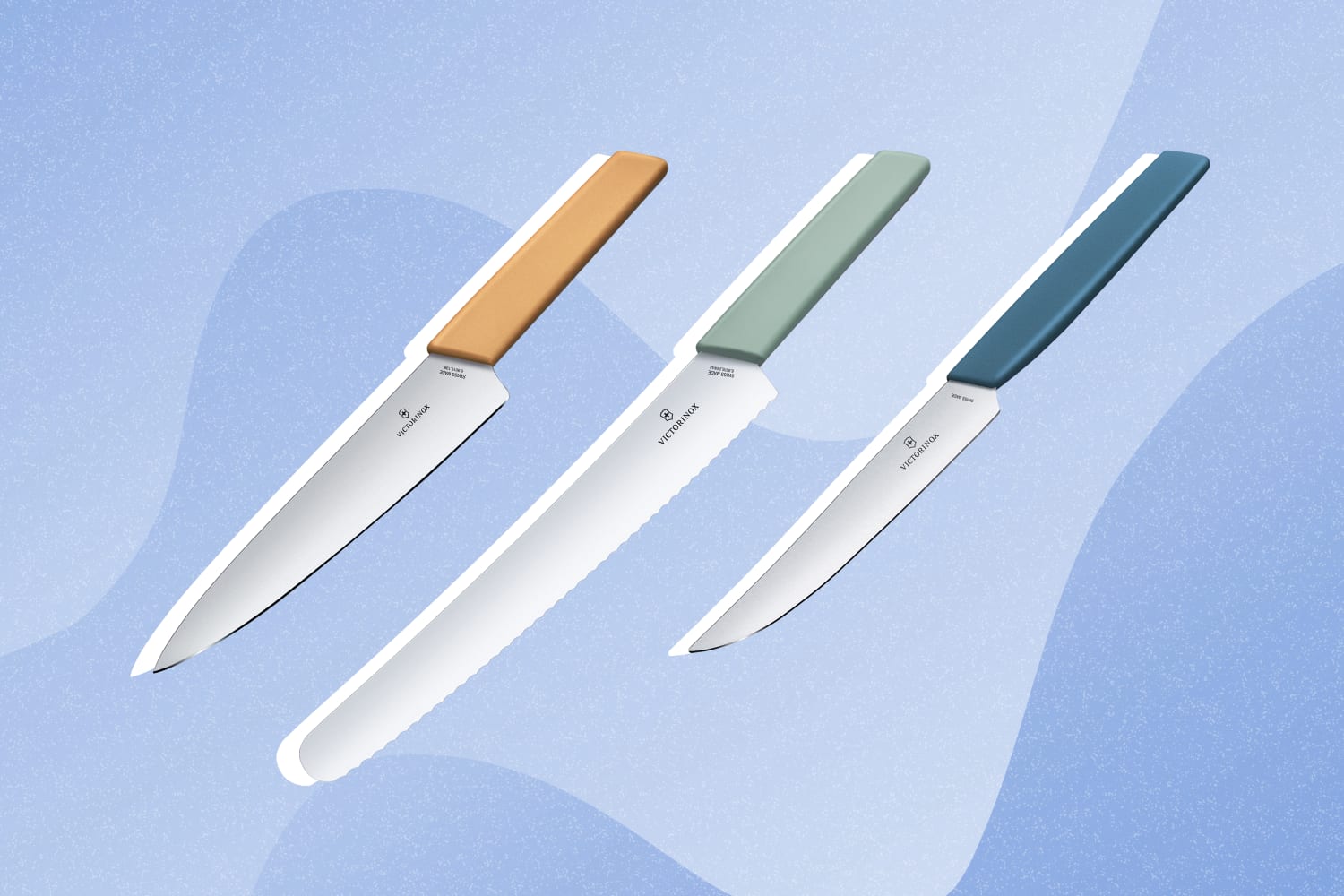 We independently select these products—if you buy from one of our links, we may earn a commission.
Every home chef needs a good set of knives, but let's face it: High-caliber knives can be pretty pricey. However, savvy shoppers know that it is possible to find affordable knives and cutlery without sacrificing quality. And today, Victorinox — aka the award-winning brand behind the Swiss Army Knife — announced the launch of their new collection, the Swiss Modern Synthetic Extension. The budget-friendly knives range from just $7 for a 4-inch paring knife to a 10-inch carving knife for a reasonable $62, and you can rest assured that you're getting the high-caliber craftsmanship that the Swiss brand is known for.
A new take on their popular Swiss Modern collection, the Swiss Modern Synthetic Extension is made "for the home chef who appreciates sophisticated design as much as they do functional, high-quality utensils," according to the brand. The Synthetic Extension knives and tabletop cutlery feature sleek and chic synthetic handles, deviating from the brand's traditional walnut wood to add a pop of color to your kitchen. The contemporary-looking handles are ergonomically designed for your comfort and ease of use, and you have the option of choosing between honey, sage, and aqua to fit your preferred aesthetic.
In addition to the comfortable handles, the Swiss Modern Synthetic Extension collection is made from durable stainless steel for smooth cutting and slicing. Both the synthetic handles and the wear-resistant steel are dishwasher safe, making cleanup extra easy.
Victorinox's regular Swiss Modern line also offers knife blocks, carving forks, and more. Our tools editor, Riddley, is a big fan of their chef's knife, telling us that, "for the money, you'd be hard-pressed to find a better, more durable chef's knife than Victorinox. It stays sharp for a long time, is lightweight, and has a texturized handle that's both grippy and comfortable to hold." And lucky for us, the new Synthetic Extension knives and cutlery boast the same combination of affordability, quality, and low weight (the steak knife is just 1.1 ounces!).
Whether you're looking to change up your kitchen color scheme, cook on a budget, or find high-quality knives and cutlery, the Swiss Modern Synthetic Extension from Victorinox delivers on all fronts.