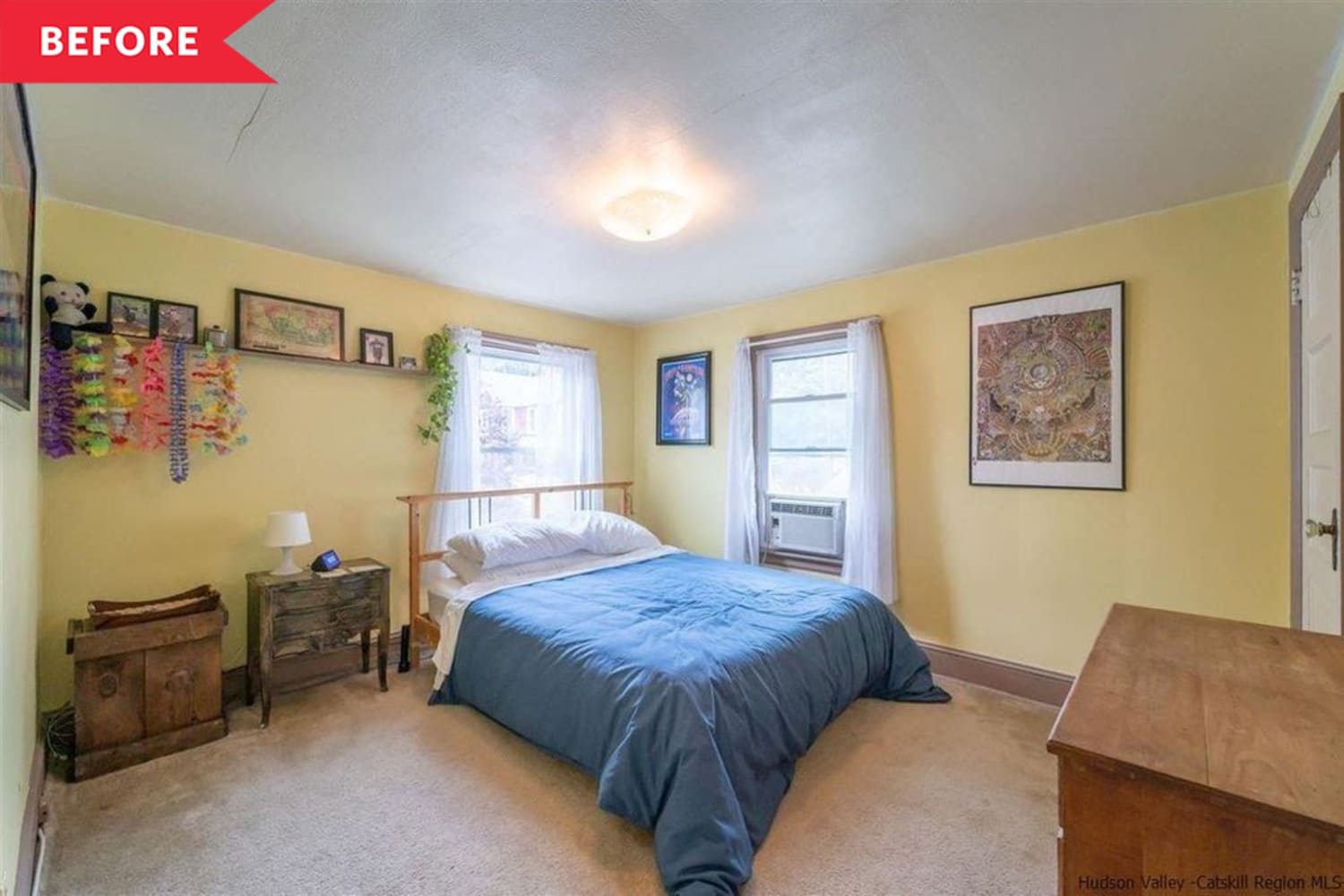 With older homes, you may find yourself wanting to keep the original feel as you look to add your flair and more modern lines and colors. It's all about balance when bringing style to dated homes. And starting with the main bedroom, there are plenty of ways to get creative.
Take this master bedroom redesign by husband-and-husband duo Josh Booher (@joshandtonic) and Austin Andries, which is all about keeping that old charm while adding modern touches.
The couple bought their 1935 home in November and were looking for a project and to make the house their own. The two decided to redo the bedroom first out of necessity. The space lacked style, the windows were blinding without curtains, and the carpet covered the house's original wood floors.
For Josh, the process started with a search for antique furniture and art to balance their already-owned modern pieces. "Our goal from the beginning was to bring back some coziness and charm with a 'modern Victorian' design inspiration," he says.
With their furniture chosen, Josh and Austin decided to tackle the flooring first. They removed the carpet themselves (a money-saver), and hired a company to restore and refinish the home's original red and white oak floors beneath.
Next was paint. The couple's chosen dark green paint color (Farrow & Ball's Bancha) features warm olive-y tones that play well with the warm yellows and terracotta colors that are also featured in the room.
Finally, the couple turned their attention upward. After grappling with mixed ceiling textures from previous patchworks or repairs, they decided to try tin ceiling tiles 一 Austin's suggestion. "We initially thought we could get away with patching up the seams ourselves and repainting," Josh says. "In the end, our amateur patchwork simply resulted in introducing yet another texture to the ceiling. I was willing to give anything a go."
Austin installed the tiles himself after watching a few tutorials. The tin tiles not only did a great job covering up the uneven ceiling, but also added a unique vintage element to the room. Crown molding helped hide the seams along the edges and add a finishing touch to the ceiling. After that, the couple filled out the room with the furniture and accessories they'd picked up.
All in, the project came in around $1,000 (the tin tiled ceiling made up for about half of that, Josh says). The finished product is exactly the sort of vintage-meets-modern style they'd hoped for.
"The room balances old-world drama and romance with modern elements to achieve something that embraces the past but doesn't feel dated," Josh says. "We set out with a vision for a 'modern Victorian' bedroom, and, in my very amateur opinion, I think we totally succeeded."