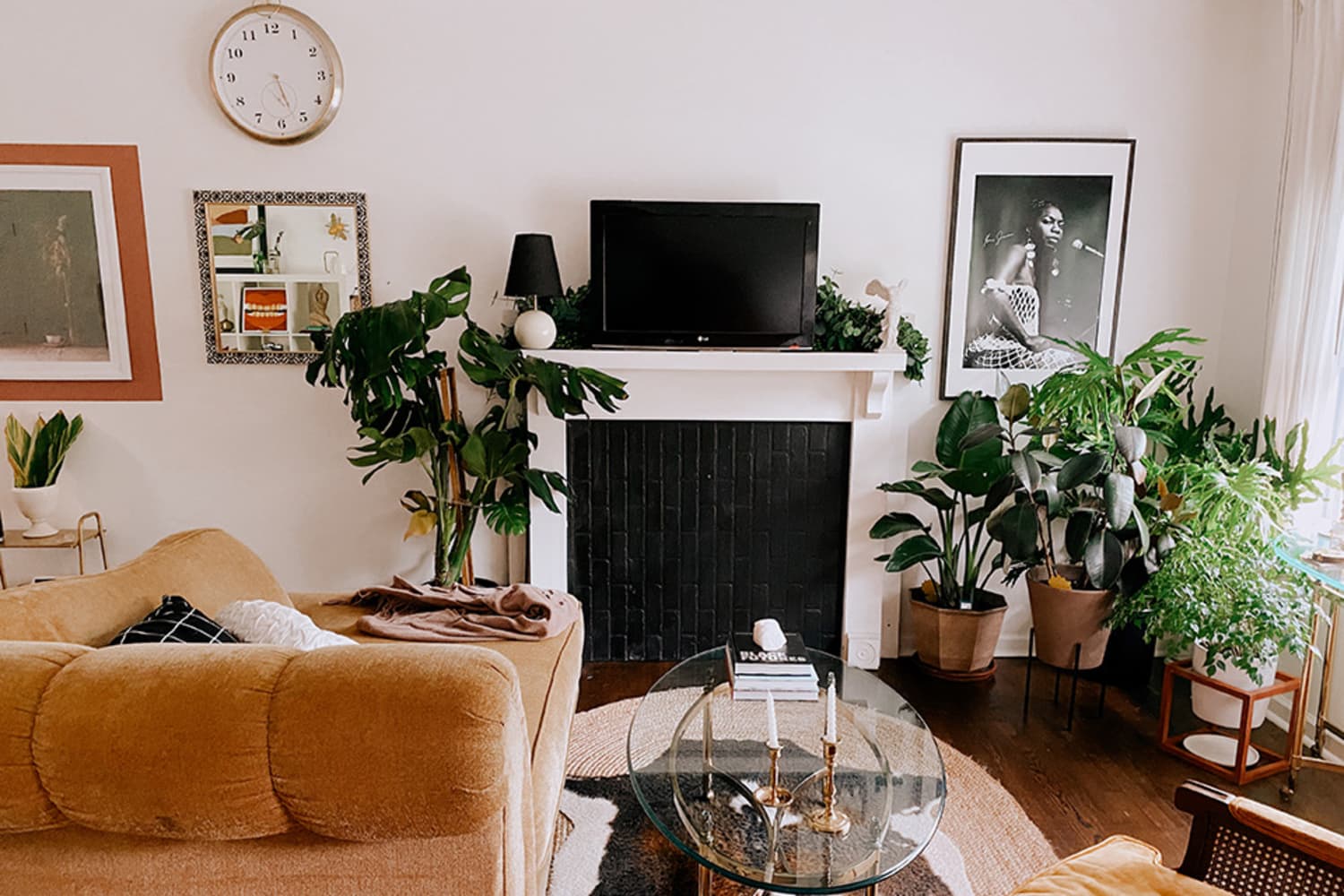 We independently select these products—if you buy from one of our links, we may earn a commission.
Name: Albrica Tierra and an Italian Greyhound/Terrier mix named Honey
Location: Atlanta, Georgia
Type of home: 3 bedroom, 2 bathroom home
Size: 1164 square feet
Years lived in: 1 year, 2 months, owned
Tell us a little (or a lot) about your home and the people who live there: My house is located in a predominately Black neighborhood in Southeast Atlanta. My home and neighborhood feels special because of the rich history and culture that blossoms here. There's a little farm located at the elementary school down the street, both neighbors on each side of me have lived here for over 60 years, and the previous owner of my house even stopped by for a visit to thank me for taking care of the rose bushes she planted in the front garden. Little signs like this makes me feel proud to be a first-time homeowner!
As a Black queer woman, I try to make sure little aspects of my personality and identity are noticeable in my space. The majority of the art in my home come from Black artists, designers, photographers, and makers.
As a photographer myself, you can find a camera collectible in every room! I have an altar in my bedroom where I honor and pray to my ancestors. I always show gratitude by leaving fruit or wine for them! Without their guidance, I wouldn't even be living here. I also love thrifting and sourcing great finds on a budget, so the entirety of my home was furnished through places like Letgo, Facebook Marketplace, and local secondhand shops.
Describe your home's style in 5 words or less: Elegant, colorful, moody, earthy, cozy.
What is your favorite room and why? My bedroom! It's so serene and cozy. I went with an earthy color palette to keep myself grounded and relaxed. You can find soft jazz playing, my oil diffuser on, and soft textures throughout. You might just wind down for a nap unintentionally! It'll do that to you.
What's the last thing you bought (or found!) for your home? The last thing I bought for my home was a couple of plants from Garden*Hood Atlanta. I think I buy a plant to add to my 50+ plant collection like once a week.
Any advice for creating a home you love? Take your time. Your style is always evolving and your home should be a testament to your journey. Don't be afraid to mix it up from time to time! It will still be uniquely true to yourself.
This submission's responses and photos were edited for length/size and clarity.