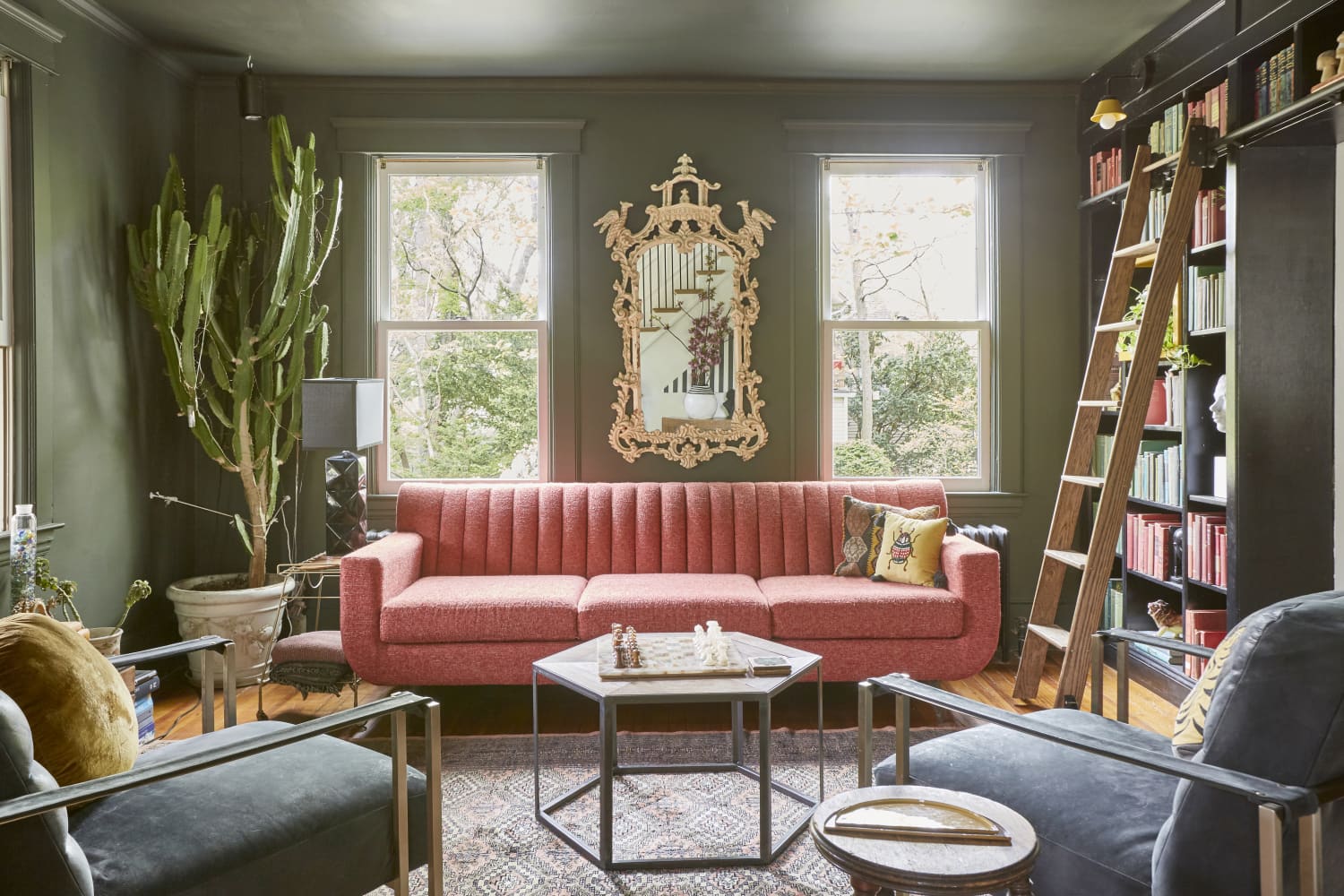 We independently select these products—if you buy from one of our links, we may earn a commission.
Name: Kate Pearce, husband Billy, kids 3-year-old Josie, 8-year-old Eva, and rescue dogs Figs and Ripley
Location: Long Island, New York
Size: 1800 square feet
Type of Home: House
Years lived in: 4 years, owned
Kate Pearce is so good at designing a home with gorgeous vintage finds, she was able to use her home — like this large Long Island house she and her husband have owned for four years — to launch her business, Kate Pearce Vintage. "I work with home decor and design brands to promote their products on my blog and social channels. I occasionally take on design consultations, as well as social media consultations, and am always talking design and old home reno on my blog," Kate explains. This isn't the first time Kate's home has been featured on Apartment Therapy (we toured it when they first moved in, and have shown a few sneak peeks earlier this year). But for this month (which is Color Month on Apartment Therapy), I wanted to feature the house's current, most recent iteration. It's the perfect mix of color and neutrals that may inspire your own home's color palette.
Kate and her husband, Billy, actually bought this house while awaiting the arrival of their second daughter, 3-year-old Josie. "Our previous home was a small beach bungalow that we lived in with our first daughter and our two dogs, but we knew we needed more space," Kate begins. "The problem was, our budget wasn't any larger. When we found our home, we knew immediately it was the one. It checked all the boxes: 1. Larger footprint 2. Old (our home was built in 1910 and I have always wanted to live in an older home). 3. Fixer upper (which meant the price was right, but we could also put our own imprint on the home)."
"We bought our home four years ago almost to the day, and we've been working on it ever since. Billy does all the electric, plumbing, and nearly all the construction. I am the painter, the designer, and occasionally I'll throw down some tiles and bang a hammer. It's been a collaborative effort, but our home is finally looking like how we imagined it would when we moved in." You can see more of Kate's home by following on her on Instagram, @katepearcevintage, as well as TikTok and her website.
Apartment Therapy Survey:
My Style: My style is eclectic and what I like to describe as a "restrained maximalism" that is rooted in vintage and art. I love being surrounded by my estate sale and thrift store finds, so I embrace a lot of open shelving. That said, I am constantly editing my spaces to make sure they feel interesting without feeling cluttered.
Inspiration: I take inspiration from everywhere; nature, art, and other designers such as Justina Blakeney, Sarah Sherman Samuel, and many others. But the place I find the most inspiration is from my vintage finds. More often than not, an entire room is spawned from an unexpected estate sale or thrift store find.
Favorite Element: Ironically, my favorite thing about my home is one of the only things that has remained unchanged since we bought it: the large Japanese Maple on our front lawn. I've designed all the rooms that look out onto the tree with the tree in mind, culminating with our attic bathroom. When we renovated the attic I placed a large picture window looking out onto the Japanese Maple tree top and placed the clawfoot tub directly in front of it. By far, my favorite spot to be in my home is in that tub, looking out to that tree.
Biggest Challenge: Our biggest challenge was our kitchen renovation. We had to take down walls, FOUR layers of old flooring, and we even had to take down the ceiling. It was our first major renovation and we tackled it all on our own, so it was a huge learning curve. We worked on it with every free minute we had for four and a half months. It was hell. But in the end, it was worth it!
Proudest DIY: I think our proudest DIY is one we are just finishing up now. We are in the midst of completing a speakeasy space in our previously unfinished basement and we created a custom banquette from scratch. We did channeled upholstery on the entire thing, and we had never upholstered before!
I come up with the DIY ideas, and Billy is the one to implement them. I think one of my favorite ideas was when we took a vintage library card catalog and turned it into the sink in our primary bathroom. Billy was able to make it a floating console and I love how it came out!
Biggest Indulgence: Our biggest indulgence was our attic renovation. It was a completely unfinished space and we transformed it into our primary bedroom and bath. We worked with a lot of brands to get sponsored content, and did all of the labor on our own, but even WITH those things offsetting the cost, it was still more than we probably should have spent on an attic space. I also don't think we were fully prepared for that cost heading into it. That said, it was TOTALLY worth it. It's one of the most used spaces in our home, and by far my favorite. And having our own bathroom and not sharing a bath with two young girls has been absolutely life-giving.
Is there something unique about your home or the way you use it? We are mere days from finishing our most recent project — a basement speakeasy/brewery space. Billy loves brewing his own beer, but never had enough space in this house to set up all his equipment. Our basement was entirely unfinished, cold, damp, full of bugs — basically the stuff of nightmares. We decided to carve out an area of the basement to build walls, add plumbing, electric, heat… all the things, and build the brewery from a space that previously felt unusable. We're very excited about how it's coming along, and this space may even eclipse the attic as our favorite yet!
What are your favorite products you have bought for your home and why? Anything vintage! I love buying vintage pieces because not only are they the best way to make your home unique, it's also a win for the planet. It's really an all-around win: lower prices, saving pieces from landfills, and creating a home that is personal and unique. Just be sure to shop directly from the thrift or estate sales for the lowest prices. Facebook Marketplace is another favorite.
Please describe any helpful, inspiring, brilliant, or just plain useful small space maximizing and/or organizing tips you have: Pare down your belongings and buy less is a big one. When we renovated our kitchen I was set on having open shelving, but that meant less cabinets to hide things in. I ended up bringing about half of what was in my kitchen to the thrift store, and storing another ¼ in our basement and only keeping the things we use at least once/week in our kitchen. Another small space tip is to buy furniture with built-in storage. For example, our sectional sofa has storage in the chaise and we have a couple of storage ottomans.
What most people get wrong about using color in their home: I think most people think you need to be all in or all out when it comes to color. When I peruse Instagram I always feel like a bit of a misfit. Most other design accounts I follow are entirely neutral, or very colorful. I like to think that my designs show that you can have some fun with color, while still maintaining a feeling of sophistication. But also to be mindful that color often demands more attention than neutral pieces, and you don't need much of it to make a big statement.
What are the biggest tricks/secrets to using color in decor? The first thing I'd say is to maintain consistency with what types of color you want to use in a space. It's OK to use different colors, but keep them in the same family. For example, make a room all pastels, or all jewel tones, etc. The next trick is to use the same color at eye level, below eye level, and above eye level. It helps carry your eye around the room and makes pops of color feel more intentional. The last tip I'd give is to be mindful that your room is your canvas. This is simply my own opinion, but I think color is most effective when it complements neutrals. Most of my spaces have about ¾ neutrals and ¼ color, but many people still strongly associate my spaces with color.
What's your favorite wall paint color of all time: Graham & Brown's Highcliffe Rock — it's a light blue that reads as a neutral, but with just enough saturation to make it stand out. I love it in a matte finish. It's both calming and versatile.
Finally, what's your absolute best home secret or decorating advice? You can make a room look twice as good for half the cost by buying secondhand. Instead of spending hundreds on a framed print for wall art, check out your local estate sales and thrift stores to score some original art for the same price or less. Instead of dropping $80 on a coffee table book at a retail store, keep your eye out at garage sales to score the same book for just a dollar or two. I'd say about 85 percent of the decor in my home is secondhand, and I think it is the sole reason I can afford to make my house look the way it does, but also the reason why my home feels like it represents me as an individual.
This house tour's responses were edited for length and clarity.