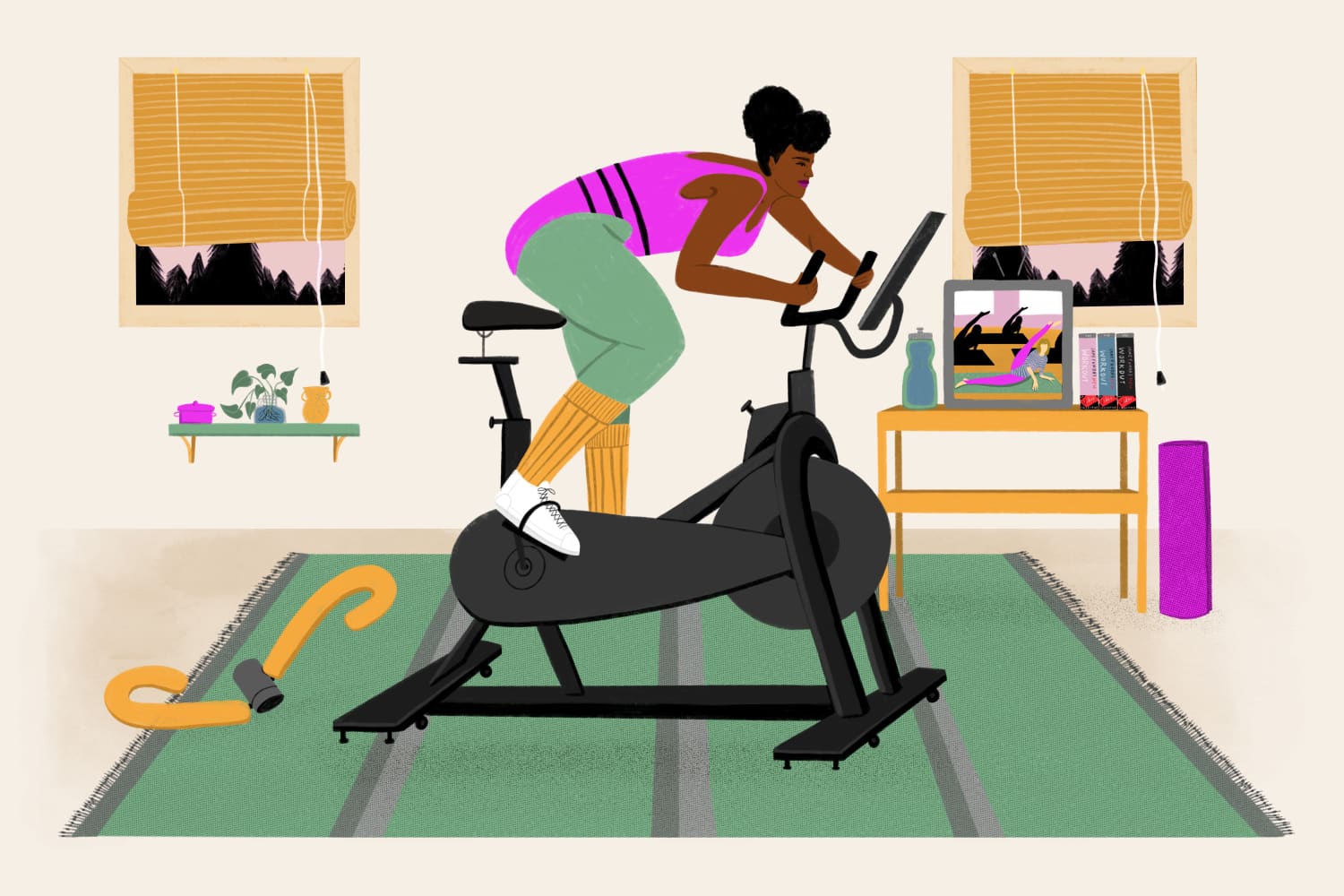 Home fitness is having a serious moment right now, and it looks like all those pandemic home gyms people scrambled to create have staying power. Clearly, working out where you live isn't a new trend, but you may not realize just how we got here.
While men's urban athletic clubs and YMCAs have been around since the late 19th century, says Shelly McKenzie, Ph.D., author of Getting Physical: The Rise of Fitness Culture in America (and physically intense labor both in and out of the house has been around since about forever, obviously), the idea of working out is a relatively more recent thing.
"Before the '40s, there was no real home fitness," says Dr. McKenzie, "because medical knowledge about the need for exercise as a part of a healthy lifestyle did not begin to take shape until the 1960s."
Dr. McKenzie says commercial clubs started popping up in the 1920s but didn't become more common for a few decades. It also wasn't acceptable for women to hit these gyms until the '50s and '60s, and at that point they still couldn't show up at the same time as the guys. "Men and women alternated days," Dr. McKenzie says.
Even as gyms grew in popularity, though, people continued to use home fitness for the same reasons they do today: It's convenient and offers some level of privacy. So, how did we get to our current love of treadmills, interactive cycling, and BOSU balls? Here's a look back at the (admittedly strange) history of exercising at home.
While stretching is now considered part of a warm-up or cooldown, it was the main form of exercise back in the 1940s. Or, at least, it was for women. "It was the only acceptable kind of exercise for women," says Dr. McKenzie. "It was not suitable for a lady to get sweaty." So, women would do toe touches, side bends, and other stretches in their homes and…that was about it.
There was some value in this, according to Jim Pivarnik, Ph.D., a professor of kinesiology and epidemiology and director of the Center for Physical Activity and Health at Michigan State University. "Stretching, if done correctly, can be a valuable adjunct to any exercise program," he says. Key word, of course, being adjunct.
Hula hoops first hit the market in 1958 and were an instant hit, with up to 120 million sold in the first six months, according to The Washington Post. Kids and adults were into these oversized circles of plastic, and they did offer some exercise. Hula hooping can burn "a few calories" and can strengthen core muscles if done for longer periods of time, Dr. Pivarnik says. The fad didn't last, though, and eventually the hoop just became a kids' toy.
1950s and 1960s: Vibrating Belts
The '50s and '60s saw the rise of vibrating belts, which people slipped around various parts of their bodies — abs, arms, butt — and hooked up to a machine. The belt then vibrated and allegedly got rid of fat in the process. It seems completely wonky now, but "exercise wasn't well understood" at the time, including what you should do and when you should do it, explains Dr. McKenzie. "A lot of doctors didn't even have opinions on it."
People were into the idea of space travel during this period, so they were interested in futuristic gadgets. "People thought, 'Why shouldn't we think that an electrical device could be helpful for losing weight?'" says Dr. McKenzie. "We couldn't rule out what was helpful and what wasn't."
For what it's worth, Dr. Pivarnik says there's "no real evidence that vibrating belts do anything useful for one's body."
The biggest exercise trends in the '70s were jogging and racquet sports like tennis, squash, and racquetball, Dr. McKenzie says. Treadmills started to rise in popularity, she says, along with stationary bikes.
People also began exercising along to records like Slenderide and Good Housekeeping's Musical Plan for Reducing, Dr. McKenzie says. Think of them like fitness tapes, just audio only. And TV programs like The Jack LaLanne Show allowed people to get their sweat on at home while using household objects like chairs, broomsticks, and rubber cords.
Actor Jane Fonda hit gold in 1982 when she released Jane Fonda's Workout, an at-home workout video that led viewers through dance-style aerobic exercises. It became an instant favorite, and Fonda released a series of other home workout videos that collectively sold more than 17 million copies, according to Fonda's website.
Natalia Petrzela, Ph.D., an associate professor of history at The New School who's working on a book titled Fit Nation: How America Embraced Exercise as the Government Abandoned It, says part of the reason these tapes made such an impression is because you could follow along with them at home due to the rise of the VCR. Before Fonda, "there was home fitness on TV, but not on video," Dr. Petrzela says, noting that those programs weren't gender specific. "Suddenly, women had a program targeted to them — it's easy to see why it became a bestseller," she says.
Plus, Fonda's tapes allowed people to exercise on their own schedules and "made exercise available to people who didn't live in urban or suburban areas," Dr. McKenzie says.
The Reebok STEP was released in the 1990s and became a huge success. The device, which is essentially a platform with an adjustable height, was created for step aerobics, a type of workout that involved a lot of stepping on and off the platform. It took off across the country. "STEP aerobics became so popular because it offered the choreography and music of aerobics but with the promise of additional muscle training thanks to the risers," Dr. McKenzie says.
The ThighMaster is a leg and thigh workout that used a V-shaped device with a hinge that promised to strengthen the inner thighs. Actor Suzanne Somers peddled the equipment via infomercials in the 1990s — and is still doing so today. The ThighMaster "really resonated with people" because the Federal Trade Commission had recently changed restrictions on marketing to consumers, leading to the rise of the infomercial, Dr. McKenzie says. "Now, people were able to do 30-minute infomercials, and the ThighMaster was primarily promoted this way," she says. "It became incredibly popular."
The ThighMaster was also a hit because "it wasn't expensive and could be easily stowed away at a moment when working out was not necessarily something that you wanted to show off," Dr. Petrzela says.
The BOSU ball debuted in 2000, with people ponying up for the half dome-shaped inflatable rubber ball on a platform. The ball was — and still is — used for balance training and to add another layer of difficulty to exercises like squats, push-ups, and bicep curls. "It offered something different to people," Dr. McKenzie says.
The Shake Weight became a viral hit in the 2010s thanks to infomercials that had an, um, indirectly sexually suggestive vibe. The weight itself is a modified dumbbell that oscillates, allegedly to increase the impact of exercise.
FWIW: In 2011, Consumer Reports actually tested out the Shake Weight's promises of firmer arms and shoulders after just six minutes of use a day, and found that they were bogus.
"There is no evidence that I know of that shows there is any more benefit to using Shake Weights compared to normal dumbbells," Dr. Pivarnik says.
Indoor cycling fans had been heading to pricey studios like SoulCycle and Flywheel for several years when Peloton launched in 2013 as a way for people to stream these types of classes right from their home fitness equipment if they had the financial means to do so. "The advantage people see is time saving," says Dr. McKenzie. "You don't have to arrive at the gym, put your stuff in a locker, and get to the fitness floor. You also don't have to try to get a time reservation for a popular class." Instead, she says, Peloton and other live-streaming, at-home exercise services it has inspired are "always there" (for a price, of course).
When COVID-19 spread in 2020, many exercisers began reimagining their workout routines, improvising hand weights with stuff they found around the house and trying out body-weight exercises. And lots of people who had chosen to hold gym memberships rather than invest in at-home streaming equipment decided this was the time to spring for a Peloton and work out from home instead. "It's very hard to reproduce the experience of a workout at the gym," says Dr. Petrzela, but Peloton "allowed people to have a similar community feel."
While Dr. Petrzela says she doesn't expect the popularity of gyms to go away, she does anticipate that home workouts will continue to be big. "Home fitness will always be more convenient," she says.
Apartment Therapy's Healthy Home Issue was written and edited independently by the Apartment Therapy editorial team and generously underwritten by Dyson.