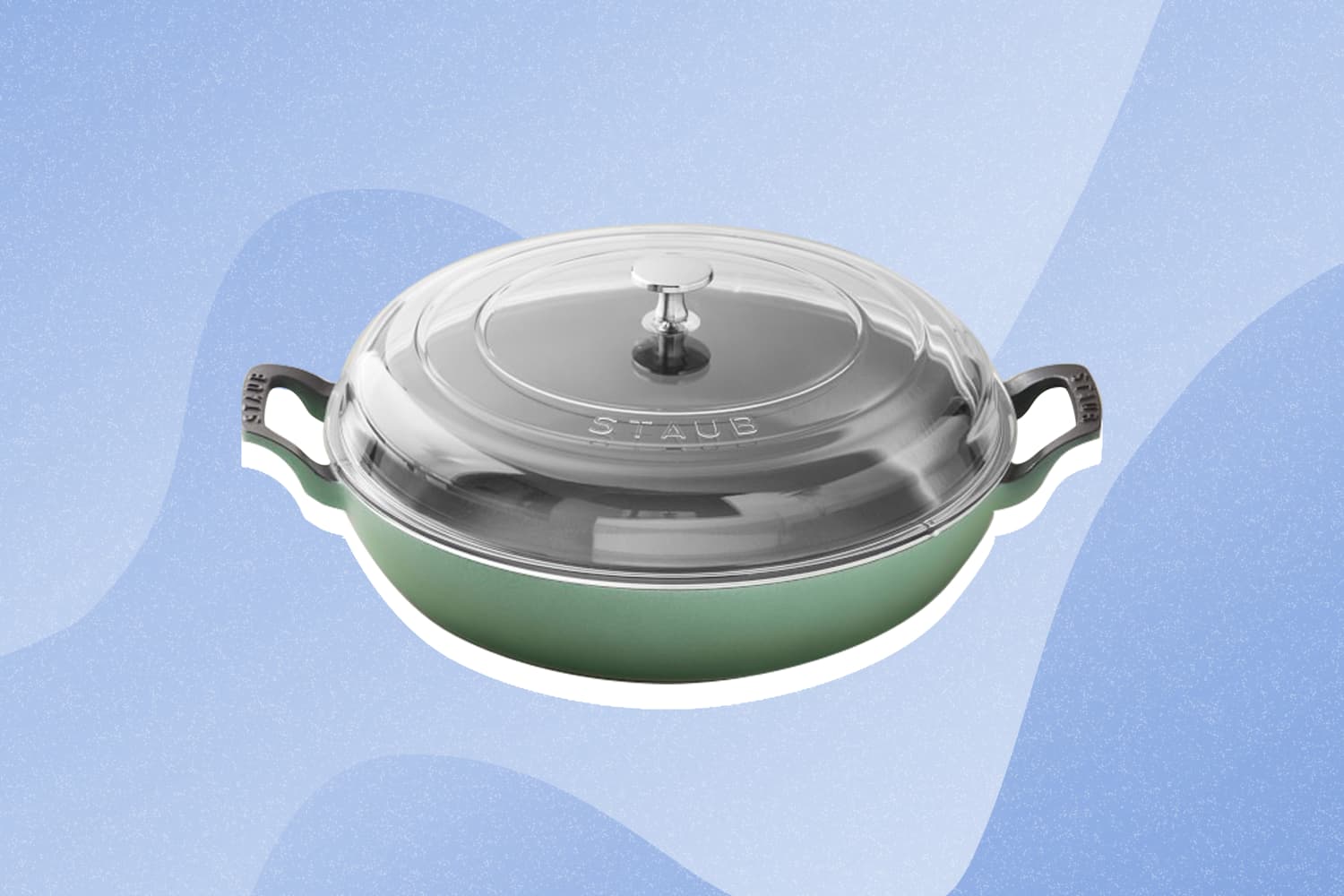 We independently select these products—if you buy from one of our links, we may earn a commission.
It's no secret that Kitchn editors are big fans of the Staub Dutch oven — it even made their Kitchen Essentials list — but it's about time to show the beloved French brand's other cast iron enameled cookware some love, too. Their 3.5-Quart Enameled Cast Iron Everything Pan is the Dutch oven's shorter, wider cousin, and it has the high quality you expect from Staub. The braiser usually retails at $371, but right now, it's on major sale at Williams Sonoma for over 55 percent off (aka just $149.95)!
Because a braiser is shorter and wider than a Dutch oven, it's ideal for meat, but you can easily whip up a casserole or one-pot pasta dish in it, as well. Our tools editor, Riddley, says, "A braiser is one of my favorite all-around pans! You can bake, roast, sear, simmer, shallow fry, and, yes, braise in it." (Staub definitely didn't name this braiser the Everything Pan by accident!) Braisers come in handy on summer days when it's just too darn hot to fire up the grill for ribs, and they're great during the colder months when you're staying inside (and perhaps cooking a holiday pot roast).
Staub's Everything Pan holds up to 3.5 quarts and features a heavyweight cast iron base for even heat distribution and retention, so your food will always be evenly cooked through. Plus, its specially formulated matte black interior with traces of quartz provides a rougher surface, allowing for better browning of meats and vegetables. The seal-tight glass lid locks in moisture to make your proteins extra juicy and tender, and since it's see-through, you can easily take a quick peek to monitor your food's progress.
Riddley especially loves the Everything Pan's handles. "They're wide, grippy, and at a slight upward angle, giving you nice leverage when moving the braiser around the stovetop or in and out of the oven," she says. Maneuverability is especially key for a hefty piece of cookware like a braiser, and the Everything Pan's double handles let you move and carry it with ease.
This dishwasher-safe (!) braiser comes in Grenadine, La Mer, Cherry, Cranberry, and Sage (my personal favorite), and the multicoat enameling creates a glossy, ceramic-like finish that will make you want to keep your Everything Pan out on display. As an added bonus, the rust-, chip-, and crack-resistant coating requires no additional seasoning, unlike standard cast iron pieces.
A reviewer said it best: "Warning: Staub is addictive." This pretty, versatile piece of cookware will be the star of your Labor Day barbecue and your Thanksgiving table. At over 55 percent off, it's time to get on board the Staub train!