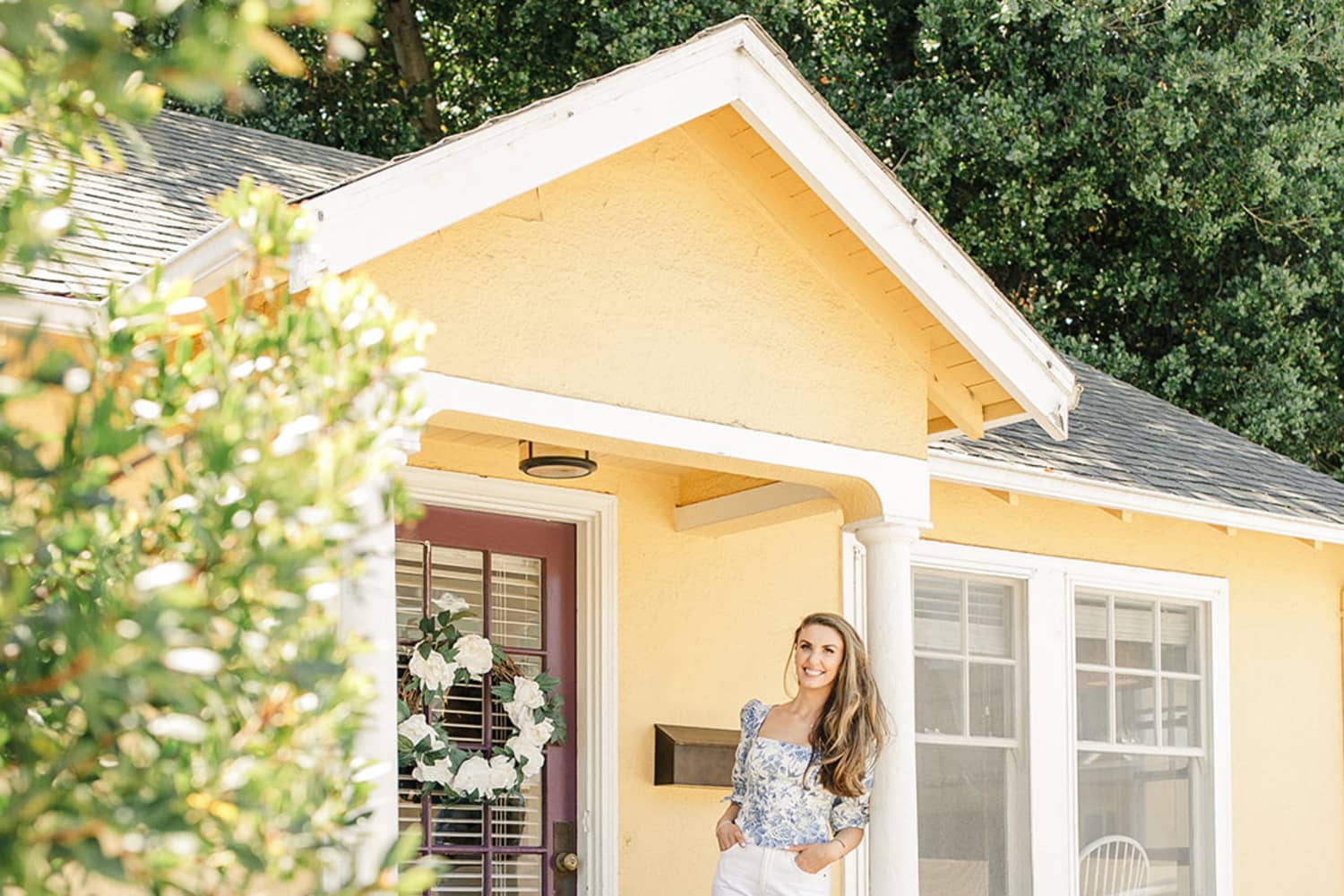 We independently select these products—if you buy from one of our links, we may earn a commission.
Name: Samantha Rohman and loveable, Scooby Doo-looking mutt, Beau
Location: Palo Alto, California
Type of home: Cottage
Size: 660 square feet
Years lived in: 8 months, renting
Tell us a little (or a lot) about your home and the people who live there: I moved out of the big city after a failed relationship and moved back to my hometown (sounds like the beginning of a Hallmark movie, right?). I'm Amanda Woods (Cameron Diaz) from "The Holiday" living in Iris' (Kate Winslet) country cottage — but in California.
My partner and I broke up on election night 2020. By that weekend, I had scheduled movers, and my dog, Beau, and I retreated down the peninsula after nearly a decade in San Francisco. We (crash) landed at my parents home in Palo Alto, where I had grown up. A couple weeks before Thanksgiving, I hopped on Craigslist, partially out of curiosity. I was impatiently awaiting a move-in date for the 1927 Spanish-revival duplex I had fallen in love with and been promised, but Home Depot's flooring department was moving slowly.
A sunshiny yellow stand-alone 1926 cottage with a purple door and silver-sage interior walls, white crown molding, and gorgeous original floors popped up. It was historic, private, completely detached, remodeled where it mattered while preserving the original charm, and the price couldn't be beaten. I called the landlord that morning, saw the cottage at lunch, and signed the lease sitting on the owner's gorgeous Craftsman Bungalow porch in the cool November evening air.
I'm a history enthusiast, so my cottage is decorated with antique shop finds, travel trinkets, and photos of places and lives lived past. I decorate with hats. I live next to an 84-year-old woman named Mary, who I help by taking out the trash, looking for her glasses with her, and changing the batteries in her remote so she can watch Fox News (true story). I love a glass of wine and a really really nerdy documentary on Ancient Egypt. I had a subscription to Archaeology Magazine. I love my fur baby. I live a very fun, full, and fulfilling life, and I think my cottage reflects that.
From the moment I moved in, this cottage has been my passion project. It's my sanctuary, the English cottage I've always wanted, the living history project I'm enamored with, a complete extension of who I am and where I am in life now. After ten years of city life, Beau and I enjoy long walks around the neighborhood to smell the roses, photograph other century-old houses, chat with the neighbors, and grab coffee or a glass of wine nearby. Beau loves to sunbathe on the back porch while I work from home, and I've recently planted pumpkins in the front garden. It's a cottage for all seasons, and we're so in love.
What is your favorite room and why? It's a toss-up between the living room and my bedroom, but I think i'm going to give this one to the bedroom. I bought a big, beautiful Pottery Barn "princess bed" frame when I moved in. My side table and dresser are amazing Craigslist finds. The art is a mix of vintage Poshmark pieces, family photos, and a late 1800s portrait of one of my ancestors. (We're not sure entirely who.)
Describe your home's style in 5 words or less: English Cottage meets Grandmillennial California Casual
What's the last thing you bought (or found!) for your home? My RED Smeg coffee maker, which I'm in love with. As I go into my busy season, my four-cup French press isn't cutting it anymore. I love coffee and drink it alllll morning long. Red is probably my least favorite color, but when I moved in, the previous tenant had left a red kitchen mat. My pots and pans set also happened to be red. I've embraced red for this part of my home, and I love it.
Any advice for creating a home you love? If you can't be yourself at home, can you be yourself anywhere? I believe your home should be a reflection of you. Pick and choose trends as they work for you — they're trends for a reason. What you love and are immediately drawn to will never let you down. Choose items that make you smile. Make space for everything you need and nothing you don't. Natural light, natural light, natural light.
This submission's responses and photos were edited for length/size and clarity.