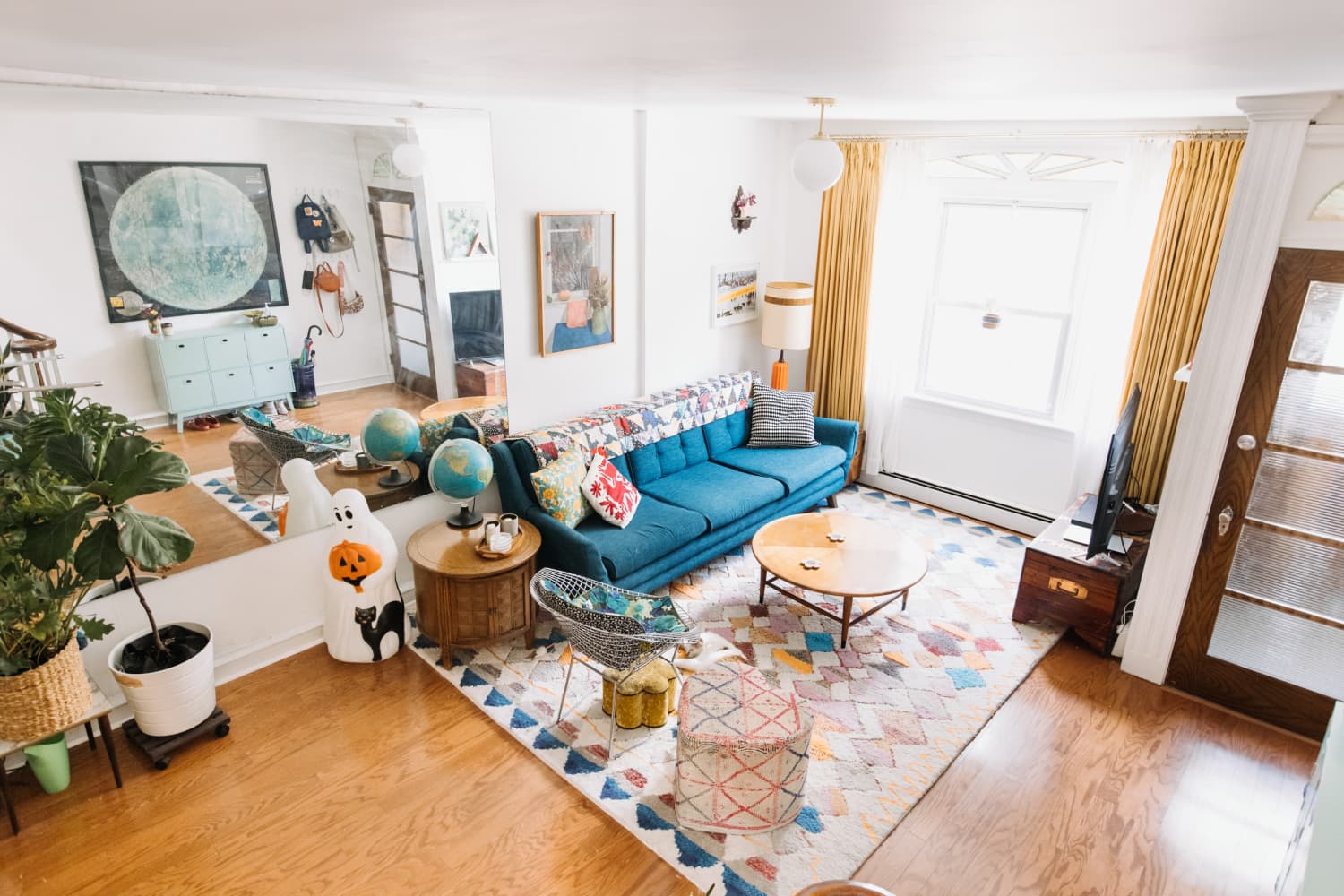 We independently select these products—if you buy from one of our links, we may earn a commission.
Name: Sue Liedke, and cats Matt LeBlanc the Worst Friend, and Una
Location: South Philadelphia, Pennsylvania
Size: 860 square feet
Years lived in: 9 months, owned
When art teacher and museum educator Sue Liedke was looking for a house to buy in South Philadelphia, she fell in love with some of this home's character… like the vestibule, archway to the kitchen, 1970s kitchen, tiled bathroom, and even the layout, which she says is typical of most houses in this area. Sue didn't love everything about the house, though, but says her handy friend Ryan helped her "see past some of the less desirable features of the house." She was glad for Ryan's perspective, and the timing of her home purchase worked out well, too.
"Buying a little house during quarantine turned out to be great because I suddenly had loads of time to spend on fixing things up (with his help). The big projects were having the old plaster ceiling removed and replaced, choosing new floors for installation, and having drywall put in (kitchen and bathroom)," she explains."
"The house is walking distance to both of my jobs and the mortgage is less than I was paying for rent. I have room to spread out and work on projects, and my cats love having two staircases to romp up and down!" You can enjoy more of Sue's passion for "hyper-local vintage style" on her Instagram, @s.philly.time.capsules.
Apartment Therapy Survey:
My Style: A friend recently described it as "MomMom meets MoMA" and I love that. I love finding and collecting vintage housewares, linens, and furniture, and try to mix that with my art background as I decorate!
Inspiration: I draw inspiration from estate sales in untouched time capsule houses, old magazines, and period movie and TV show sets.
Favorite Element: I love the details of this house that make it a typical South Philly rowhome — vestibule, the archway to the kitchen, the tiled bathroom, and even the giant mirror in the living room. It's the same layout for almost every house in this neighborhood, and it's great to see how people change them and make them their own!
Biggest Challenge: Solving the "creative" adjustments the previous owner had made. He had screwed fan blades into the bathroom walls to mount grab bars, installed a DIY rooftop sprinkler system for no reason, and wired the stove ignition switch to the inside of a drawer. There was also CC TV lines everywhere and a peephole in the bathroom from which you could spy all the way down to the front door! I am still discovering some of his strange inventions and alterations to this day.
Proudest DIY: I hung all my own wallpaper (with various success, ha). There are seven different prints(!), which seems like a lot… but I tried to use it in ways that don't overwhelm you in the space.
I used all different kinds of papers from different eras: the paper in the vestibule was from the '50s and very brittle and scary to work with, the bathroom and kitchen paper were both vinyl from the '70s, and the floral papers are contemporary peel and stick. Each came with challenges, but I'm pleased with the outcome!
Biggest Indulgence: Perhaps not my most expensive indulgence (that would be floors), but my favorite indulgence is the bathroom. It was a wild scene in there when I bought the house — peach and pink tile, MANY safety bars and shelves and racks drilled into the tile, a drop ceiling with fluorescent lights. There were light switches in crazy places and the window was sealed up so it couldn't open. It was dark (there was an awning covering most of the window) and dingy.
I had a vision of a cute and bright '50s ladies room in my mind, so I got rid of all the extras and the drop ceiling. When it was down to the basics, I had the tub, tile, and sink reglazed in Sherwin Williams' Rosy Outlook to match the existing floor tiles, and hunted down a matching vintage toilet. The drop ceiling was replaced with drywall, and electricians redirected the switches and put in new lights. I finished up with wallpaper and the right vintage accessories!
Is there something unique about your home or the way you use it? I try to avoid buying new — of course there are exceptions in my home, but I'm of the mindset that there is SO much good old stuff out there, I can do with way less mass-produced contemporary items.
What are your favorite products you have bought for your home and why? Vintage kitchenware! I've collected for years and have an absurd amount for a person who lives alone and doesn't regularly cook, but I love the thrill of the hunt and the joy of finding a mint $3 chip'n'dip at a garage sale.
Please describe any helpful, inspiring, brilliant, or just plain useful small space maximizing and/or organizing tips you have: Use storage furniture whenever you can. I just counted and have six (!) storage pieces in my living/dining room.
What most people get wrong about using color in their home: I think a lot of people (myself included, sometimes!) overthink color — keeping those swatches for months and dwelling on barely imperceptible differences. Maybe we could all benefit from a "go with your gut" mindset, and just get that color up! You'll know soon enough if it's the perfect shade.
What are the biggest tricks/secrets to using color in decor? Give your eyeballs a moment of rest. It probably doesn't seem like it in my bordering-on-maximalist home, but there's a lot of white! It gives the colors a moment to shine.
What's your favorite wall paint color of all time: Speaking to my above answer, I really like Benjamin Moore's Swiss Coffee. Not too white, but doesn't veer into gray or cream either.
Finally, what's your absolute best home secret or decorating advice? Allow for evolution of your style! Spending a ton of money or doing everything at once might end up locking you into a certain vibe that you could quickly outgrow.
Thanks Sue for sharing your home with us!
This house tour's responses were edited for length and clarity.