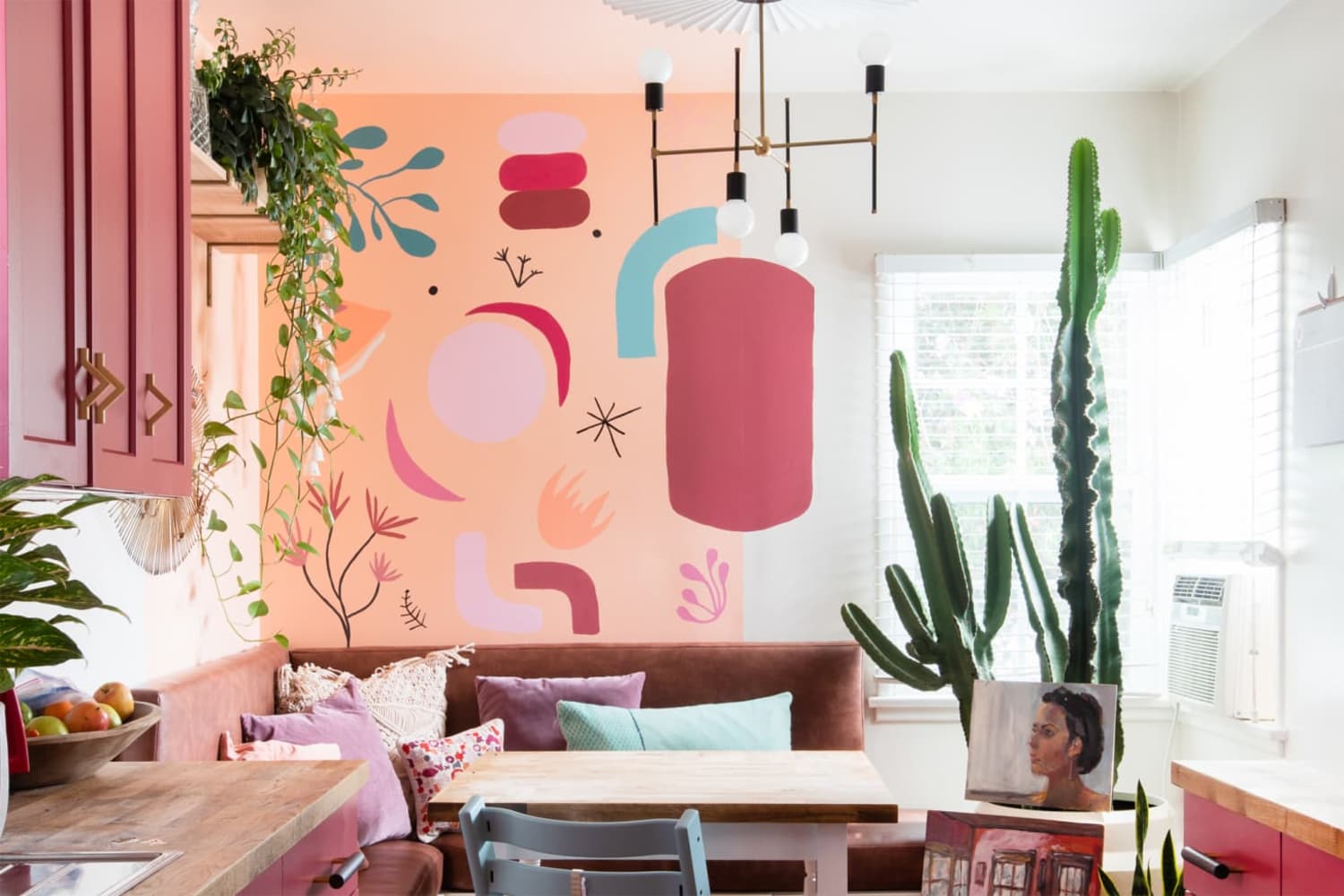 Instagram's a treasure trove of talent, and I truly love spending time on the app scrolling through images of gifted people just doing their thing. My latest kick? Muralists. I've always wished I was more artistically talented, and this group takes it to the next level. Not only are many muralists partnering with interior designers and coating the walls and buildings in many major cities, but they're also collaborating with big-name brands —think Nike, Crayola, and more — all in the name of art.
While I'm not sure I'd ever be able to pull off a full-blown mural in my home, keeping up with these artists digitally has inspired me to get a bit more creative with my paint colors and art choices… and to appreciate the full potential of a blank wall. Check out some of my favorites below, and go ahead and give them a follow for lots of colorful inspiration.
1. Racheal Jackson of Banyan Bridges
Artist and muralist Racheal Jackson of Banyan Bridges got her start with home makeovers while dealing with postpartum depression after the birth of her second child (you can read more about her journey here). She's since taken the design world by storm, coating her own home in a veritable rainbow of hues and partnering with big-name designers to bring murals to life in the homes of their clients. Her work focuses mostly on interiors, pairing her signature bright hues with lots of curves and funky shapes that really level up a space.
Maine-based muralist and illustrator Rachel Adams brings her colorful, retro-inspired aesthetic to brand partnerships with the likes of Anthropologie and Austin Street Brewery. She also partners with her real-life husband (and fellow illustrator!) @ryanwritesonthings on big commissions. Together the two founded @piece.together.project, a collaborative mural initiative that celebrates members of their Portland community.
New Orleans-based muralist, interior stylist, and Small/Cool designer Liz Kamarul brings a keen eye to her artistry, focusing on creating dimension and visual interest with her paintings. With a deft hand and a palette of earthy neutrals, she can expertly transform a blank, builder-grade wall into an architectural masterpiece in no time flat. Check out her work in her own home and know that Liz doesn't just limit herself to walls — she's tackled vintage tubs and fireplaces, too!
4. Jenson Titus and Nicholas Scheppard of Very Gay Paint
The @verygaypaint account is helmed by real-life couple, Los Angeles-based Jenson Titus and Nick Scheppard, who bring their playful energy to projects that range from small pieces of furniture and commissioned interiors to the Santa Monica Pier (seriously!). Neither Titus nor Scheppard actually comes from an art background. They simply got inspired to paint their first mural by good ol' Pinterest, and the rest was (very colorful) history. Now Very Gay Paint is picking up their brushes for big time celebs like Darren Criss and Jason Mraz.
If your day needs a little bit of a happiness boost, look no further than Steffi Lynn Tsai's account, @haveanicedayy_. This Brooklyn-based artist brings her talents to illustrating, lettering, and mural work, teaming up with the likes of the Museum of Memories, Volkswagen, Walmart, and more to create custom installs. Her signature style is colorful and playful — and is now also available as apparel so you can wear her work if you like it. I challenge you to scroll through her bold, bright feed and try not to smile!
Splitting her time between Brooklyn and Portland, artist Alex Proba is the founder and creative director of Studio Proba, where her Memphis-inspired abstract patterns come to life on wall murals, art exhibits, and through product lines like bath mats, pillows, and even sneakers. Proba's first project, a mural at the Dropbox headquarters, has lead to more and more varied commissions — she recently completed an epic pool interior at Hill House, an Airbnb getaway in Palm Springs, California. Follow along to see where she brings her signature sunny brushwork to next!
A muralist with an eye-catching two-toned style, Aaron De La Cruz found his way into painting and design after studying at the California College of the Arts. He's since honed his craft, developing a graphic style all his own (one of his signature shapes is similar to a backward letter J) and has worked with brands such as Levi's, Maison Margiela, and more.
Characterized by the cast of kooky characters she creates and features in all of her paintings, muralist Lauren Asta has honed in on a doodle-like signature style all her own. The California-based artist paints her murals freehand without the aid of stencils or projectors and has collaborated with the likes of Credo Beauty, WNDR Museum, and Vans.
You've probably seen the work of artist Mariell Guzman, even if you haven't realized it; her work is just that pervasive and popular at this point. This powerhouse muralist and illustrator has had a storied career, collaborating with brands like Corona, 7-11, IBM, and Pepsi as well as many businesses local to her home state of Texas and beyond. Inspired by her upbringing in Mexico, her style features vivid colors and surrealist shapes that you just can't help but get lost in.
With a whimsical style all her own, Lauren Hom of @Hom Sweet Hom turned her passion into an unexpected career. After dabbling in hand-lettering while studying advertising, the Detroit-based artist built her brand around quirky, Instaworthy murals that are big on charm and color. She now educates fellow entrepreneurs on following their passion and plans to attend culinary school in 2023.