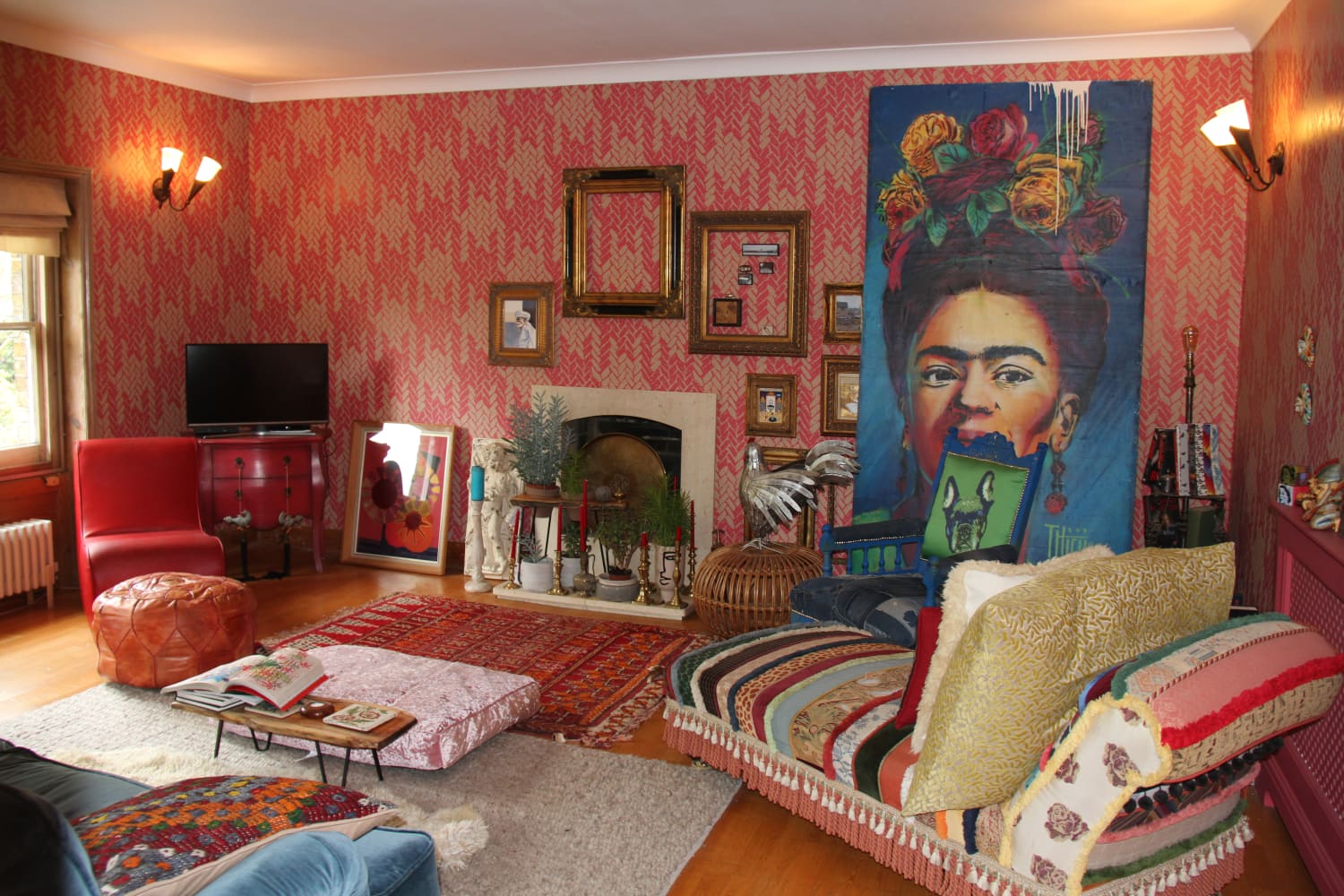 We independently select these products—if you buy from one of our links, we may earn a commission.
Name: Claire Swindale
Location: Blackheath — Southeast London
Size: 1,500 square feet
Years lived in: 18 years, owned
Wallpaper and fabric pattern designer and artist Claire Swindale first shared her wildly wonderful and wallpapered home in her Apartment Therapy house tour a few years ago. The pink Vivienne Westwood patterned wallpaper that covered her living room walls in her first tour is still there today, but many of the other rooms in the home have been updated, this time with her own wallpaper designs.
A fun room transformation that's happened over the last few years is in the main bedroom, which actually features walls WITHOUT wallpaper.
Favorite Element: Discovering the walls, which were under the old wallpaper. Then realizing that the headboard I'd found and intended to upcycle, was just perfect the way it was, with MY walls.
Biggest Indulgence: I spent the most money on my bed linen. A new duvet, in two clip-able layers, and Egyptian Cotton Sheets, definitely worth the treat. We spend far too much time in bed, so it should be a welcoming place and a reward for a hard day's work/fun.
What most people get wrong about using color in their home: By not following their OWN taste, copying from Instagram and Pinterest too literally. Love a style, use your OWN objects and your own take on it. It's YOUR home.
What are the biggest tricks/secrets to using color in decor? I think having a link between them all, something(s) to ground them all.
What's your absolute best home secret or decorating advice? Be confident — even adventurous. Go for it, aim higher than your vision, treat yourself. It's your haven, statement, and your story.
Room updates weren't the only thing Claire got up to during quarantine… she is also self-publishing her first book, "Not Afraid of Colour" that features drawings, patterns, doodles and more that she completed during lockdown.
This submission's responses and photos were edited for length/size and clarity.