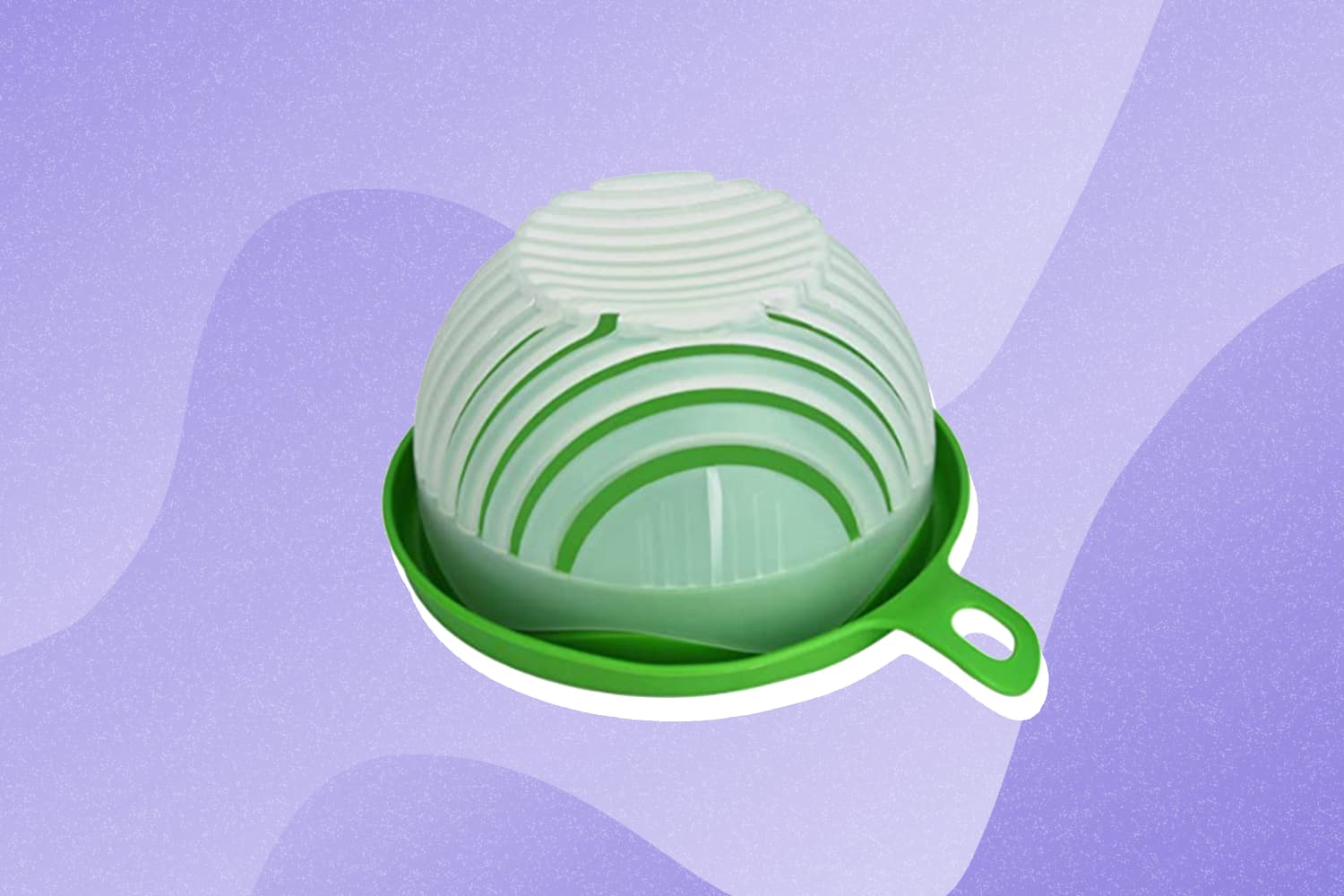 We independently select these products—if you buy from one of our links, we may earn a commission.
In theory, healthy eating should be as easy as popping veggies into your mouth as soon as the mood strikes throughout the day. Well, as a vegetarian, I know it's not quite that straightforward. I am the queen of pre-cut fruits and vegetables, splurging a bit at the grocery store just so I don't have to cut everything up myself at home. Simply put, I'm not a fan of slicing and dicing. In fact, I'll try to avoid it altogether to save my precious fingers. (I'm not exactly a Michelin Star Chef, after all.) Enter: the Salad Cutter Bowl by Websun.
Rendered in 100 percent BPA-free, food-safe materials, this slick little invention includes a bowl with wavy, open lines that, when turned upside-down, allow you to cut up a salad with ease. It also handily doubles as a strainer. Start by washing your veggies, close the bowl using the green base, and cut the ingredients with a knife. Rotate the bowl as needed to make more cuts, then flip it over, and voila — your freshly washed, perfectly cut salad is good to go.
One reviewer says that this Websun bowl even saves time, saying, "I was skeptical at first with this product. However, after a month of using it, I realized that it does save time, probably 15 to 20 seconds for each time I cut the salad." Another reviewer, a bachelor who doesn't have a lot of time or energy for healthy eating, says that this product "has made cutting the salad much easier as well as cleaning up easier." It's comforting to know that I'm not the only one out there who is kind of terrified of cutting things! I'm so glad that someone took the time to invent this for people like me — veggie-chopping anxiety, be gone.
No need to buy those pricey, pre-cut veggies and salad-in-a-bag anymore? Yes, please! Plus, with this multifunctional strainer/cutting board/vegetable chopper/bowl combo, you'll save money and a decent amount of space, too. This cute and quirky gizmo is also on major sale and uber-affordable at $9.99. Commence healthy (and affordable!) eating in 3… 2… 1 …
Buy: Salad Cutter Bowl by Websun, $9.99 (normally $20.59)