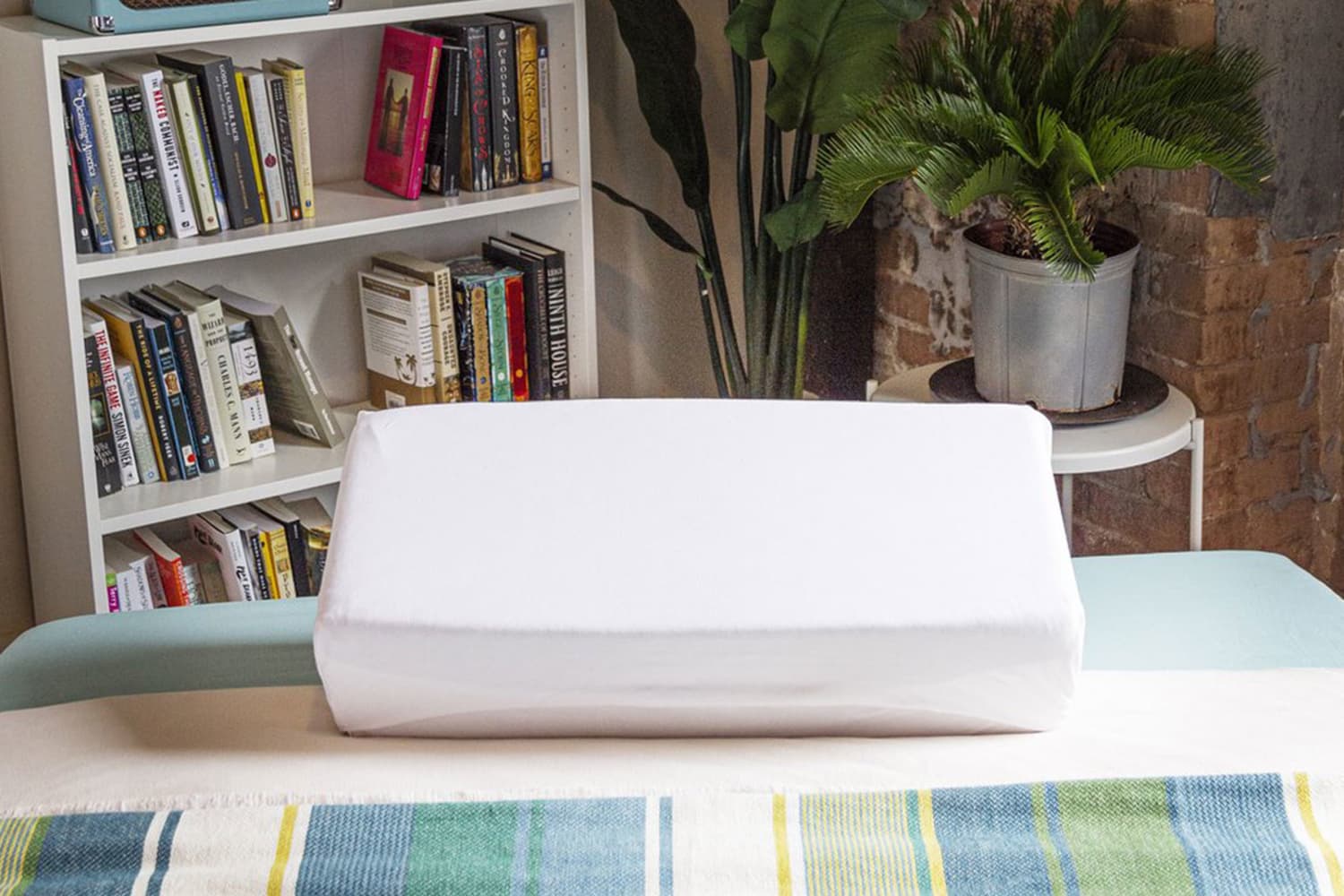 We independently select these products—if you buy from one of our links, we may earn a commission.
Here at Apartment Therapy, we're constantly testing new, innovative, and sometimes quirky products. One odd piece of bedding we recently came across is the Pillow Cube: A square shaped pillow designed with side sleepers in mind. It was a hit with our commerce director Mark, who said it totally transformed his sleep. This week, the Pillow Cube Pro got a fancy new upgrade as the brand launched their luxurious "Silky Soothe" pillowcase to go with it. Ooh la la!
So, what makes this pillowcase so grand? Well, it's made of 100 percent Italian silk and definitely doesn't skimp on quality. It's also made with zero seams, which helps it fit to your Pillow Cube Pro like a glove. It terms of temperature regulation, you simply can't ask for a better summer-ready material. Silk is an extremely breathable fabric, and its delicate texture is typically great for those with sensitive skin types.
The quality of your pillows, perhaps even more than comforters and sheets, can truly make or break your sleep. If it's too flat, you'll wake up feeling stiff and achy. If it's overstuffed and too plush, you'll find yourself tossing and turning all night. The truth is, there really is no one-size-fits-all pillow out there (side, stomach, and back sleepers have different needs). That's why companies like Pillow Cube have started taking a scientific approach to how we rest our heads. Much like the name suggests, this pillow is block shaped and perfect for side sleepers because it perfectly fills in the gap between the neck and the mattress. The L shape of the pillow's side aligns with the neck and shoulders, reducing the need for all that pillow wrestling throughout the night.
Mark's experience with the Pillow Cube was stellar. "Because I'm not repeatedly adjusting and readjusting my pillows throughout the night, I'm sleeping better than I have in months," he wrote in a full review. "I no longer arise from bed feeling sore and stiff, and I'm much more well rested."
If you haven't yet taken the plunge on the Pillow Cube, perhaps this luxurious new accessory will sweeten the deal.