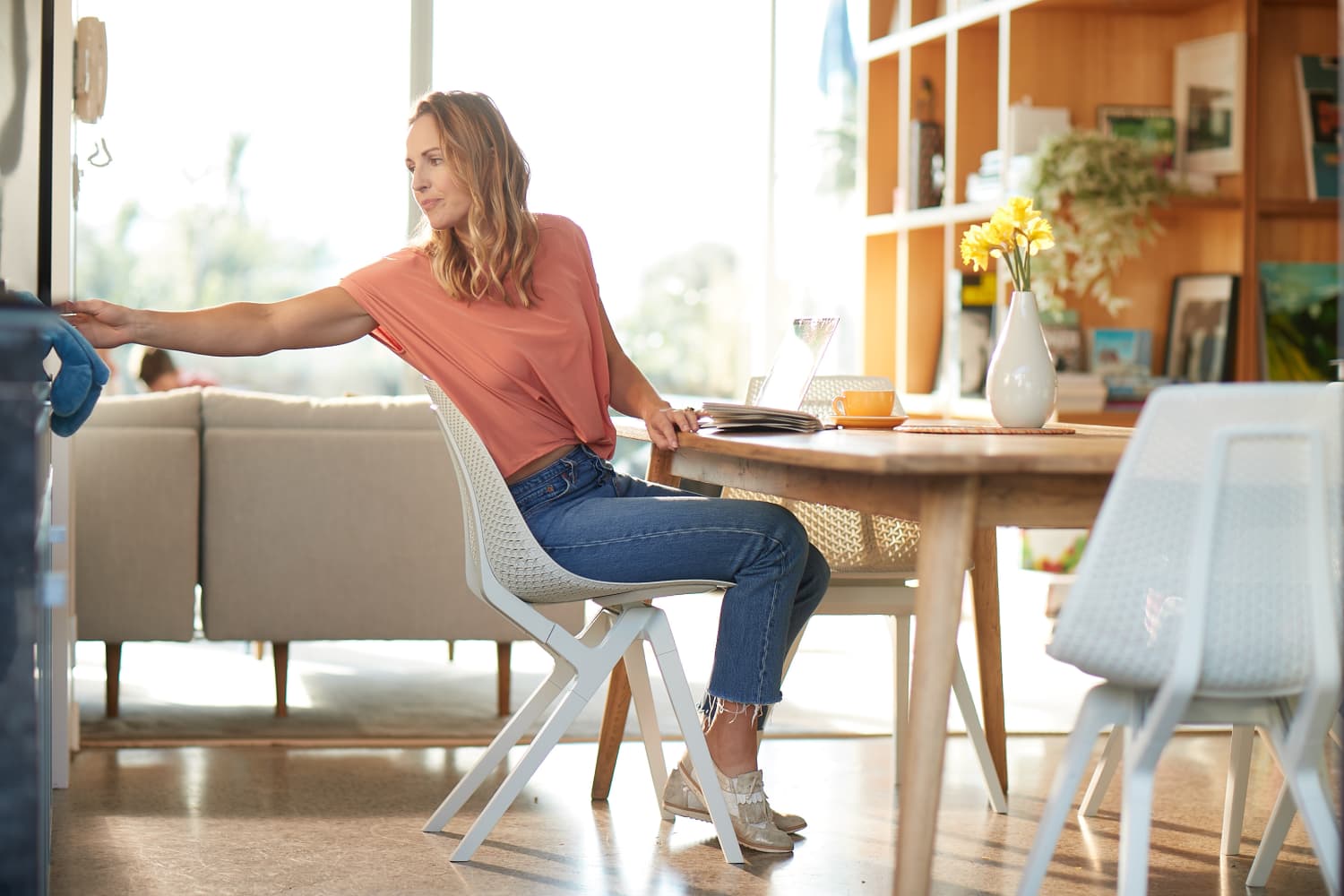 We independently select these products—if you buy from one of our links, we may earn a commission.
Sometimes a chair is just a chair. This is not one of those times.
A couple of months ago, I traveled to stay with my dad to help him recover from surgery. In the past, my work-from-home setup there had been pretty sparse, but with such a long visit on the horizon, I knew I needed to upgrade. Luckily for me, an awesome perk of working at Apartment Therapy is getting to try out new products, so I took Noho up on their offer to let me test the noho move chair. I used it for about six weeks, and liked it — but it wasn't until I was getting ready to go home that I realized just how much I truly loved it. It was breaking my heart to leave it behind.
Hailing from Aotearoa, New Zealand, Noho is a direct-to-consumer brand that combines sustainability, ergonomics, and technology to create the award-winning noho move chair. What kind of chair is it, you ask? Well, this particular piece of furniture defies labels. It was supportive enough to use as a desk chair for 60 hours a week, but it has a very understated profile. It's elegant enough for the dining room but more comfortable than your typical dining chair. It's durable enough to stand up to kitchen traffic, yet chic enough to be an accent piece for the living room. Clearly built to last, but also extremely lightweight (which makes it more eco-friendly to ship, too).
The noho move piqued my interest from the moment it arrived in its unique L-shaped carton. Each flap that I opened gave instructions on what to do next, and I felt engaged in the product from the start. The chair requires minimal assembly (as in less than two minutes), and the optional wool chair topper snapped on in seconds. I decided to go with the orange-y hue called Sunset (there are five nature-inspired colors to choose from) to complement my white chair (it's also available in black).
Once my chair was ready for sitting, it was easy to understand why it's won awards for its innovative design. The breathable material is actually ECONYL regenerated nylon, which is made from upcycled plastic waste like reclaimed fishing nets and end-of-use carpets. The auxetic mesh seat offers four-way flex technology that cradles your body in every direction. It intuitively responds to your movements to accommodate pressure points and improve circulation — a huge selling point for people like me who are plagued with back issues.
The $375 price tag seems steep at first, but if you can afford it, it's a worthwhile investment without a doubt. To sweeten the deal, Noho is offering AT readers an exclusive 15 percent discount now through August 31 when you use code NHAT15 at checkout (limit one use per customer).
In the end, I wound up leaving the chair at my dad's (which made him happy!), but I am taking advantage of the AT offer and buying one for my house, too.
Buy: noho move, $318.75 with code NHAT15 (usually $375)