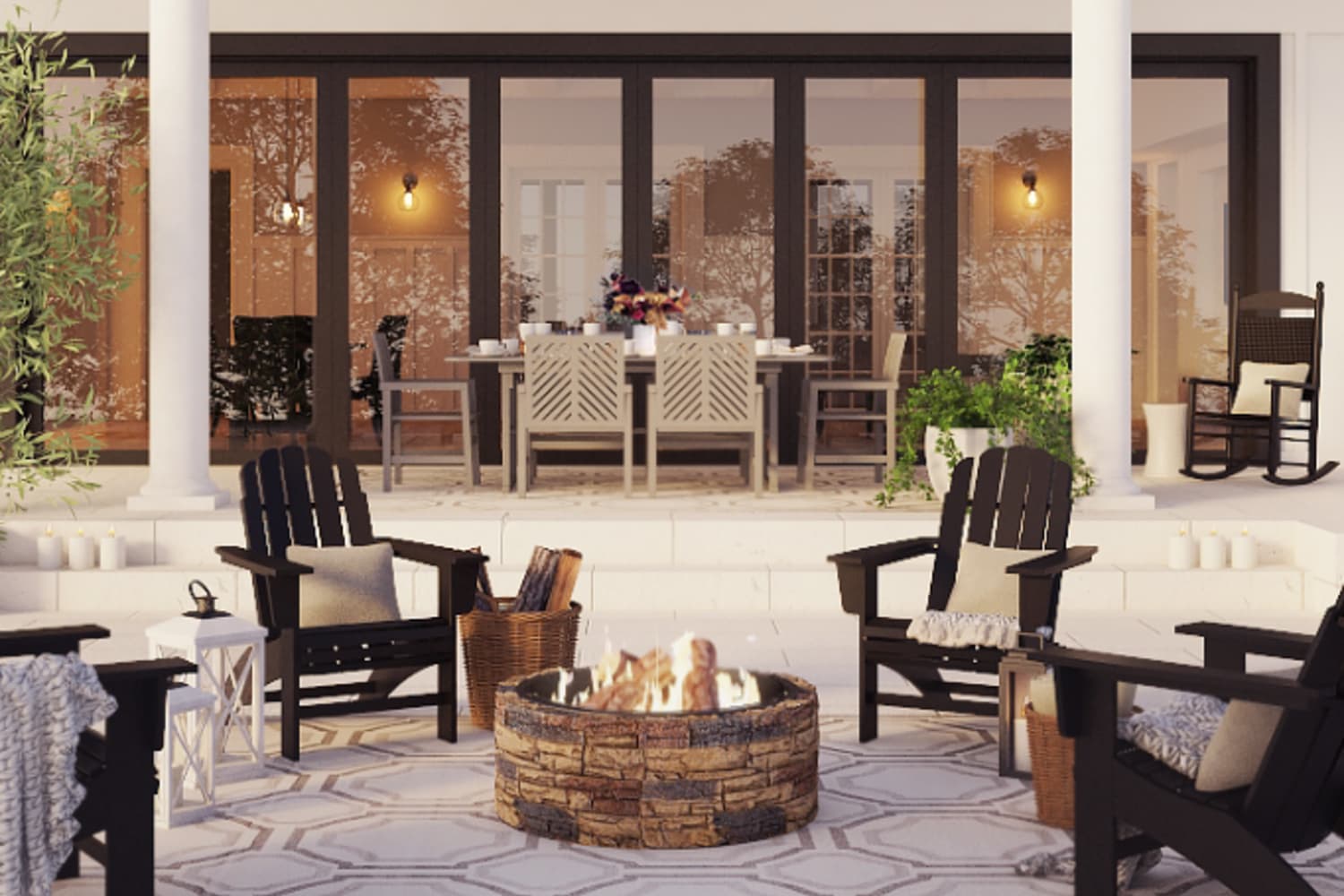 We independently select these products—if you buy from one of our links, we may earn a commission.
When you live in a city, you pretty much expect everything outside to be covered in a thin layer of grime. It comes with the territory, and it leaves city dwellers constantly wiping away soot from their window sills, balcony floors, and patio tables. But since that grime is as constant as the sunrise, it's up to you to choose your outdoor furnishings carefully, and that includes rugs. Ahead are some of the most gorgeous, design-forward outdoor rugs that can handle dirt and soot. From their dark colors to their sturdy, easy-to-clean materials, these rugs won't have you worrying about stains.
1. Traditional Botanical Rug
It's easy to find a striped or jute outdoor area rug — those are a dime a dozen. But it gets a little tricky to find one with more traditional patterns. If you're looking for an outdoor rug that feels like an indoor one, then this Turkish outdoor botanical rug fits the bill.
This one's for all the mid-century lovers out there. This half-moon outdoor rug mimics the look of mid-century modern tiles and will complement any vintage-inspired furniture or patioware you have. So take out the chartreuse deck chairs and the daisy-patterned water jug! This rug will give your backyard a retro vibe without overdoing it.
If a lot of soot accumulates on your window sills or on your back porch, then you want a rug that will hide — and not showcase — that grime. Skip the beige and pastel-hued rugs, and go for something black. This graphic leaf rug will give your balcony a modern yet tropical touch.
Checkers are having a moment right now in home design, appearing everywhere from statement walls to stairwell nooks. But rather than taking out a paintbrush, you can dabble in the trend by using this rug. The area rug's jaunty pattern is made out of thick yarn, making it feel a tad more luxurious than your basic, flat-weave rug.
If you can't get enough of southwestern prints or love the punch an oriental rug carries, then this outdoor rug is the perfect addition to your patio. Woven in vivid red, yellow, and blue colors, it will be just the thing to elevate your outdoor furniture and hide city grime.
For those who love a cream-and-white aesthetic, this tufted rug will definitely catch your eye. Made from polypropylene plastic, it is tough enough to withstand outdoor traffic but soft enough to make you want to pad around in bare feet.
For those looking for a unique area rug, this modern ikat rug is a great option. The angular ikat print feels almost abstract, and you can choose between either this earthy clay color or a bold black hue.