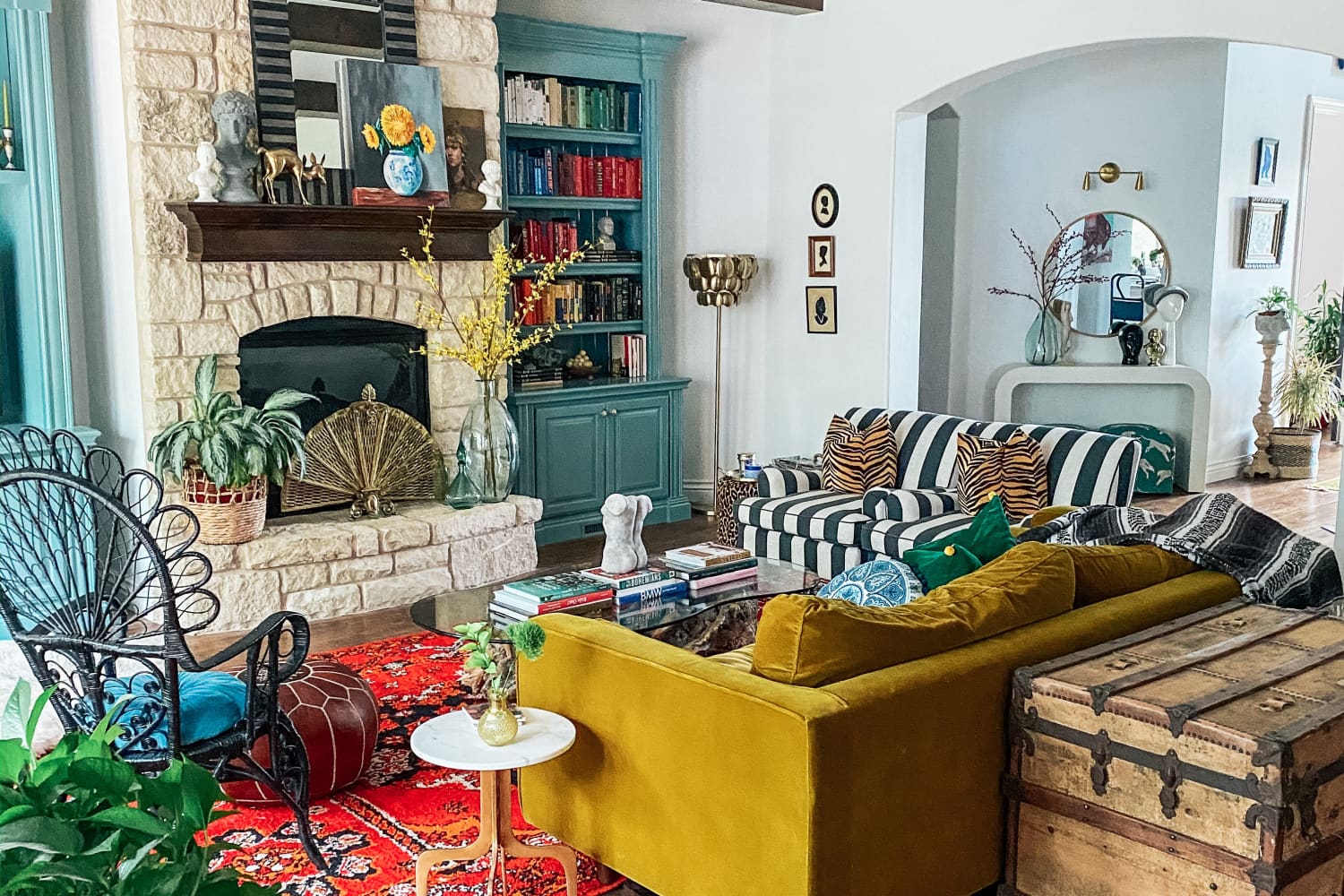 We independently select these products—if you buy from one of our links, we may earn a commission.
Name: Brandon and Sarisa Munoz, 15-year-old son, Dane, and daughter, Satori (although she is in college so she's not here much), plus one doggy, Vida, and our kitty witty, Chopper
Location: Edmond, Oklahoma
Size: 3700 square feet
Type of Home: House
Years lived in: 7 months, owned
When Sarisa Munoz and her husband, Brandon, had to relocate to Oklahoma from Texas, they had to begin their house hunting journey online. They also had to finish their home search online, purchasing this house without ever having set foot in it. "Last fall the housing market was on fire, so you had to jump quickly or it would get scooped up. We got lucky!" Sarisa explains of this spacious house in Edmond, Oklahoma. Sarisa says they did have to remodel a lot of the home — also while still living out-of-state — but they did keep the existing oak wood flooring; she loves how it looks and gives the home more character.
"The biggest challenge was designing/remodeling this home from 1000 miles away," Sarisa writes. "Not being present during the process was challenging and nerve racking. We made it work though! We love our home and it turned out just beautiful."
Apartment Therapy Survey:
My Style: Eclectic Bohemian
Inspiration: I've always liked this style even though many years ago mine was much more neutral and calm. I've grown into being more daring in my design choices over the years.
Favorite Element: Several things: the natural light, the vaulted ceilings, the wood beams in the living room, and the oak floors throughout the bottom floor.
Biggest Challenge: The biggest challenge was designing/remodeling this home from 1000 miles away. Not being present during the process was challenging and nerve racking. We made it work though! We love our home and it turned out just beautiful.
Proudest DIY: I haven't had the chance to do a DIY on this home yet, but my best DIY I did last year was paint my brown leather sofas with custom mixed Angelus shoe paint! They now are a beautiful Kelly green! I actually read a very informative tutorial on AT. It was tedious work from start to finish, but it ended up really cool and worthwhile! Such a great way to give your tired furniture a glow up! They have held up beautifully too!
Biggest Indulgence: When I was redesigning the kitchen I wasn't going to change out the countertops; they were kind of a creamy white granite. My feature in the kitchen was the black and white flower-tiled vent hood. Not being here (still living in Corpus Christi) I didn't realize the counters would clash! A few weeks before we moved I realized I had made a mistake, and immediately had to get approval from my husband so that we could also change those out. Thankfully he agreed. I decided on a white quartz with gray striations running through it! I adore the counters and it really made the kitchen look amazing!
Is there something unique about your home or the way you use it? Instead of using the formal dining space as a dining room, I changed it to an additional living room. We have a breakfast nook and a bar so I thought that was sufficient for eating space. I call it my "sitting room." It has matte black painted walls, a burnt orange sofa, and fun starburst style chandelier. Yes, I do "sit" in there! My son probably uses it the most though… he'll lay in there on his phone doing teenager stuff!
What are your favorite products you have bought for your home and why? My favorite local store for modern bohemian decor is called Live Boho. I have several chandeliers, two hand chairs, pillows, planters, etc. from there. Also, I love thrifting art and vintage goods for our home. I love the collected feel it gives, and always a unique twist!!
Please describe any helpful, inspiring, brilliant, or just plain useful small space maximizing and/or organizing tips you have: I had our electricians put an outlet in the broom closet so I could hang up our Dyson vacuum in there out of sight. It may seem silly, but it was one of my favorite simple additions to help organize.
What most people get wrong about using color in their home: I don't think you can do wrong if you personally like it. As you see my home is full of all the colors. I don't discriminate. I think people are just scared of using color, which I don't think should be so scary. It's fun to play around, embrace the rainbow, and see what magic you can come up with!
What are the biggest tricks/secrets to using color in decor? I mix colors, patterns, and textures. I just try to stay open minded about it. If I see something I like I buy it. I don't worry too much about where it's going to go. I always find a place to work it in, and yes sometimes that results in a decor shuffle or a "shopping my house" moment to get everything just right.
What's your favorite wall paint color of all time: Right now I'm really living Sherwin-Williams "Perle Noir." My sitting room and vaulted entry ceiling are done in it. I'm also a fan of Sherwin-Williams "Pure White." Basically the whole house was repainted in that shade. I think white walls really help elevate your color story and make everything pop!
What's your absolute best home secret or decorating advice? Trying to stay up with trends can be overwhelming, so I think just staying true to what you like or whatever makes your eyes light up when you walk in your house is what is "in" for the long haul!
This house tour's responses were edited for length and clarity.