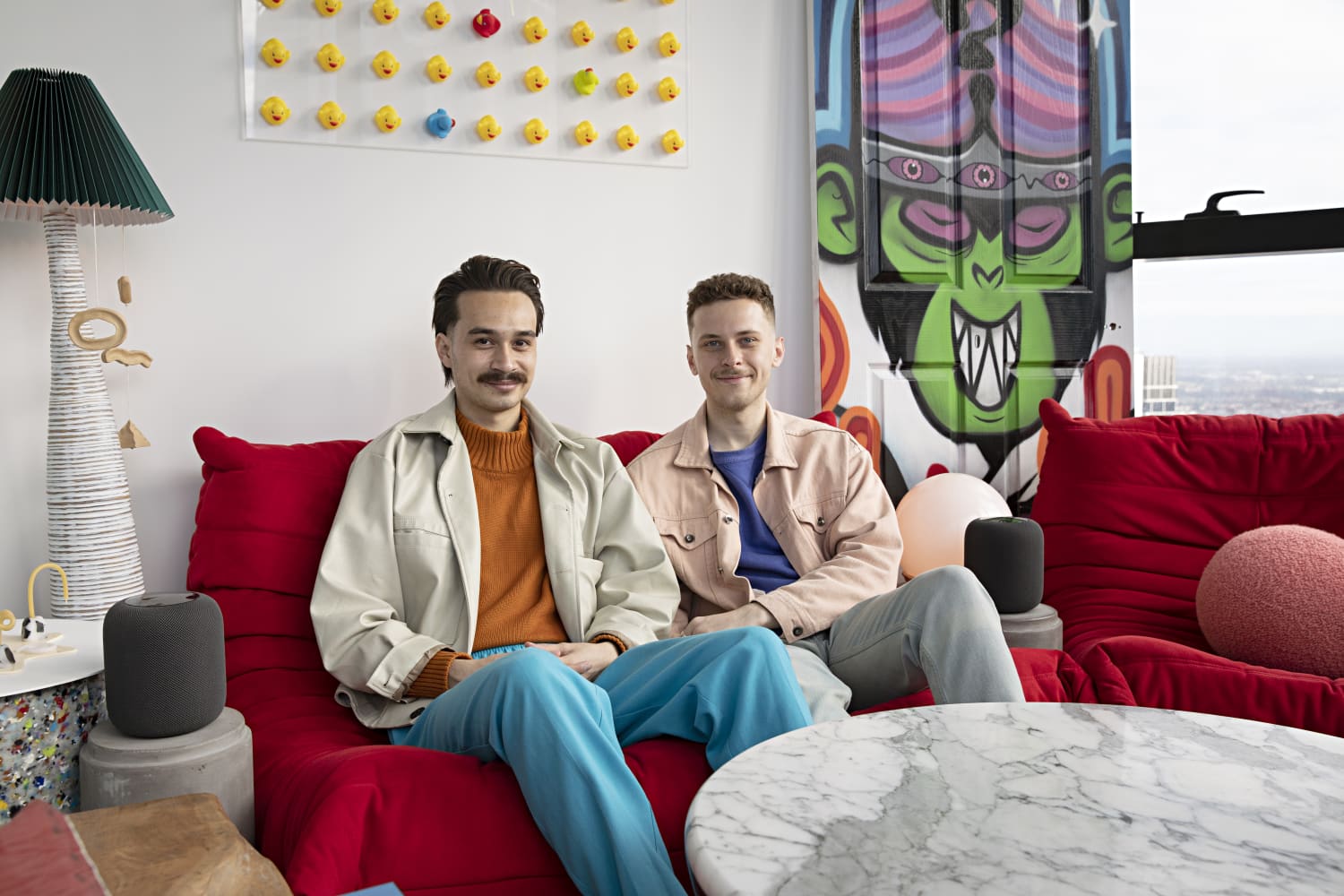 We independently select these products—if you buy from one of our links, we may earn a commission.
Name: Josh, Matt (@joshandmattdesign on TikTok) and our puppy Louis
Location: Melbourne CBD — Australia
Size: 700 Square feet
Type of Home: Two-bedroom, two-bathroom apartment
Years lived in: 4 months, renting
For creative couple Josh and Matt, their rental apartment isn't just their home… they describe it as an art playground. "When moving to Melbourne we wanted an apartment that really enabled us to mesh work and home seamlessly and we found the perfect inner city two-bedroom, two-bathroom that allowed us to do just that!" they write. "Our apartment is often the testing ground for new ideas and art creations so you can always expect our interior to change and shift with us! For example, a lot of the art around our house is really a timeline of our art evolution and experimentation with color, texture, and materiality. Because we both work and live in our apartment, it was very important for us to ensure we felt happy in our surroundings. We love being surrounded by art and color; it really lifts the soul and engages the mind. We believe being surrounded by things you love helps inspire you to create amazing things!"
So passionate about creating a fun and colorful home in a rental, the couple actually created their own brand of home decor, joshandmattdesign, to help other renters (or owners) add playfulness to their homes. "Our home is a reflection of who we are and we hope to encourage others to explore their own personal interior style. Because we are renters we had to think outside the box when decorating our place. The world of interior design is often not ideal for renters, yet renters make up a huge part of the population!" explain the couple.
"We felt it was such a struggle decorating our home in the style we wanted to whilst ensuring we didn't damage our apartment and that led us to creating home decor and art for the home that was safe and easy to install and remove. We hope our apartment encourages people to have fun with their space because owning or renting your place shouldn't determine or limit how your home represents you!"
Apartment Therapy Survey:
Our Style: Our style is fun, colorful, functional. We love modular design as it allows us to change up our space to our needs and wants quickly and easily! We call ourselves minimalist maximalists as every object has a purpose or a place in our home. We treat each piece of decor and furniture as an individual sculpture allowing us to really think about how our home objects and colors interact with one another. This creates a fun and happy environment for us that does not feel overwhelming or cluttered.
Inspiration: We find inspiration from a lot of people, places, and objects. When something jumps out at us, we often reflect on what elements of that person or object we gravitate towards. For example we look up to Kelly Wearstler for her ability to mix and match furniture/art and decor that would typically overwhelm or be tough to easily blend together. We love Jeff Koons and his art style and use of color, and we love Gufram for their fun, playful, and radical furniture designs.
Favorite Element: Our favorite element would have to be all the windows in every room, there are views all the way out to the horizon from every room and it's such a blessing to look out everyday and be so inspired by our surroundings! We have a view both inside and out and it makes us so happy. In Sydney where we moved from, we were in a tiny studio with three windows and our bedroom had no windows, so this has really helped us appreciate the natural light and views we have.
Biggest Challenge: Our biggest challenge was definitely the amount of furniture we had in a small space; we had collected furniture and decor during our year in Sydney and when it came to moving we were a little worried about how we would get everything to come together in a cohesive way. We ultimately overcame this with some clever furniture placements, playing with the idea of spaces within a space and also removing the doors. It was insane how much more space we had by removing the doors; it opened up the rooms and we had more space for our furniture!
Proudest DIY: Our proudest DIY would probably be our planet sculpture! Originally it was a water fountain that we had on our balcony in Sydney. It was way too noisy but we didn't want to just get rid of it so we decided to make something that wasn't working for our space into an art piece that we are so proud of!
Biggest Indulgence: Our biggest indulgence would have to be our togo chairs! They are definitely worth it to us as they are our forever chairs and insanely comfortable; it always feels special sitting in a togo.
Is there something unique about your home or the way you use it? We turned our second bedroom into a TV room allowing us to have two smaller living areas instead of one large one. We hung a curtain up to hide the bedroom wardrobe and that really helped the room become its own space and not feel at all like a bedroom!
What are your favorite products you have bought for your home and why? Probably our smart lights; lighting can make such a dramatic change to your interior and it can be one of the easier investments to make for your home! We have different interior scenes set up that light the home perfectly for different moods and times of day and being able to control your lights with Siri is quite handy.
Please describe any helpful, inspiring, brilliant, or just plain useful small space maximizing and/or organizing tips you have: We would say think about what your existing space has to offer you! For example, our window sills are so thick they act as shelving for our art and decor, saving us space and utilising an area that would often be overlooked. Another example is using our hallway as our study / office, an area of the home that often just gets used as a thoroughfare.
What's your absolute best home secret or decorating advice? Our best decorating advice would be to really reflect on who you are as a person! This really helped us translate this into our art, decor, and interior style as when you are confident in who you are as an individual it becomes easier to demonstrate that in your surroundings. Also don't be afraid of making mistakes; it took a lot of rearranging and art experimentation and mistakes to get to the stage we are now! Enjoy the journey and be easy on yourself. Decorating your home is a journey you should enjoy; it's not always about the destination!
This house tour's responses were edited for length and clarity.