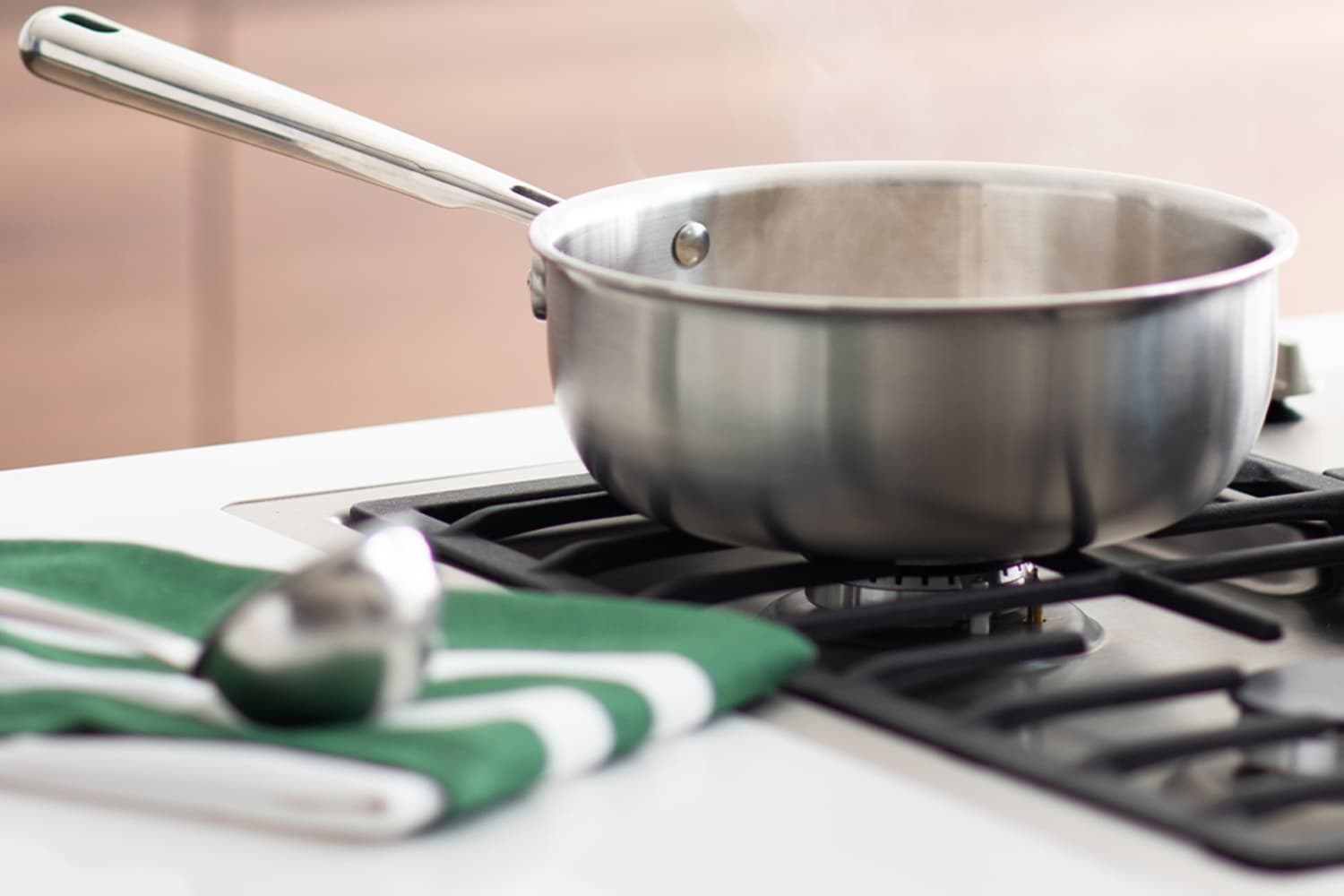 We independently select these products—if you buy from one of our links, we may earn a commission.
In elementary school, you're taught that peer pressure is bad, but in the case of finding high-quality pots and pans to cook with, following the leader is a good bet. If you're in the market for new cookware, get ready to click "add to cart" — as of today (June 19), Misen's super popular saucier is finally back in stock. Kitchn has written about how quickly this fan-favorite pan flies off the shelves before, and it even made their list of the best saucepans for most home cooks. Snag your stainless steel Misen saucier ASAP, since it had a waitlist of 1,000 people back in April (yes, really!) and is sure to sell out again soon.
Misen — a riff off of mise en place — is a direct-to-consumer brand that aims to help people cook with better tools. While the company initially just sold knives, it has since expanded to stainless steel and nonstick cookware. According to Kitchn's lifestyle director, Lisa, Misen "puts LOTS of thought into the design and materials of each piece, considering every last millimeter of a handle and taking months to come pick a stainless steel."
For those who aren't familiar with this type of cookware, a saucier is basically a rounded saucepan, but with a wider mouth and sloped walls. These features allow for easier stirring and whisking, and, as one happy customer put it, prevent "ingredients from hiding in the 'corners' of a regular saucepan. Handled well, this pot will last a lifetime." The saucier is the ideal vessel for whipping up a delicious béchamel sauce or a batch of homemade gravy for the holidays, but it can also be used for much more: One reviewer reports that they use the Misen saucier for blanching veggies, boiling pasta, and making fudge, while another has made homemade spaghetti sauce, chili, hard-boiled eggs, and even banana bread in it.
This saucier comes in either a two-quart ($75) or a three-quart ($85) size, so you can choose based on your household's needs. They're made from Misen's signature 3-millimeter, 5-ply stainless steel, which allows for even heat distribution and retention for perfectly cooked dishes. These pans are also dishwasher safe, oven safe, and compatible with induction cooktops, making them incredibly easy to use.
And with a 4.9-star rating from over 500 customers, it's worth the hype. Reviewers laud its stay-cool handle, which lets the chef maneuver the pan with ease (and without getting burned!). They also love how easy this "restaurant quality" saucier is to clean and how evenly it distributes heat, so you don't need to spend tons of time soaking and scrubbing the pan or worrying about uneven cooking. One reviewer remarked that it was "about time I treated myself to some quality cookware," and we suggest treating yourself, too, before the restocked saucier sells out!