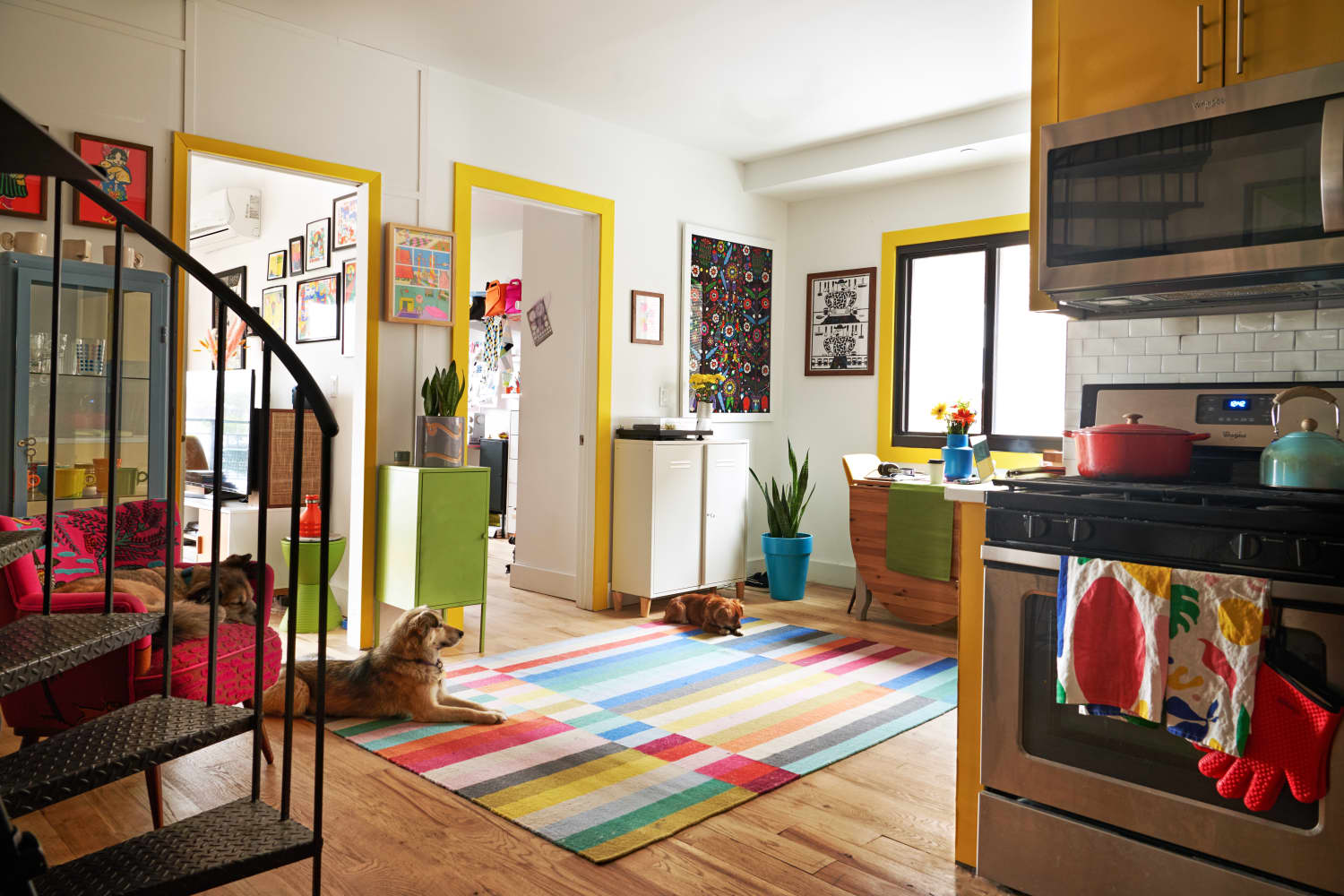 Whether you're a renter or a homeowner, it's important to make the place you live look and feel like home. Paint is often the best way to make your home feel like yours, and for good reason — it's fun, DIY-friendly, and affordable. Walls typically top the list of popular places to paint in a home, but what if you switched it up? There's a new, unexpected spot you may want to add some color to with paint during your next room refresh, and it's — maybe you've guessed from the above photo — door and window trim!
I first stumbled on this genius paint idea after seeing the three bedroom duplex pictured above, where footwear designer and freelance illustrator Haley Boyko lives with her partner, Nick Sylvester, and their three dogs, Maya, Emma, and Penny. Boyko considers her style to be colorful and eccentric. "I really truly believe that bright colors enhance your mood," she says. "I have always been drawn to color." So it's no surprise that bold shades are everywhere you look in her apartment.
When they first moved in to their apartment, Boyko says she immediately put bright yellow contact paper on all of the kitchen cabinets. "I loved how it brightened up our space," she says. Then, during quarantine, she decided to paint the door frames and window trim a bright shade of yellow to match. This simple paint job quickly became her favorite touch in the space, and I can see why. Painting window and door frames is quicker (and therefore, easier to reverse) if you want color in your place but want or need to leave your walls white. Add large colorful artwork to the mix like Boyko did, and it's as though your walls are painted. You still get tons of personality by taking on a project like this on its own, too; it's cheaper, easier to execute, and just a little more unexpected than fully color-coated walls.
If your walls and windows don't have trim, or you're looking for even more spaces to paint, take a cue from Ola Zwolenik and paint the inside of your window, cut-out, or door frames instead. Zwolenik lives in a terraced home in South East London with her husband, Michal, and their dog, Żółty (which means "yellow" in Polish). Zwolenik's style is a colorful eclectic mix with elements of mid-century modern, traditional British, and Art Deco thrown in for good measure. "There are just too many things I love," she says. Well, the real standout for me is the creative use of paint to make the kitchen pop, and it's not all about the wall color.
In kitchens that don't have fully open-plan layouts, it's not unusual to have a small cut-out or "serving hatch" built in to one of the walls, as you can see in Zwolenik's kitchen above. What's new here, though, is painting the inside of that "window" a different color from the walls or cabinetry. Though newly remodeled when Zwolenik and her husband bought their home, the all-white kitchen felt life-less. After living with it for five years, the couple finally decided to paint. "We painted the cabinets and walls to add some character and make it ours," she says of the navy and mustard scheme. That pop of green in the cut-out is maybe the most creative part of the setup for me. This emerald detailing works with the other colors in the room and plays up the vibrancy of the plants, which are being used to almost close-off the opening.
The takeaway here: The simple trick of painting door and window trim — or inside a frameless door or window opening — can give even the whitest of rooms a fun, funky focal point. So if you thought you ran out of places to paint, think again!