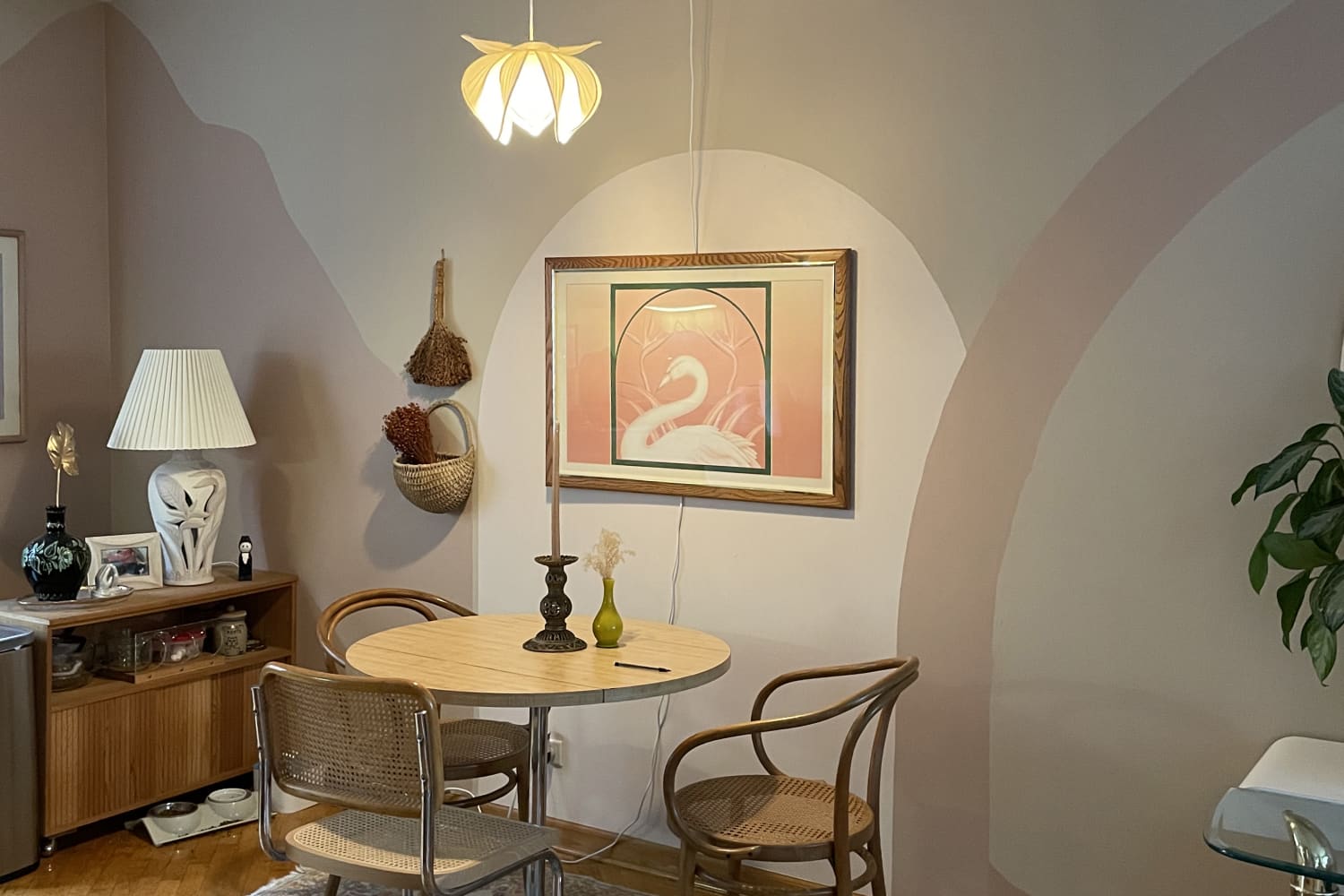 Name: Lexy Weixel, roommates, and two cats
Location: Chicago, Illinois
Type of home: Apartment
Size: 1,000 square feet
Time lived in: A few months, renting
Tell us a little (or a lot) about your home and the people who live there: I'm non-binary and queer. Honestly that's reflected in my home because being queer for me has been accepting myself and accepting the weird. And my space is truly a mesh of myself and just full-on weird. I sell vintage furniture, so my apartment is a mixture of all my favorite pieces I've found.
I love lamps, especially lotus lamps from the '80s, so I have three of those. I've really been leaning into '80s Art Deco in general, so a lot of glam mixed with simple elegant lines. We have an open space plan, so our living room, reading nook, kitchen, and dining room are all one space. But I feel I've done a great job of dividing these sections up. It's almost like three different styles meshed together, but I love it.
The living room is very late '70s greens and oranges and other earth tones. The reading nook is full-on blue and white '80s Art Deco. And the kitchen/dining room is a combo of both. I also have a huge mural covering the back wall. I painted it before we had even moved in, because I knew I wanted a statement. My other job outside of selling vintage furniture is theatre. I'm an actor and teacher, and so is my roommate. We both perform and teach all over Chicago. Our other roommate is in grad school studying to be a speech pathologist. And our two cats are old men. One is a big fluffy tired and grumpy boy, and the other is black and white and blind in one eye and pure chaos.
What is your favorite room and why? It has to be the reading nook I have set up. It all just came together so well. It's my '80s Art Deco glam spot, and it truly feels like a blast to the past. Plus, in the morning, the light streams in perfectly through the window, and you can just sit there and bask in the sunlight.
Describe your home's style in 5 words or less: '80s glam, lotus lamps, murals, Art Deco, unique
What's the last thing you bought (or found!) for your home? A lotus table lamp! I just think the '80s knew how to make equally elegant and absurd pieces.
Any advice for creating a home you love? Don't be worried about fitting a certain style or era. The more I've totally mixed everything up, the more I adore my space. The easiest way to really create a room from scratch, though, is to find that one piece you really love, and start designing around it. For my living room, it was a beautiful, huge gold fan on the wall. For the '80s nook, it was my glam chairs. For the dining room, it was a hanging chandelier I got. Once you have that one piece you love, everything will fall in place around it.
This submission's responses and photos were edited for length/size and clarity.