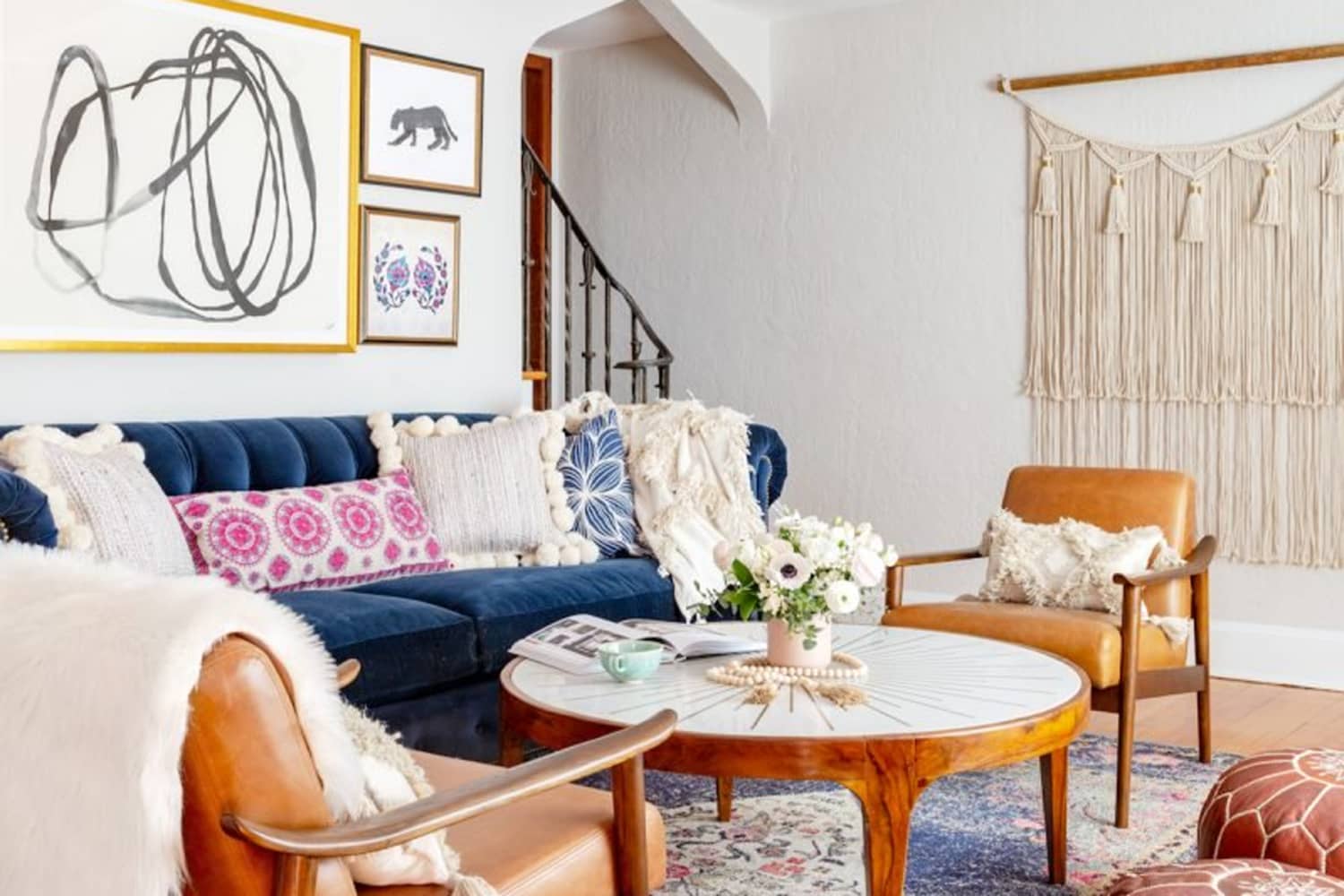 We independently select these products—if you buy from one of our links, we may earn a commission.
Even though I always love shopping small and supporting local businesses, I've noticed recently that Amazon has seriously stepped up its home decor game, making it feel like a one-stop shop for everything from organizing essentials to unique vases.
However, browsing all the goods Amazon has to offer can sometimes feel like treasure hunting without a map. Enter: Amazon's hidden "Now Trending" marketplace, a section of expertly curated home decor finds sorted into of-the-moment categories that get refreshed seasonally. One glimpse at the clean, organized landing page will have you saying goodbye to all your Amazon shopping gripes. The trends they've chosen to highlight (like lived-in minimalism and matte black accents) are the same ones I'm seeing all over the Instagrams of my favorite design influencers. Ready to get shopping? Here are my favorite picks from their current curations.
Muddy neutrals are my favorite, so I knew the second that I saw Amazon's "Soft Palette" trend category, I was going to love almost everything. To be honest, it was hard to pick just one item from this curation, but I finally settled on this gorgeous lightweight throw from LIFEIN. The rust hue is the perfect shade to bridge the summer-to-fall transition, and the waffle texture adds just the right amount of visual interest.
Buy: LIFEIN Knit Woven Throw Blanket, $19.28
Natural wood accents are everywhere right now, and I love the way they add a lived-in warmth to almost any space. This gently worn decorative bowl is the perfect way to add a bit of character to a coffee table or countertop. Modeled after vintage bread bowls (which can be very expensive at flea markets), it's a great way to go all-in on a trend without breaking the bank.
Buy: Southern With Grace Thick Wooden Bread Bowl, $28.49
If a boho vibe is your jam, chances are you've been on the hunt for some earthy geometric accents to add to your space. That's where Amazon's "Symbols" curation comes in. This assortment features everything from graphic wall tapestries and moon phase garlands to woven throw pillows. My favorite? This trio of terracotta-colored artwork. The sun and moon shapes depicted pair well with a sunset-inspired palette and mid-century lines for wall decor that would be at home in any boho nest.
Buy: Haus and Hues Mid Century Wall Art, Starting at $11.99 for a set of 3 prints
Nod to the great outdoors with an earthy pick from Amazon's "Natural World" shop category. I love this vibrant wallpaper, which combines quintessential forest motifs like pinecones with vibrant (and slightly retro) hues of teal, navy, mustard, and more. It'd be a great way to enliven a small but mighty space like an entryway or powder room.
Buy: NuWallpaper Groovy Garden Peel & Stick Wallpaper, $25.99 per roll
I am a firm believer that every room, regardless of style or budget, can benefit from a bit of black. There's just something so chic and timeless about incorporating even just a smidge of the bold shade, and I love how the new matte take on the trend makes it even more subtle and modern. These candleholders would be a great way to level up your dining room decor or add a very "now" touch to your fireplace mantel.
Buy: Gails Willing Matte Black Candle Holders, $16.96 for a Set of 3
Corral all your bits and bobs in one place with this pair of macrame baskets. The woven style is basically the calling card for boho decor, so it makes sense that Amazon earmarked these. Organization doesn't have to be boring, and these guys prove it, marrying style and function together in one earthy, textural design.
Buy: DUOER Macrame Storage Basket Boho Decor Baskets, $28.99 for a pair
In another life, I'd like to come back as a minimalist. Right now, I just like being surrounded by my things too much to pull it off, but I've always admired the quiet, serene confidence minimalist design has to offer. Amazon is calling attention to a (possibly more achievable?) sub-category of the design phenomena with their curated "Lived-in Minimalism" category, which features all the cozy accents and streamlined shapes minimalism has been associated with. I can't get enough of this unique circle vase, cast in a matte white ceramic that is both textural and timeless.
Buy: INGLENIX White Ceramic Vase, $34.99
Bring a touch of modern design to your space with help from Amazon's "Geometric Forms" category. The curation packs a punch with funky, shapely picks for lamps, pillows, candlesticks, and more. I love this angular table, which can easily bridge the gap between modern and rustic design, thanks to its rich, wood-like exterior (which is actually made of lightweight concrete!).
Buy: Christopher Knight Home Jerod Light-Weight Concrete Accent Table, $67.15