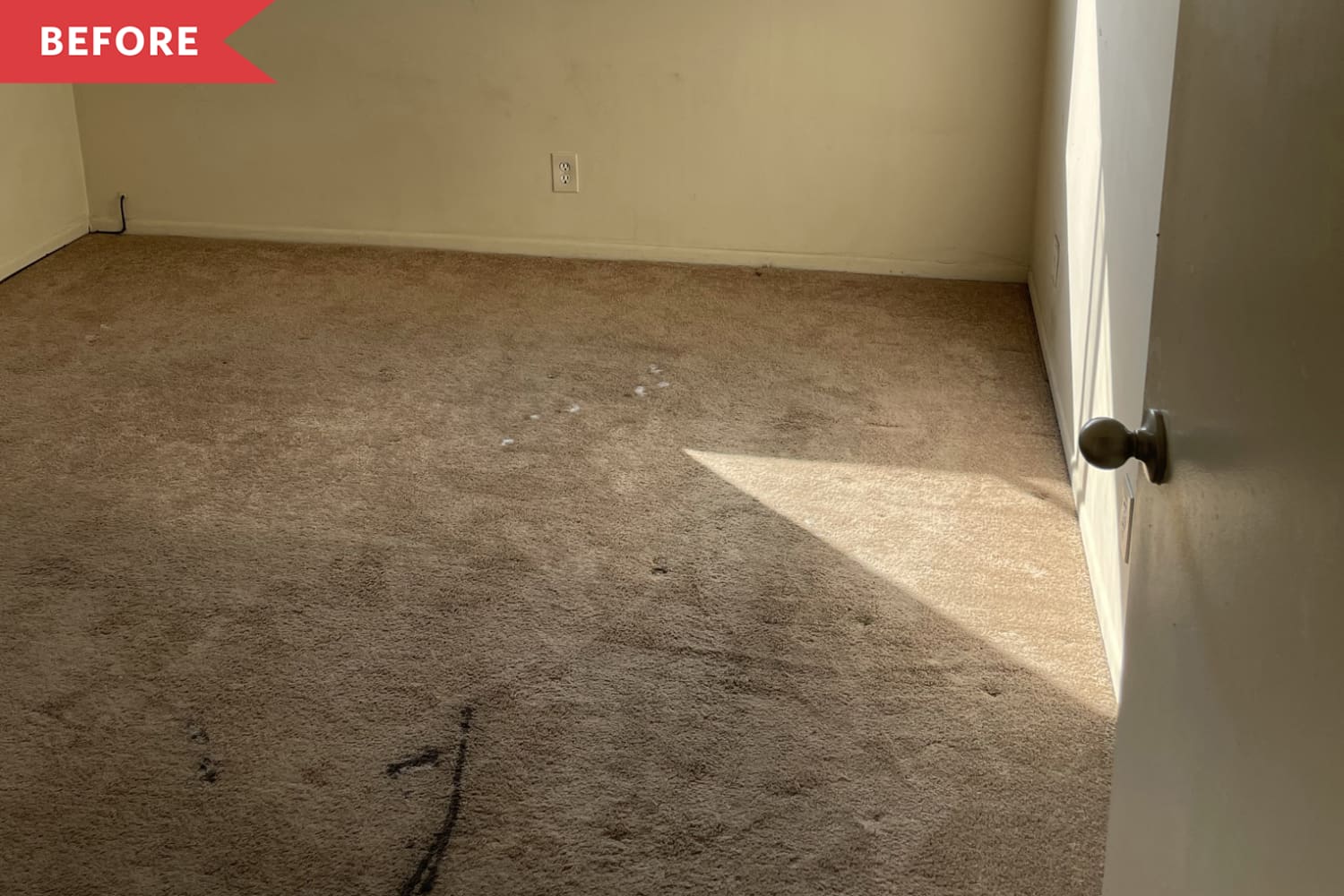 We independently select these products—if you buy from one of our links, we may earn a commission.
Making an old space look new again is always a complicated endeavor — but especially so when you're living in a rental, where you might be restricted on what you're allowed to change.
At Patty Johnson's apartment, for instance, the second bedroom was looking worse for wear after 50-plus years of rotating occupants. While a roommate had occupied the room previously, once they moved out, Patty and her fiancé used this room primarily as a storage space. "it was piled with old clothes and items that needed to be donated. I tried to keep the door shut because I couldn't stand the sight," Patty says.
As the world started to open up, Patty wanted to create a welcoming space that could host overnight guests. But before she could get there, Patty knew that the room would need some serious TLC to help transform it from dingy to bright and fresh.
Patty and her fiancé started by clearing out all of the items they'd been storing in the space, giving away or donating what they didn't need. Next, because they couldn't replace the carpet, they rented a carpet cleaner to help lift some of the set-in stains. They also hired a local contractor to give the room a fresh coat of paint. The combo — newly cleaned carpets and repainted walls — goes a long way in making the room look brighter.
Behind a new bed, Patty and her fiancé hung an accent wall of removable wallpaper. "We were surprised by how long it took us to match up each strip to get the pattern just right," Patty says. The effort was worth it, though: The accent wall gives this room a focal point that's still neutral enough to pair with lots of different artwork.
New nightstands, lamps, a patterned rug, and a console help round the room out. Patty was able to source some items from Facebook Marketplace, secondhand stores, and even the curb, which kept costs low. All told, the room took $930 to clean, paint, paper, and furnish — impressive, considering the high-impact results.
"I love how you can totally transform a room with a fresh coat of paint and temporary wallpaper," Patty says. "To be honest, I was even surprised how well the room turned out!"
Inspired? Submit your own project here.