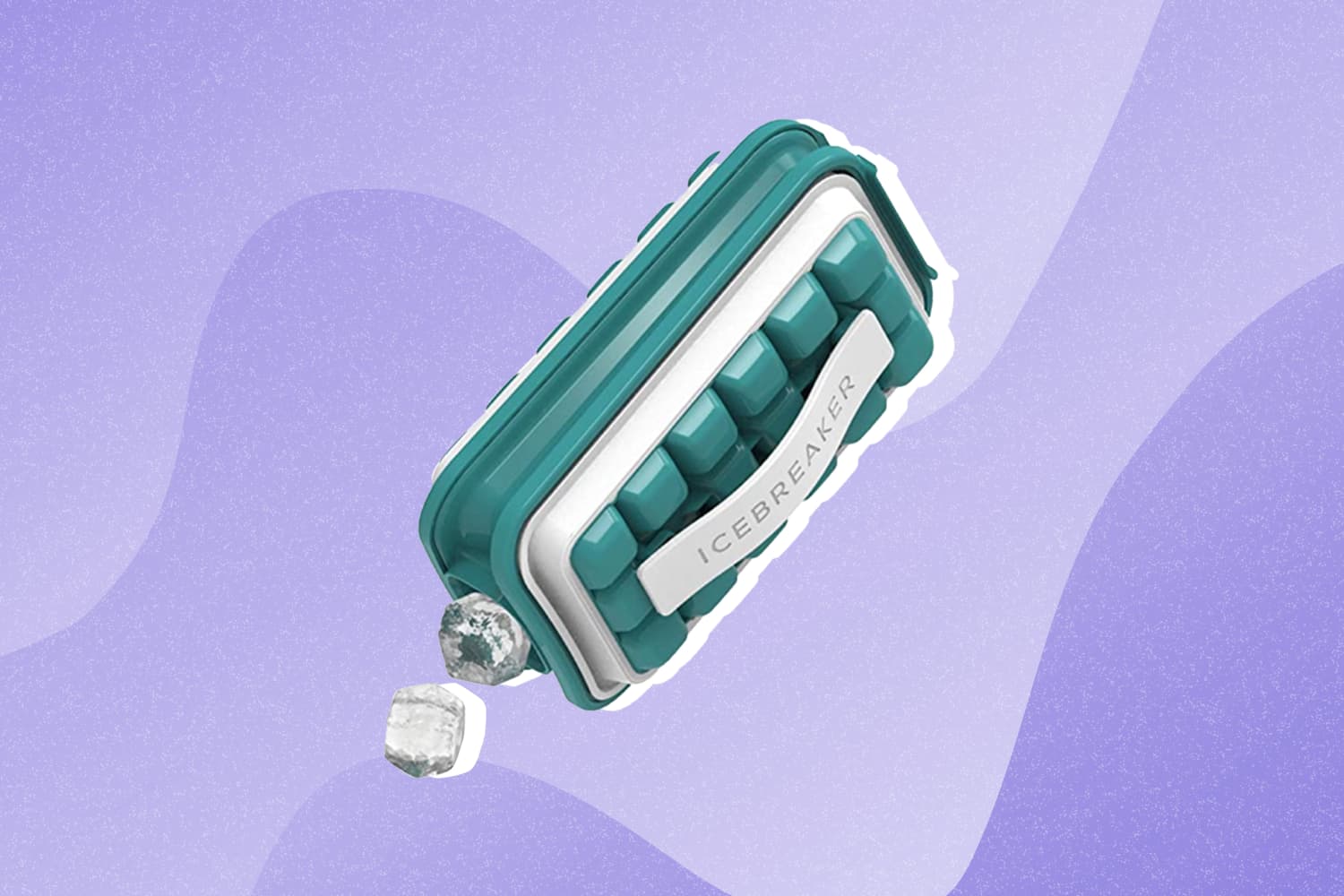 We independently select these products—if you buy from one of our links, we may earn a commission.
For all my 30-something years, I've assumed there were just two ways to make ice cubes at home: by freezing water in individual trays and popping cubes out one by one, or through whatever alchemy/magic happens in built-in ice-making units. So I was more than a little surprised to discover that there's actually a third, more innovative, way to enjoy fresh ice cubes at home and on the go: the Icebreaker Pop Silicone Ice Cube Tray.
The Icebreaker Pop is a manual-use ice cube tray (so, it doesn't employ the mystical elves in your freezer unit), but unlike other manual trays it's completely touch-free. Translation: You don't have to put your fingers on the cubes, making it a smart, sanitary choice when serving guests. And unlike every ice cube tray I've known and hated, it won't spill as soon as I slide it in the freezer. It's also incredibly easy to take with you — here's to more icy-cold cocktails with picnics in 2021!
To use it, simply open the silicone mold, fill with water, and freeze for six to eight hours. When you're ready for some ice, gently press on the sides to release the cubes, and remove the lid. The tray expands, so you can shake it up and pour the desired amount from the wide-mouth top. It's easy to disassemble, and dishwasher-safe too.
One of the most popular features among reviewers is how neat and stackable the Icebreaker Pops are. Unlike regular trays, this one doesn't need to be stored level to keep from spilling. One happy customer points out, "You can put it in any position and it will make perfect ice, great for packed freezers."
There's a slight learning curve with this product, but Icebreaker Pop has a short tutorial video that helps explain the process. And it's worth the extra couple minutes you'll spend learning the "how to," because this tray will definitely change your life in tiny-but-awesome ways. It's the little things, right?
As one reviewer notes, the cubes are perfectly sized for water bottles, making them much more convenient than the average ice tray. But the best part: You don't have to bang the tray on your counter, sending shards (and the occasional cube) of ice flying. "I don't have ice falling all over the place after I've cracked the tray," says one reviewer, which gave me all of the feels because #relatable.
The Icebreaker Pop is way more than a party trick — but if your party trick is mixing up icy cocktails, mocktails, and other drinks best enjoyed cold, well, your game is about to get a little more swagger.