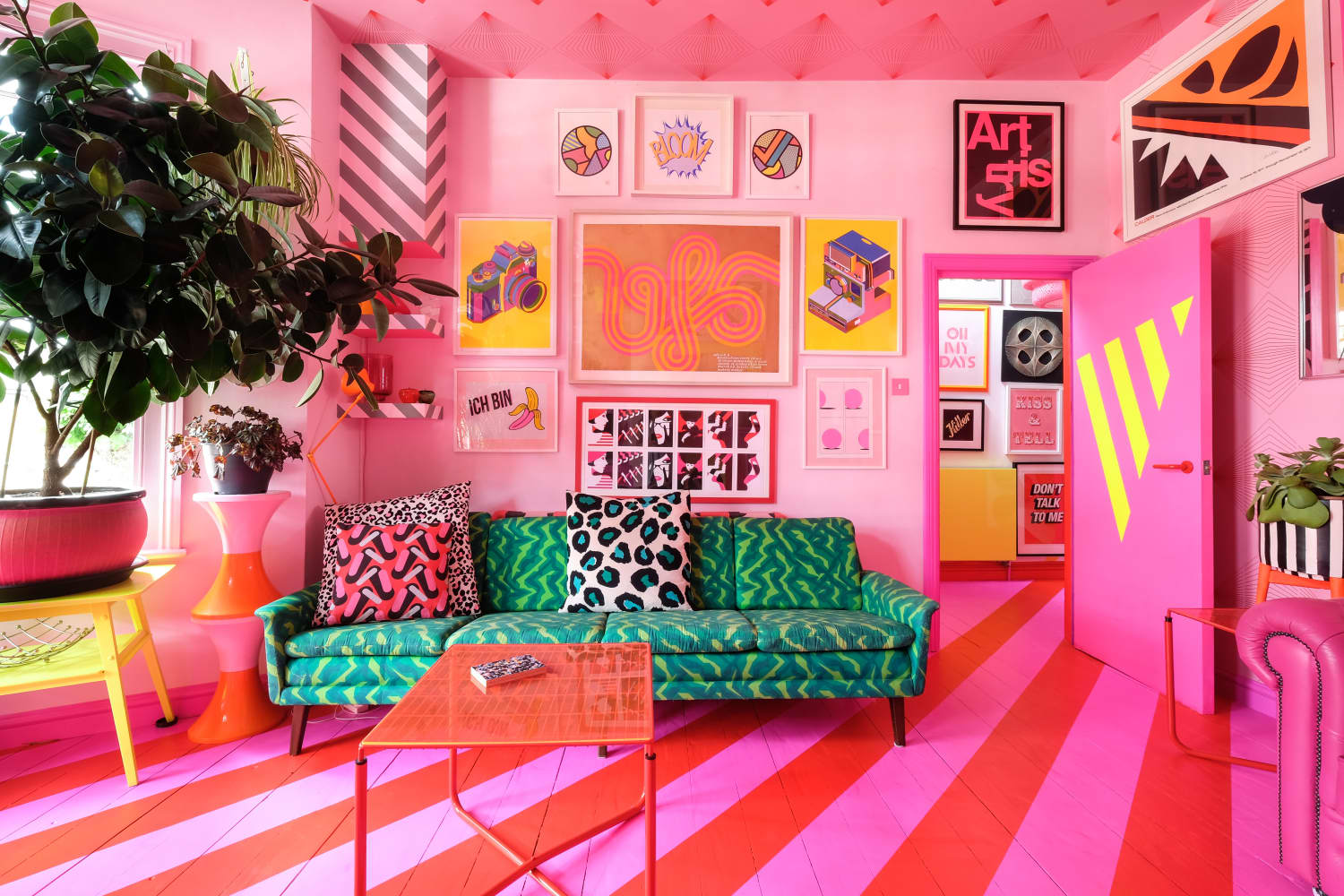 We independently select these products—if you buy from one of our links, we may earn a commission.
Name: Tania (aka Ms. Pink), Mr Black, three sons, and cats, Coco and Tommy
Location: Hackney — London, United Kingdom
Size: 1350 square feet
Type of Home: A three-bedroom flat set over three levels in a Victorian house conversion.
Years Lived In: 19 years, owned
Tania, aka Ms. Pink, has lived in the London borough of Hackney with Mr. Black for 30 years. Over the years the couple has moved around the area and have seen many changes, the biggest being the 2012 Olympics hosted on their doorstep! Together they are Quirk and Rescue, an interiors and homewares brand creating contemporary colourful designs for the home, and they have lived in (and painted) this three-bedroom flat for 19 years. And over those 19 years this home has changed and evolved a lot (you can see how different their home is from their first house tour a few years ago).
Tania also recently launched an interior designer website Ms. Pink, consulting and supporting anyone aiming to create a unique space in a variety of both residential and commercial settings. So rather unsurprisingly, the couple's family home is also a bright, colorful, fun space. From painted red and pink stripey floorboards, to a "tray" wall, to the neon pink grouted kitchen floor, this home certainly doesn't lack color or pattern.
With the year we've had with the pandemic and lockdowns, we can all take a page from Tania's book to help us lift our moods. "The best thing we ever did was not to limit the amount of color in our home; it's made us feel so happy. The rest of the world may feel grey at times, but it's always colorful here!"
Apartment Therapy Survey:
My Style: Color with more color and pattern. Color, pattern. Oh and more color.
Inspiration: Late seventies and eighties design and art, together with a healthy dose of punk music!
Favorite Element: There are so many, but we really love all the plants; they require love and nurture whilst the inanimate objects don't!
Biggest Challenge: It's been a continuous process over a number of years to get to the look and style we like. Perhaps the biggest challenge initially was deciding on how much color to have, but once we started going bold, bright, and neon, the rest was simple. There are a lot of painted surfaces, as well as the walls, all the floors (except the kitchen) and stairs are painted, which is tricky to do with three children and cats (we had three cats but Caspar passed away at age 20 recently). Any hair and fluff is fossilized there for future generations! We try and be careful with what we display; we're actually pretty tough on what gets in the house now in terms of objects.
Proudest DIY: The living room floor was gray and pale pink stripes for years but recently we changed it to red and pink stripes. This was a challenge as we had to move all the furniture and plants out so we could sand it back to bare wood. Last time it was painted the boys were staying with their grandparents so there was only the cats to contend with.
Biggest Indulgence: Very few things are brand new (avid eBayers for 20 years) so I'd say our biggest indulgence is original artwork and getting it framed professionally, though the kitchen is probably the most expensive thing we've purchased in one go. It's such a used area though; it's a good idea to pay for things that are good quality and have longevity.
Is there something unique about your home or the way you use it? The best thing we ever did was not to limit the amount of color in our home; it's made us feel so happy. The rest of the world may feel grey at times, but it's always colorful here! People are always surprised when they visit that it actually feels much calmer than it looks. In the evening when we go for more subtle lighting it's actually a really comforting feel.
What are your favorite products you have bought for your home and why? That would be my tray collection. I acquired my first tray about 30 years ago at a car boot sale; I used to go most weekends and soon I was actively looking out for more of these colorful gems. I remember when I had 10 or so and thought 'what a great collection I have now!'. Little did I know that I'd have 10 times that amount years later. The combination of colors and patterns makes me feel really happy, even more so now that they are on display. Most are in extremely good condition considering they're all over 50 years old, a little bit of rust here and there, but nothing that detracts from their vibrant, showy beauty.
Please describe any helpful, inspiring, brilliant, or just plain useful small space maximizing and/or organizing tips you have: Keeping floors, tables, and furniture free from paperwork/food/clothes goes a long way to making a small space look larger. A "Monica" cupboard is very useful!
What most people get wrong about using color in their home: Is there a wrong use of color? I'm not living in your home and vice versa. I don't feel anyone should comment on other's personal color choices and preferences. What we would say is people could be a bit braver and try introducing a little bit of color to see how it makes them feel. Color makes us feel very alive, nature is colorful!
What are the biggest tricks/secrets to using color in decor? There are two schools of thought, a cohesive complementary palette and a clashing palette. We love to mix up the two. Though as with most things in life, color cohesion is opinion, not fact. Traditionally yellow and purple or red and green don't 'go' together, but quite a few countries have these colors together in their national flag and it is a common theme in nature. Have red roses got it wrong? Green stem, red flower, how can we argue with Mother Nature?!
It's really useful to paint a large piece of paper in your chosen color/colors and place on the area you want to paint to see how it looks at various times throughout the day. Lighting can make colors look different at different times of the day. Keeping your color palette quite small as well, but don't think this doesn't mean that you can't have lots of different tones of those colors — it just means they will work better together.
What's your favorite wall paint color of all time: The hallway that is the stairs up to the first floor is fairly dim with not a lot of natural light so it's painted the brightest neon yellow we could find. It really illuminates the area.
Finally, what's your absolute best home secret or decorating advice? Most small DIY projects are reversible. A paint color can be covered over if you decide you don't like it.
My home secret is when buying something you like, but the color isn't to your taste, buy it anyway and change the color yourself. Paint or spray that plant pot or cute ornament. Dye that cushion cover or bedspread. There are so many informative tutorials out there to show you how. Also, don't limit art to the living room, put some little postcards on the bathroom wall, frame a tea towel you love and hang it in the kitchen. I treat the kitchen the same as every other space when it comes to decoration. I'm not keen on cooking so I need an inspiring space to do it!
This house tour's responses were edited for length and clarity.