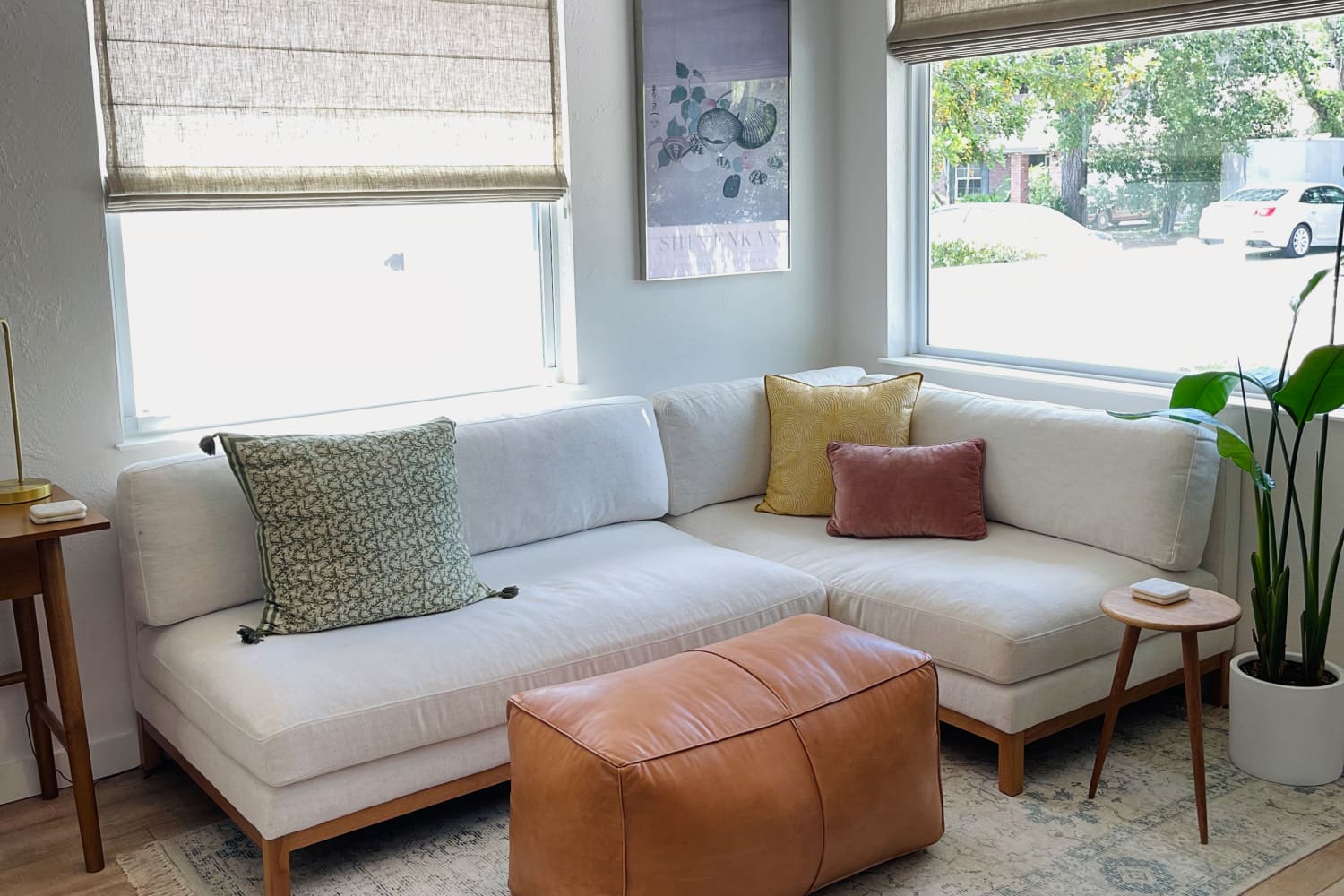 We independently select these products—if you buy from one of our links, we may earn a commission.
Name: Anne Marie Hankins and husband, Spencer Wyatt
Location: St. Petersburg, Florida
Type of home: House
Size: 528 square feet
Years lived in: 1 year, owned
Tell us a little (or a lot) about your home and the people who live there: My home was built in the 1950s and the inside was refinished last year. We have a small house with a big yard, perfect for an 8-year-old blind chihuahua, Munchkin. The house is two bedrooms, one bathroom. My husband and I live in the house together and my husband works from home full-time while I am in law school. That means we spend the majority of our days both working in our 520 square feet of space.
The second bedroom doubles as Spencer's office and a guest room, thanks to an incredible convertible sofa bed I found at Room & Board. We moved to St. Petersburg last summer so I could start law school and decided to buy because rent prices in St. Petersburg are so high. We fell in love with our neighborhood that houses tons of artists and small businesses and is near downtown St. Petersburg, which is only a few minutes from our home. We also live a 15-minute drive from the beach.
Some of my favorite things about our home are the original countertops salvaged from the 1950s with the amoeba print. Our teal doors are painted on both sides so the teal is on the inside and outside of the home — another of our favorite things. The most challenging thing about this house was making it functional with so little space. Fitting in two desks was a challenge, but we made it work. The amount of shelving we've installed and our custom IKEA wardrobe have been lifesavers.
Since figuring out how to store our clothes was the most challenging issue, we found a solution with a bed from Article that has matching under-the-bed drawers. So instead of owning a dresser, we store all folded clothes under the bed. Additionally, having a full-size fridge in our space was not an option, so the builder who redid our home found a great alternative to an expensive Smeg fridge that I loved. It saves us space and is my favorite thing in our home. We've mastered the art of living in, working in, and storing all our belongings in such a small space.
I grew up as an Army brat so the constant moving teaches you how to keep belongings to a minimum. Being able to identify what was essential to our living space needs made adjusting to our space a much easier task. I also really enjoy a good balance of color and neutral, which I think I achieved. I also prefer artwork that has meaning or connection to our lives, so every single piece of art and every picture in the home I either bought on a trip, was gifted, or came out of an event in our life. It makes the home feel deeply personal. Lastly, I have a love for vintage, so when creating and furnishing the home, we tried to pick pieces that served modern purposes while having a more vintage feel and fitting the character of our '50s home.
Describe your home's style in 5 words or less: Florida Functional
What is your favorite room and why? I love the living room because not only is it the space where my family spends the most time together, it's my study space. I spend most of my day working at my small desk and I love the natural light in the room. I'm also in love with our couch, which I customized from Interior Define. It's the most expensive thing we bought for the house simply because we wanted to maximize the seating space and I was in love with the look. It also turns out it is so comfortable!!
What's the last thing you bought (or found!) for your home? The last thing I bought for our home was two lighting fixtures from Worley's Lighting. It's a small independent lighting company based in Charlotte, North Carolina. I saw some of their fixtures in an Architectural Digest article and became obsessed. You can customize each fixture and I think our new fixtures added significantly to the character of our living room and kitchen.
Any advice for creating a home you love? My advice would be to build your home around pieces you love that will never go out of style. I would also say not to pigeonhole yourself into one type of design style. Mixing pieces and styles is the best way to add character and depth to your home.
This submission's responses and photos were edited for length/size and clarity.