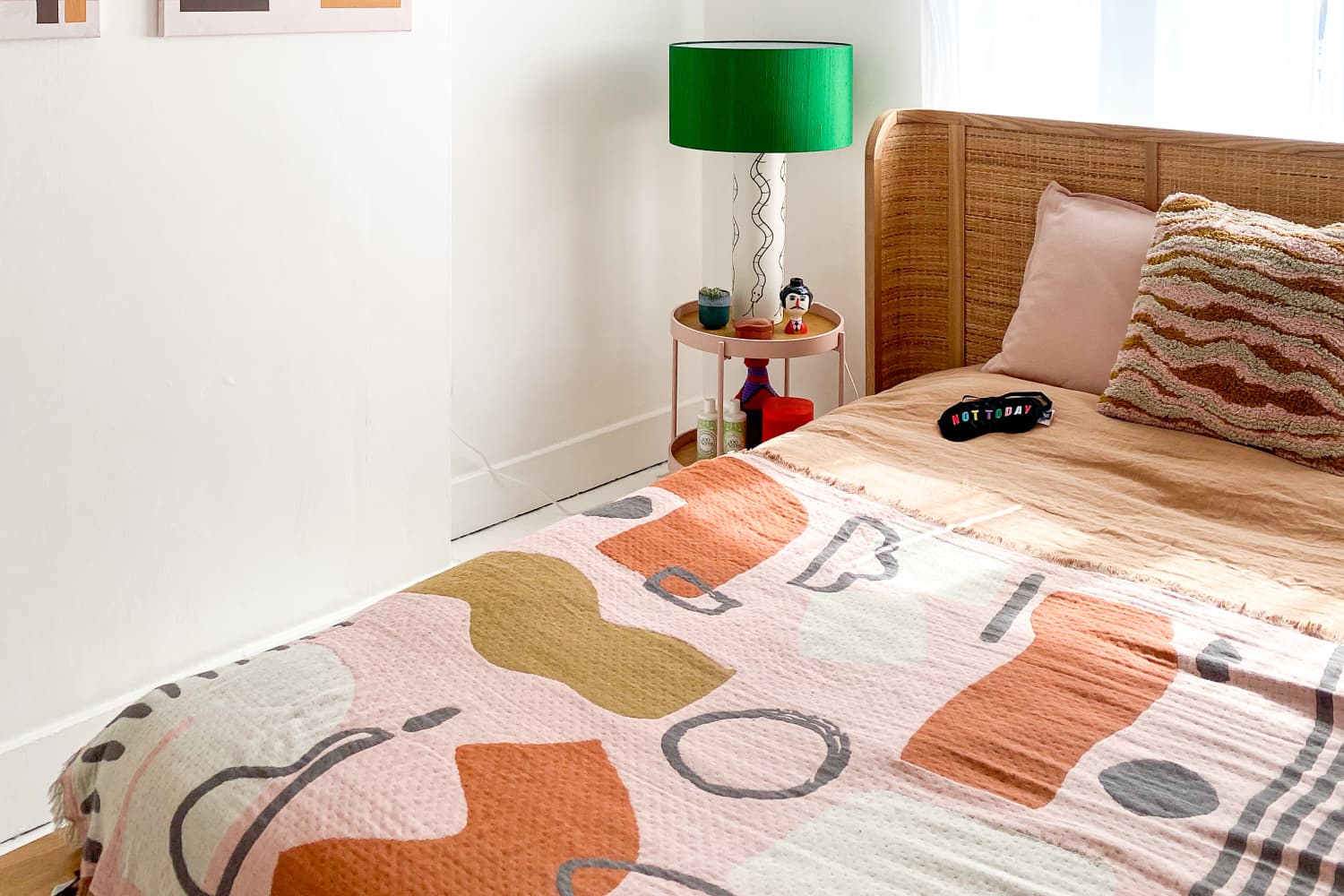 Living in an extra tiny bedroom and struggling with how to make your space shine when it fits little more than a mattress? Don't worry; design pros are here to help. Below, a handful of designers have shared their tried-and-true advice for ways to maximize functionality and style in a teensy sleep space. Some of their tips may surprise you because it's not always about going small in scale with your things.
First things first, eliminate excess, designer Deena Knight says. "Choose functional pieces with warmth and character," she advises. "Don't overcrowd the space by using extra large, bulky items but also don't flood the space with lots of tiny items either."
Scale is important, so try to make sure your pieces are sleek in terms of their footprint and that you use an economy of furnishings when it comes to the necessities: a bed, some kind of a nightstand, and a dresser. Before you can even think about storage solutions, Knight says you'll want to eliminate anything that is cramping your style — literally! A small bedroom is not the place for extra seating, large free-standing shelving units, or even a desk, if you don't have the space for it.
Try this window treatment trick
Take the opportunity to add some flair to your sleep space by choosing beautiful window treatments, then mount them "as high as possible, whether they're drapes, a valance, or simply privacy shades," designer Amy Youngblood urges. "This will give the illusion of height and a sense of space. "
Youngblood has successfully used this trick several times in smaller bedrooms with low ceilings, and it works like a charm. Don't be afraid to add some length to your window treatments either. "Long custom curtains that skim the floor and frame the window can really lengthen a bedroom," designer Allison Rowan notes. You can also wall mount other bedroom necessities too, from mirrors to coat racks and beyond.
Rowan suggests mounting sconces to the wall in lieu of setting bulky lamps atop a bedside table. In fact, this design move can eliminate the need for a bedside table entirely, therefore freeing up space for other furnishings.
Not 100 percent willing to eliminate nightstands for good? "A way to solve this issue is to attach wall shelves to the sides of the bed," designer Stephanie Gamble says. "This allows you to have room for a glass of water, perhaps a place to keep a book, your phone, laptop, etc."
Get rid of your bulky bed and/or headboard
Don't put four poster beds — or even headboards! — in the teeny-tiniest of bedrooms, if you can help it. "Skip the footboard as well," designer Nicole Alexander of Siren Betty Design urges. "Headboards not only take up precious inches in a super small bedroom, but they can also take up a lot of visual real estate."
If you think that your space will look too bland or boring sans a visible bed frame, you can still jazz up the wall space behind your bed. "If you don't love a minimalist look, consider painting a bold colored accent wall behind your bed or hanging a fabulous piece of art above it," Alexander adds. Larger pieces are fair game as well. "Don't assume just because your room is small that your accessories need to be, too," designer McCall Dulkys says. "Using an oversized rug or piece of art will actually make your room appear larger." That said, if you simply can't function without back support in bed, find a simple, streamlined upholstered headboard design or just pile on the pillows, which you can use for cushioning when you're sitting up reading or otherwise.
Don't skimp on rug size
It may seem like you should select a small rug for a small space, but Gamble offers a key tip for choosing a rug size for a little bedroom. "You want to make sure the rug isn't too tiny," she notes. "Use a rug that sits about six to eight inches from all the walls. This will help give the illusion that the space is bigger than it is." A larger rug will also ensure that your feet are always cushioned and warm when you get out of bed in the morning.
Use every nook and cranny that's out of sight
"Getting creative with storage by using baskets and bins to keep clutter down is essential," designer Marie Cloud of Indigo Pruitt Design Studio says. "Also, look for unexpected storage opportunities like behind the door or under the bed."
Off-season clothing, decorative accents, and even shoes can easily be organized on a door mounted rack or tucked into storage bins that slide under the bed easily. Just add a simple tailored bedskirt, and no one has to know your secret! The key is making sure things are out of plain view, so your small room maintains the appearance of being uncluttered.