The wall above your sofa is brimming with design potential, and it just takes a little imagination to reach it. Gallery wall? Geometric painted designs? Or maybe a fabric wall hanging? To inspire your own decorating endeavors, check out the nine living rooms from our home tours below with interesting things above the couch. From art arrangements to floating shelves, there's a look for everyone.
This Philadelphia home has pictures covering the entire wall above the living room sofa, and it makes a statement to say the least. We love the vintage feel of the chosen art.
Why waste your time wallpapering when you can employ one large-scale work of art instead? Take a cue from Dee Speed's New Orleans' home and hang a colorful painting or print above your sofa to make a big impact in your living room.
Looking for a renter-friendly way to make a statement behind your sofa? Propped up vintage art, like this vignette we spotted in Mila Moraga-Holz's Los Angeles abode, is every bit as eye-catching as framed art—no hammer or nails necessary.
If you thought oversized mirrors were reserved for bedrooms then think again. Not only does a large mirror above your sofa look super chic, it helps create the illusion of more space in a small living room, just like what we saw in this eclectic apartment.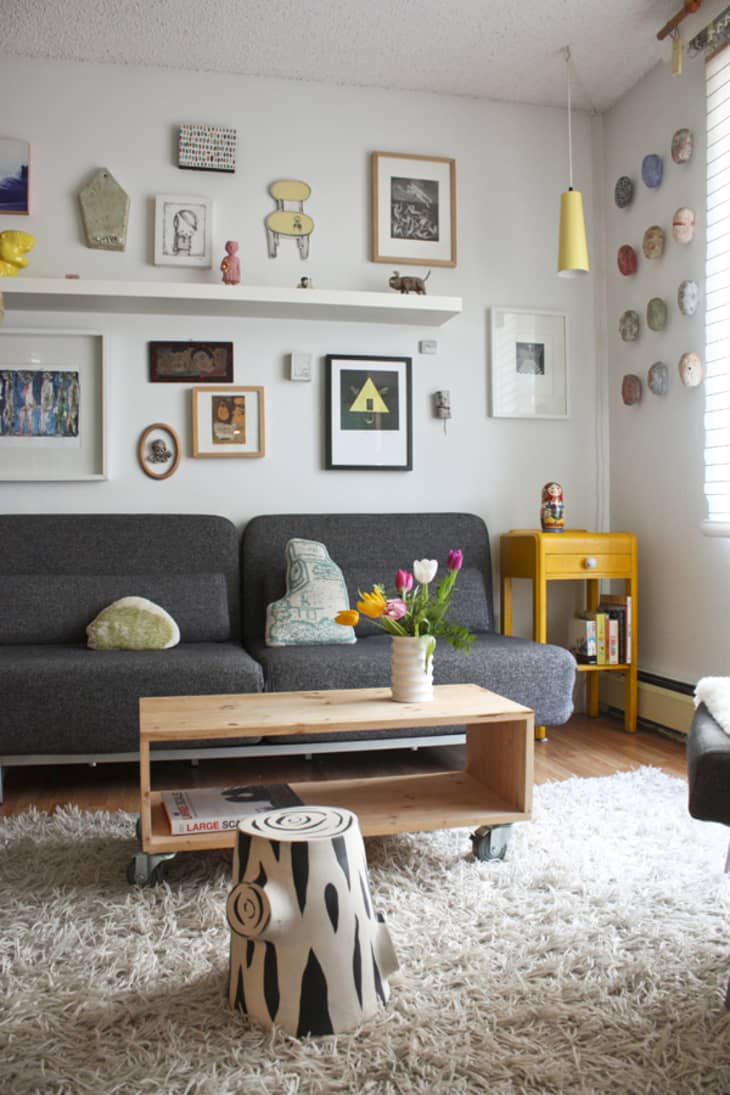 Sure, decorative items look great above your couch, but have you ever considered the storage opportunity that wall offers? A sturdy floating shelf, like the one we saw in Jasna's Canadian living room, helps anchor the empty area above your sofa, while also offering up some unexpected storage space.
5. An Interesting Textile
Whether it's a rug, woven wall hanging, or a good old-fashioned tapestry, hang a unique textile above your couch to create a layered look in your living room, just like we saw in Breeze Giannasio's Washington, D.C. home.
Searching for something a little more functional to fill the space above your sofa? Follow in Zeba Blay's footsteps and employ a sleek floor lamp to center your couch and create some ambient lighting, like she did in her New Jersey rental.
Forget your boring old art prints and paintings. A handful of decorative objects, like the celestial metal sculptures Amelia Nicholas mounted above the sofa in her New York City apartment, offer a surprising spin on traditional living room art.