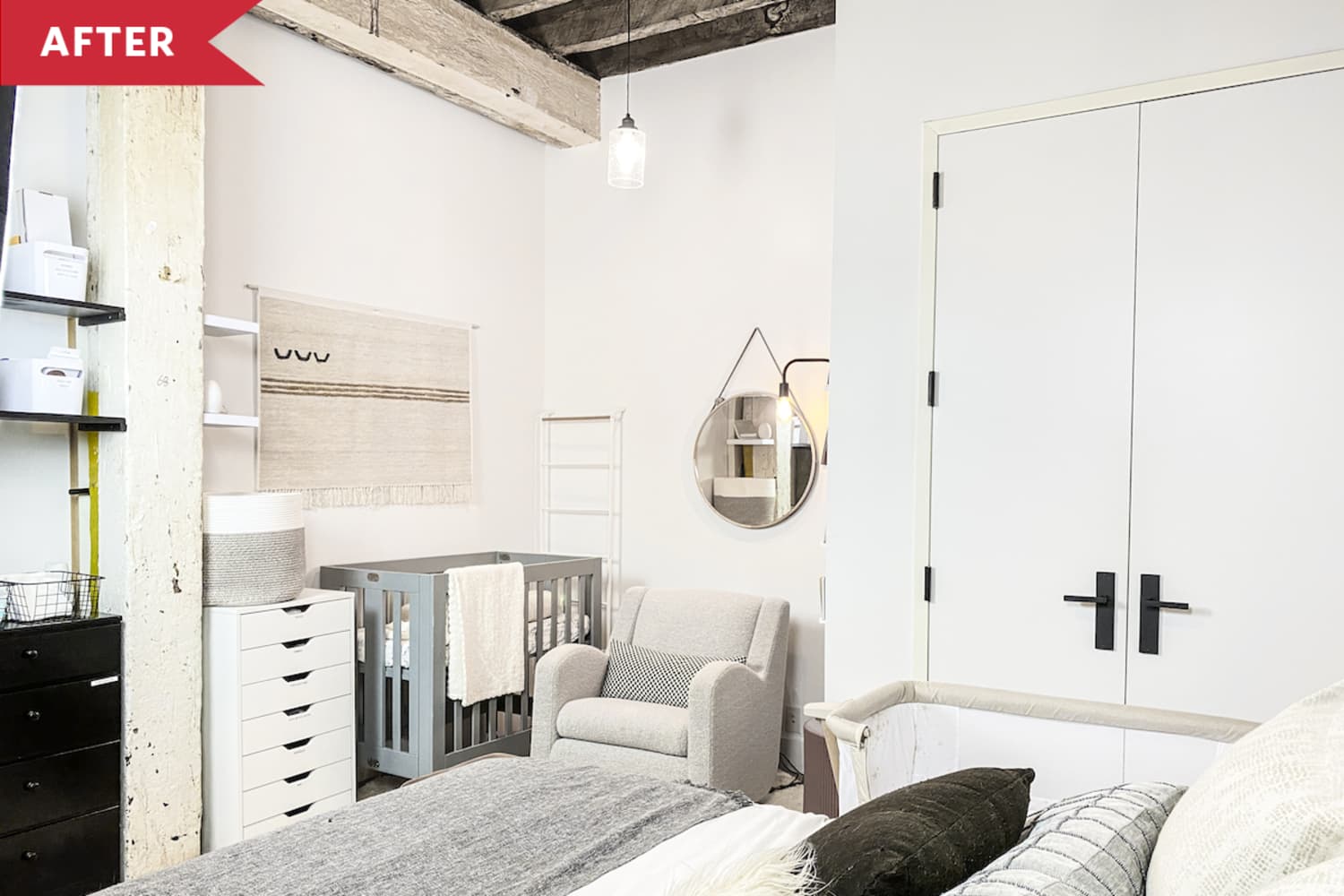 We independently select these products—if you buy from one of our links, we may earn a commission.
If only the universe were a little more accommodating, every time you added a new person to your family, a new room would magically be added to your abode. Alas, it is not so. But the good news is that, for a while at least, tiny people do not take up very much space, so in the same way that you can morph part of a living room into a home office or a closet into a (grown-up) bedroom, you can carve out a spot for your little one. (Their stuff can take up a ton of space, but that's a completely different story.)
If you're racking your brains about where to fit your new addition in your current home, check out the ingenious ways the real-life small space dwellers below squeezed a nursery into hardly any space at all.
Ella and Brandon created a mini nursery in their Brooklyn bedroom for baby. They use an office filing cabinet for baby clothes and installed open shelves for toiletries, toys, and teethers.
Neda and Amir's baby actually sleeps in the living room thanks to a nursery corner they created. It flows with the rest of their apartment's mid-century/Moroccan style.
Believe it or not, this nursery is found in a main bedroom's walk-in closet. Anna and her husband purchased wardrobes to house their clothing in instead and kept everything in their nursery closet light and bright.
Sarah Sherman Samuel designed this very sweet little nursery that also tucks into a closet (after the doors were removed for safety). If your apartment is short on bedrooms, but not on closets, this is an option to consider.
Stylist Laura Hollabaugh created a nursery for her daughter Isla in what was once a long, narrow walk-in closet.
We tend to think of loft beds as the stuff of college dorms, but San Francisco residents Erin and Danny made use of a loft bed in their apartment's tiny bedroom to make room for a baby below.
Jesyka from Visual Vocabularie added a changing pad to the top of a dresser and tucked a petite crib next to it to create a "nursery wall" in the master bedroom.
OK, maybe you can put baby in the corner. It does help if you have a bassinet as pretty as this one, spotted on Thoughts from Alice. All you really need for baby is a small footprint — and a willingness to fit everything in.
Additional reporting by Carolin Lehmann