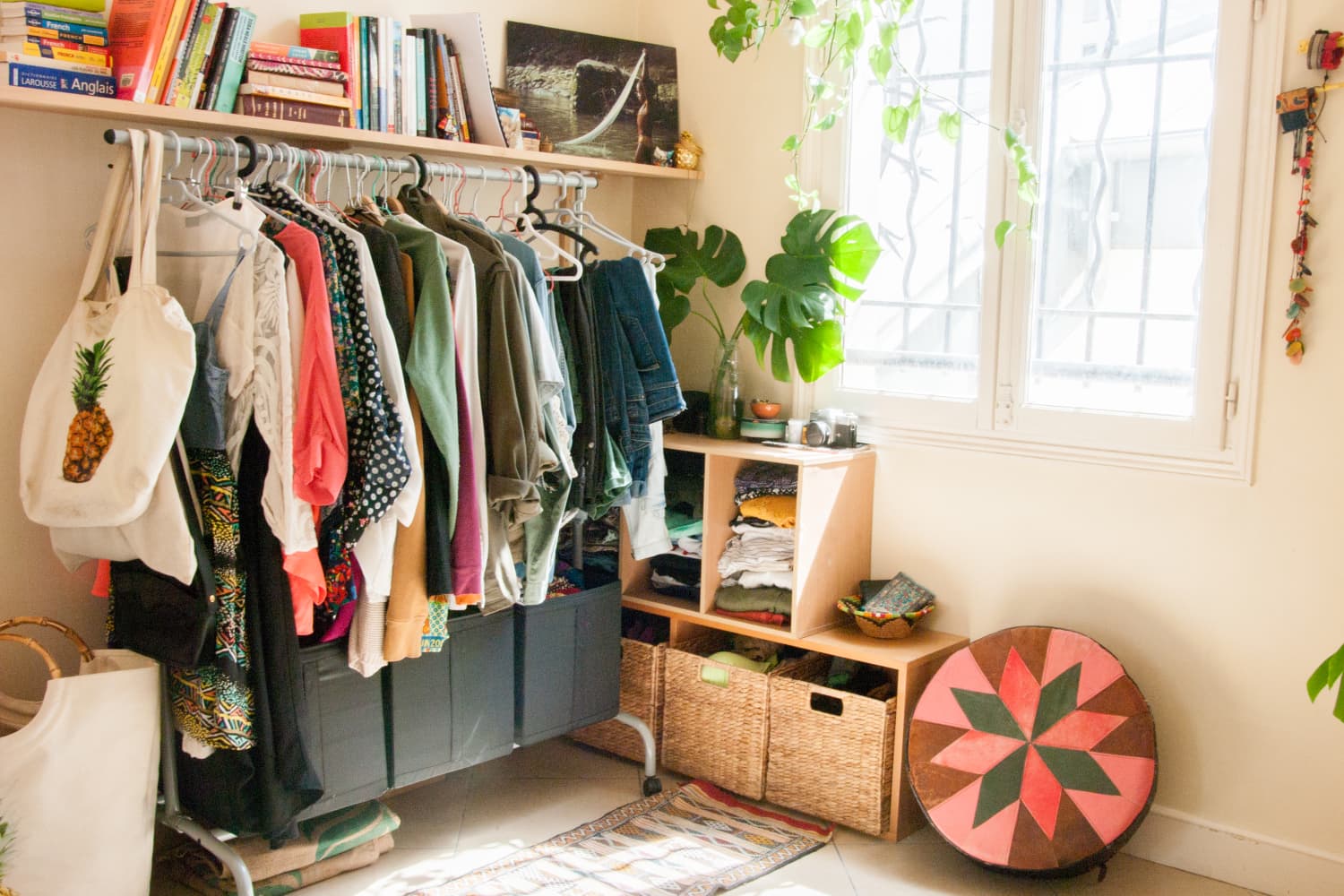 I have a confession: It feels like I'm always cleaning out my closet, or finding things I forgot I owned and will likely never wear again. Not only did my need to wear "outside clothes" plummet last spring; I've done plenty of soul-searching about what I even like to wear, and what is comfortable for my body since then. Add in the fact that my apartment has almost no closet space, and you'll understand why I'm always keen to edit my wardrobe down to what I will actually wear.
But I would feel badly about simply throwing clothes away — after all, plenty of them are in perfectly fine shape! Though recycling and rental programs aren't as easy on the environment as many people would believe, prolonging the life of clothes by giving them new homes can help ease the demand for new goods. (Of course, the most sustainable option is to buy less clothing overall, but that might be a lesson learned in hindsight.)
Rather than host a garage sale, it's easy to post your stuff online and let buyers come to you. Because I'm busy, I often rely on a super easy method to clean out my closet, and make a few extra dollars in the process. But if you're interested in making some of your money back, there are other ways to do so. Here are three ways I prep my closet cast-offs for a second life in someone else's wardrobe.
ThredUp requires the lowest lift when it comes to selling your clothes on a secondhand site. To use the site, simply make an account, request a "clean out kit" or affix the prepaid label to a bag or box you already own, and schedule a pickup with your local post office or drop the box off when it's full. (ThredUp's return labels only allow for parcels up to 30 pounds, so you might need to order more than one label if you're clearing out a lot of stuff.)
It takes a few weeks for the company to sift through your goods and catalog them for sale, but once they're available on the website, you have a few days to make price adjustments. If your item sells, you'll get a portion of the sale price — typically, my payouts for fast-fashion brands like Zara and Urban Outfitters have ranged anywhere from a dollar to $10, so this may not be the right move if you're looking to make more than a few bucks off your clothing. What I lose in cash, I more than make up for in convenience, and that trade-off is more than worthwhile to me.
Bonus: For a nominal fee, ThredUp will send back the items they don't accept or which don't sell within a certain time frame. Or, if you want the pieces out of sight for good, they'll work with what their website calls "a vetted network of reuse partners" to recycle the clothing for you. (Apartment Therapy reached out to ThredUp to learn more about what this entails, but did not hear back by press time.)
Secondhand clothing sites like Poshmark and Depop have digitized the thrift store experience to great effect. Simply take a few clear photos of your item, write up a description, and gauge what price you think might entice buyers best. People can then either buy your pieces outright; bundle them together for a potential discount (and fewer shipping costs overall); or make counter-offers that might be lower than the price you were looking for, but potentially worth it overall. Just be prepared to haggle, because buyers will be, too.
Given that you're the one documenting your clothes here, it's important to be as honest as possible about any potential flaws in each piece — buyers can leave less-than-satisfied reviews about your transparency as a seller. (I once paid a decent amount of money for a silk skirt, only to find that the seller hadn't warned me about a broken seam and significant balding on the fabric.) It's also important to make sure your item ships relatively quickly — if you have the time and energy to dedicate to this work, this might be the best and most lucrative option for you.
What to Do If You're Clearing Out Designer Pieces: Consignment Stores
Over the years, I've amassed a decent collection of designer shoes — hey, I like a sample sale! — and I've also realized that I simply am not a person who wears high heels. So, I've routinely mailed pieces to TheRealReal and Vestiaire Collective, which take portions of your sale fee as their commission. They're pretty picky with the items they take, so be sure to get pieces professionally cleaned if there are stains, discolorations, or residue. But if you would rather not be haggled over the price of that vintage Burberry trench on a resale app, this could be the move for you.