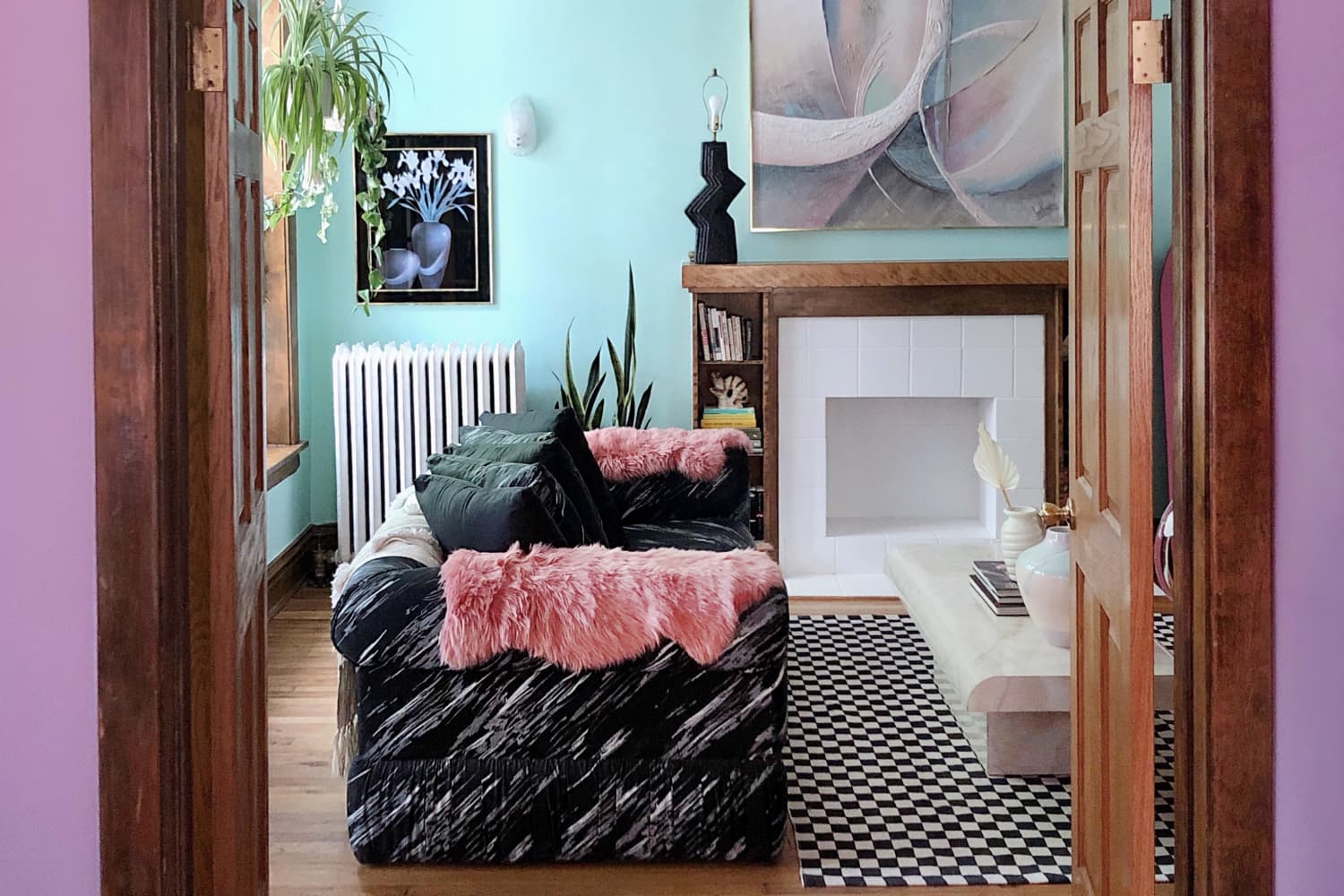 We independently select these products—if you buy from one of our links, we may earn a commission.
Name: Anna and Richard, and two cats, Bob and Barbara
Location: Lincoln Square — Chicago, Illinois
Size: Unsure
Years lived in: 3 years, owned
"I couldn't do minimalism if I tried," confesses Anna, the incredibly cool purveyor of vintage fashion and home decor under the Instagram moniker Barbie Roadkill. "White and gray bore me to tears." I first got a taste of Anna's bold approach to interior design in her last house tour, an Irving Park apartment with a no-painting rule. "We were coming from an apartment where we weren't allowed to paint the drab beige walls, so my initial approach to decorating our new condo was largely reactionary to that; an attack on neutrals," she explains.
"When we moved in, all the walls were gray so the first thing we did was paint every single room a different pastel color (assigned somewhat at random)," Anna says. Thankfully, her husband Richard, who is an elementary school art teacher, is a fan of rainbow hues. "My goal was to pack as much color into each room as possible, while still allowing for some distinguishing characteristics from one room to the next. Like in the living room, where nearly all the decor is from the '80s and abstract shapes and patterns are repeating elements."
Built in 1922, Anna says their condo is the "perfect combination of new and old, with well-preserved vintage features and practical modern updates. I love the built-in hutch in the dining room, the fireplace, and the sunroom with windows on all sides. It has a lot of character but doesn't feel too antique."
Apartment Therapy Survey:
Our Style: "Golden Girls" meets Lydia's house in "Beetlejuice" meets a box of crayons. Is that too much?
Inspiration: 1980s Miami during the peak of Art Deco revival. Blanche Devereaux's bedroom is the ultimate inspiration! (Google it, you won't be disappointed!)
Favorite Home Element: I love our sunroom, which is where all the plants live. It's not the most practical use of space but it always cheers me up.
Biggest Challenge: Currently I'm struggling with the identity of the second bedroom (the pink room, which is also the TV room… and my closet.) It's filled with all the rainbow, kitsch, and neon things we own. It's garish (definition: obtrusively bright and showy—I just looked it up). And yet I'm really happy in that space. Wherever I live, there's always going to be at least one room that's a little over the top with color. I couldn't do minimalism if I tried. White and gray bore me to tears.
Proudest DIY: When I started sourcing vintage home decor, I would often find amazing lamps that were structurally sound but broken due to faulty wiring or missing pieces. At the beginning of the pandemic when we were in lockdown, I watched a bunch of YouTube videos about how to rewire old lamps, and I started fixing my own. It's become my favorite hobby! I haven't electrocuted myself (yet?) and it's very satisfying work. (I included a photo of a pair of iridescent salmon cascading wave lamps that I rewired.)
Biggest Indulgence: I recently drove to Michigan and back in a day for a vintage Charles Hollis Jones Lucite rocking chair I found on eBay (it's in the living room). It was worth it.
What's your best home secret or advice? If I'm looking for something in particular, say a gold floor lamp, I always search Facebook Marketplace and Craigslist before looking at a new furniture store. Vintage furniture has stood the test of time and won't fall apart after a year like some of the mass-produced furniture I see today. I'm the same with clothes; I have T-shirts from the '60s that are in better shape than those I purchased just a few years ago. The craftsmanship from decades past can't be beat, and I feel good about supporting sustainable fashion and home decor from local thrift stores or unique designs from artists and creators, instead of spending much more money on items that are cheaply made.
What to people most get wrong about using color in their home? I think it's a mistake to focus too much on color theory rather than on color combinations that bring us joy. Granted, my approach to color can be haphazard and juvenile sometimes. (I was once told that I have the aesthetic of a kindergartner.) But I think a bold and fearless approach to color can be just as rewarding as achieving that perfect balance of muted tones.
What are the biggest tricks/secrets to using color in decor? I like to take a whole bunch of paint swatches from a paint shop, cut out my favorite ones, and mix and match them until I find combinations I like. I also include swatches for the colors of my furniture, so I can get an idea of how it will look all together.
Favorite wall paint color of all time: I love the light purple walls in our bedroom (Confetti by Behr). The hue changes color throughout the day depending on the amount of sunlight. Sometimes I choose paint colors for their names. I mean, confetti?? Sold.
This house tour's responses were edited for length and clarity.