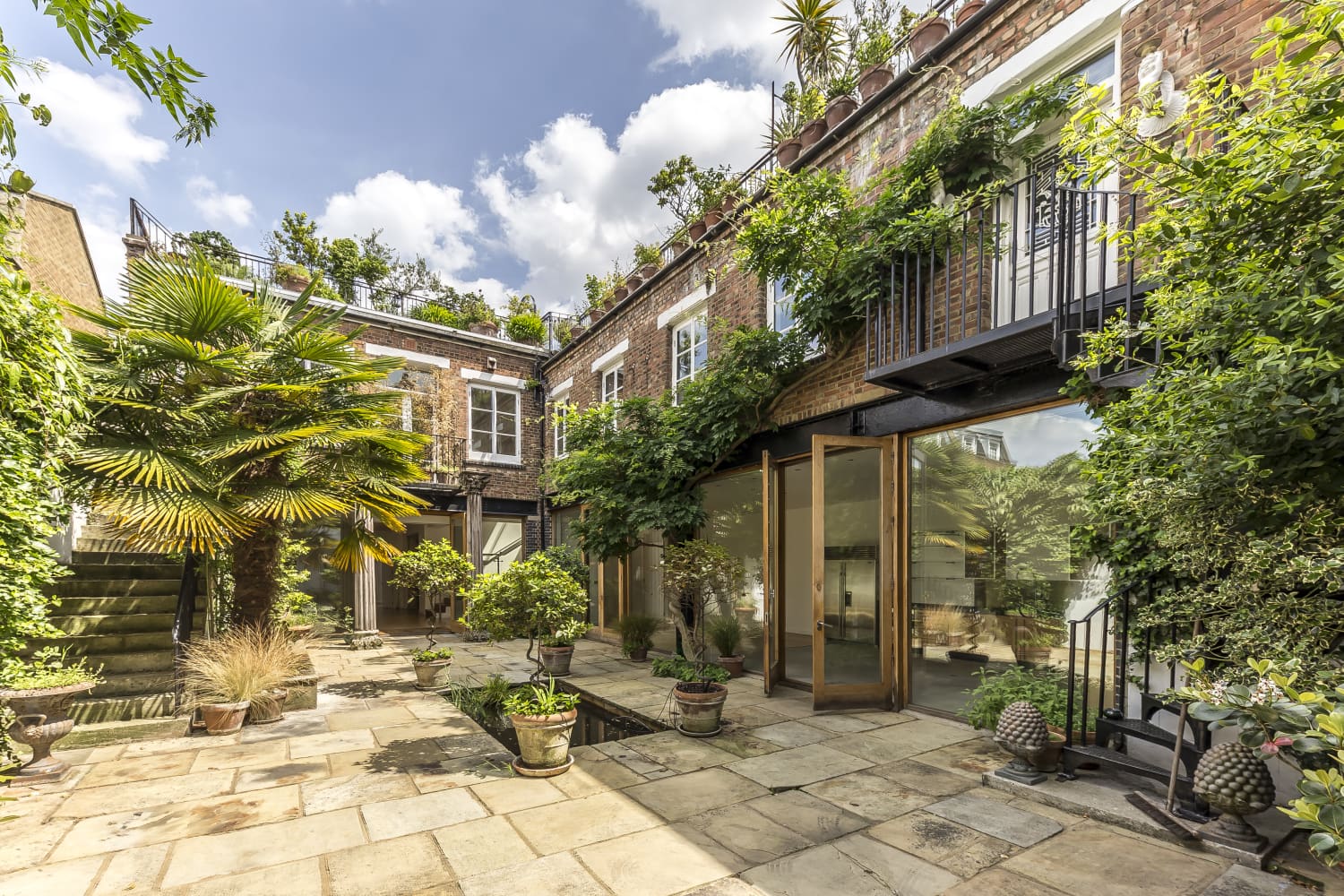 Set around a tropical courtyard lined with lush greenery, this London home has a lot of curb appeal. So much so, the impressive house has attracted some of the biggest names in Hollywood, having previously been let to Kirsten Dunst and Heath Ledger. Now, it's up for rent.
Located in Islington, the secluded Roman Way residence, nicknamed 'oasis house', was once a popular choice among A-listers. In 2007, Dunst rented the property while shooting "How to Lose Friends and Alienate People", while Ledger lived in the home during filming for "The Dark Knight".
For a price that may be out of budget for those who aren't a regular on the red carpet–£12,502 ($17270) per month–the six-bedroom, five-bathroom house is up for rent once more. Included in the price is the house itself, as well as a separate flat, a double garage, and a roof terrace.
Perfect for nature lovers, the spacious property is designed around a large central courtyard filled with plants and a pond with a gentle, babbling fountain.
Entry to the main house, which spans across 4,200 square feet, is through a pair of intricately carved columns, from the old British Consulate in Mumbai. Floor-to-ceiling doors in the kitchen and dining area open out onto the quadrangle, filling the home with natural light.
A projector, activated by movement, creates an atmospheric entertaining space at night by projecting artworks such as Botticelli's Venus on the walls of the garden area, changing every few minutes.
Above the tranquil house, a large rooftop terrace provides another haven, filled with foliage, a second pond, and a kitchenette, making it the perfect space for hosting garden parties throughout the summer.
The property has been in current owner, 72-year-old Andy Williams', family for generations. The space previously served as a dairy farm in the 1920s, before being converted to a luxurious home in 2004.
Speaking of its celebrity connections, Williams said: The house lends itself well to gatherings and parties as all the doors in the three living rooms open out onto the courtyard. Both Kirsten and Heath enjoyed using the property to entertain,"
Roman Way is a short walk from a thriving street that boasts many cosmopolitan bars and restaurants. The area has a rich arts and culture scene, with fringe theaters, bustling markets, and old English pubs–and if you're up for a bit of celeb spotting?
"Kirsten used to like going to the Hemingford Arms, just down the road from Roman Way." Williams commented.