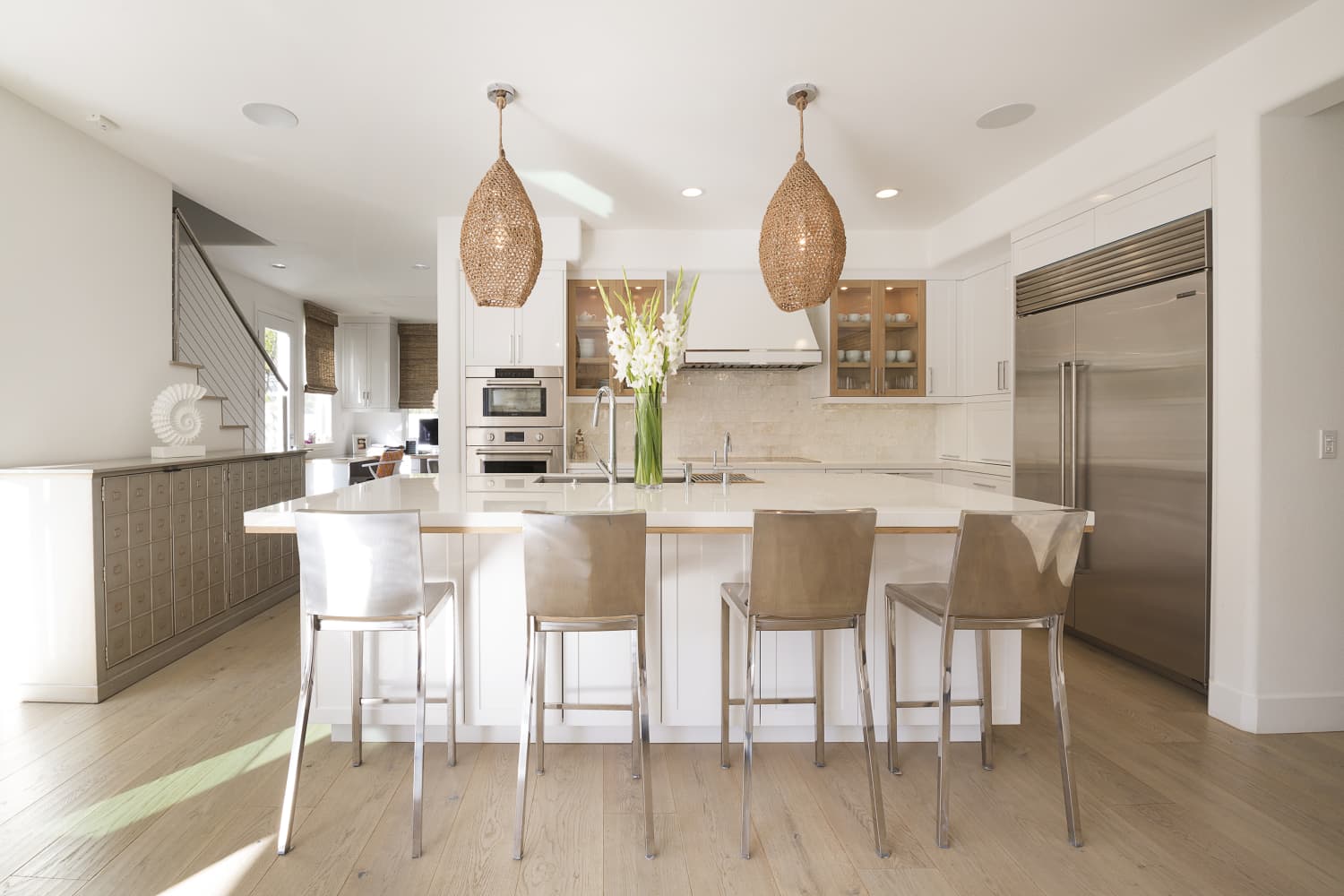 Designing a kitchen that suits your needs, looks stylish, and is within budget may feel like a daunting task. So I polled top designers on the features that make a kitchen shine, as well as those that can cause more stress in the long run. Here, decorating experts weigh in on the most important thing to do when decorating your kitchen as well as one major no-no. Whether you're undergoing a total kitchen renovation or just a small mini makeover, you can thank me later!
Turns out, designing a kitchen that brings you joy is all about small touches. As Amanda Thompson of ALine Studio says, "Pay attention to detail." She encourages her clients to select items that are both functional and beautiful, and doing so can actually be quite simple and inexpensive.
"For example, keep soap in glass dispensers or choose attractive dish towels that compliment your style," Thompson suggests. For designer Maggie Griffin, it's all about elevating your everyday essentials by decanting or grouping them, which makes things both easier to find and fancier-looking. "Tuck your wooden spoons and spatulas into a pretty silver champagne crock, place your sea salt into a pottery bowl, and corral your olive oil and vinegar on a cutting board," Griffin suggests.
Plant life is another key detail that can make a kitchen shine brighter. "We love warming up the kitchen with plants or flowers or even some faux stems that can stand the test of time but bring a bit of the outdoors in," designer Rebecca Johnston shares.
Similarly, designer Eleanor Trepte says the right textiles can add life and softness to a cooking space, too. "Kitchens can be full of hard, cold surfaces, and a runner in a fun color or fabric can really bring a bit of softness and design flair to an otherwise entirely functional space," she says. "It's also a great way to inject some print and color into your kitchen while keeping the overall design clean and bright." Think a small rug in front of the sink, a runner or tablecloth on your kitchen table, and tea towels on hooks or hung over the handles of an appliance.
But don't go too trendy with appliances, finishes, or big ticket items
As Shannon Kadwell, the lead kitchen and bath designer at Anthony Wilder, states, "Don't fall prey to trends on your big ticket items," and her fellow designers agree. "Ask yourself: Will you still love this and can't do without it 10 years from now?" she says when you go to make a big design decision such as purchasing new appliances, countertops, or even flooring. "If the answer is no, then consider something that is easily replaceable to reflect the style or look that you are seeing," she adds.
Specifically, designers say bold colored appliances, funky tiles, and other experimental pieces are best avoided. "These items will look dated over time and can limit your design options in the future," designer Josh Hildreth says. "The kitchen is an expensive space to renovate, so by keeping the built-in elements neutral and simple, it will be easier and less costly to update the look and feel using accessories, artwork, and rugs."
It isn't just vibrant hues that may not stand the test of time in a cooking space either. Designer Tracy Morris encourages clients to select a finishes and materials that make sense for your lifestyle. "There are so many people who love the look of marble but hate the maintenance," she says. "If you know you are this person, do not make the mistake of using a material that will bother your true self." That being said, you don't need to totally alter your aesthetic to get the look you want. "Instead, find a quartz that looks like marble," suggests Morris, who designed the space above. "You will be so happy that you did."