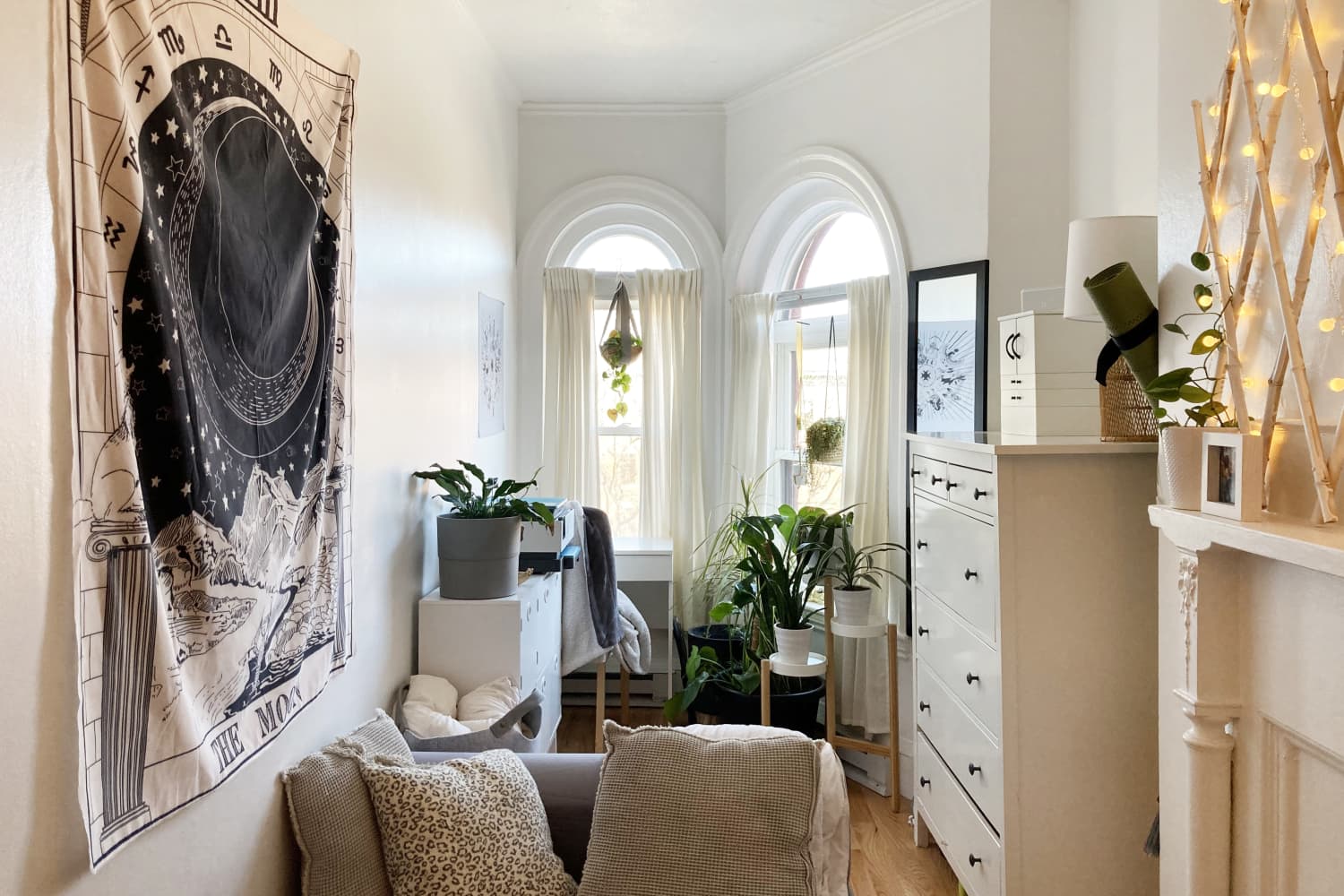 Whether you're decorating a narrow living room, bedroom, or dining area, it can be challenging to determine a furniture layout that best highlights your space without making it feel even more cramped than it already is. You may worry about guests bumping into things or wonder where to place certain accent pieces, but don't fret — pro designers are here to help.
I spoke to several decorating experts who shared their input on all things long and narrow rooms, from selecting the best paint colors for these types of small spaces to choosing appropriate seating. If you follow these five tips, your narrow room will shine bright no matter its actual square footage.
Step one when decorating a long and narrow room? Free up floor space by selecting pieces that can easily be mounted to the walls, designer Nichole Samuel suggests. "Instead of floor lamps, use wall sconces, and instead of bookcases, consider floating shelves," she says. Hanging open shelving above your desk, for example, will provide narrow space dwellers with ample storage without monopolizing the floors with things like bulky file cabinets.
You could also try the same tactic in the kitchen, as seen in the cooking space above. The key to mastering this move is finding pieces that hang fairly flush to the walls — think pieces of pegboard, shallow shelves, or even wire hanging racks or organizers. You don't want to exaggerate an already long, narrow room by filling it with things that protrude off the walls. That'll only make the space appear more closed-in.
Select furniture accordingly
To nail the layout of a narrow room, you should carefully consider both the flow of traffic within and through it, particularly if this space connects other adjoining areas. Look for pieces that will make it easy for you — and any guests — to move about the room. "Making sure travel paths are wide open with no intrusive furniture pieces is a must," Rodger says. "Sometimes this means we have to source smaller scale furniture pieces with open, exposed legs."
This may also mean thinking a bit outside of the box and making some compromises when it comes to evaluating the types of furnishings you ultimately do and do not have room for in a space. "While you may want a traditional setup of sectional, coffee table, and two chairs, some living rooms simply won't work in that configuration," designer Kristin Dion says. "Instead of the two chairs, try two poufs, which can be more mobile and tucked out of the way when needed."
Speaking of circular poufs, say you find round pieces you love — well, even better, says designer Kelly Walsh of Novel Abode Interiors. "Add some soft, round edges and eliminate any additional horizontal lines," she suggests. "Incorporate a circular coffee table or ottoman. Add small round side tables. If there is a breakfast nook in this space, use a small round dining table with a round pendant above it." Why all the curves? Tables with rounded corners, especially pedestal styles as seen above, offer as much surface area as their rectangular or square counterparts but are far easier to walk around due to their flared, compact bases.
Pick the right paint color
You've probably heard this before, but it rings particularly true for narrow rooms: The color you paint your walls impacts how large or small a room appears, according to designer Kathleen Walsh. "Go with something lighter to help the space feel bigger and less narrow," she says.
That being said, cream and white aren't your only options here. If you want to mix it up a bit, Kathleen Walsh suggests pale yellow and violet as on trend choices that feel fresh, vibrant, and will still give your walls an airy, open look. Pale pinks, blues, and greens will have the same effect, too.
Use the middle of the room
"When decorating a narrow space with a central focal point (i.e., a window or fireplace), take advantage [of that] and arrange your furniture in the middle of the room, leaving the sides open," says Kelly Walsh. If you're worried about leaving too much space open on the sides of your room, add in some small decorative accents, as seen in the living space above. Specifically, Walsh suggests a few potted plants or a small floor lamp. "If you're not looking to fill a narrow space with additional seating areas, this is definitely a nice solution," she says.
Say you decide to float your sofa in the middle of a narrow living room, for example, rather than utilizing the perimeter of the room. Adding a slim console table behind it gives you another place to accessorize and will make the layout feel more considered and intentional as opposed to necessary. Turns out, you don't always have to shove things into corners when it comes to narrow rooms; as long as you use an economy of furnishings, things won't feel cramped.
If you're decorating a narrow room that is also very long, like what you might find in a loft apartment, get creative with furniture placement, designer Carli Rodger suggests. "We will opt for separate seating areas and define the space into more than one main area," she explains.
Designing various zones or vignettes can also be a fun way to experiment with different colors and styles. As Kelly Walsh advises, "utilize area rugs, lighting (ceiling and floor), and even color schemes" to create little moments within your room. Don't forget to add fun artwork to your space, which can help anchor your bigger pieces. Again, your best bet might be sticking with flatter options, like the textile hanging above or even just prints or paper drawings in slimmer frames. These items won't jut out into your space the way thicker canvases or ornate frames could.