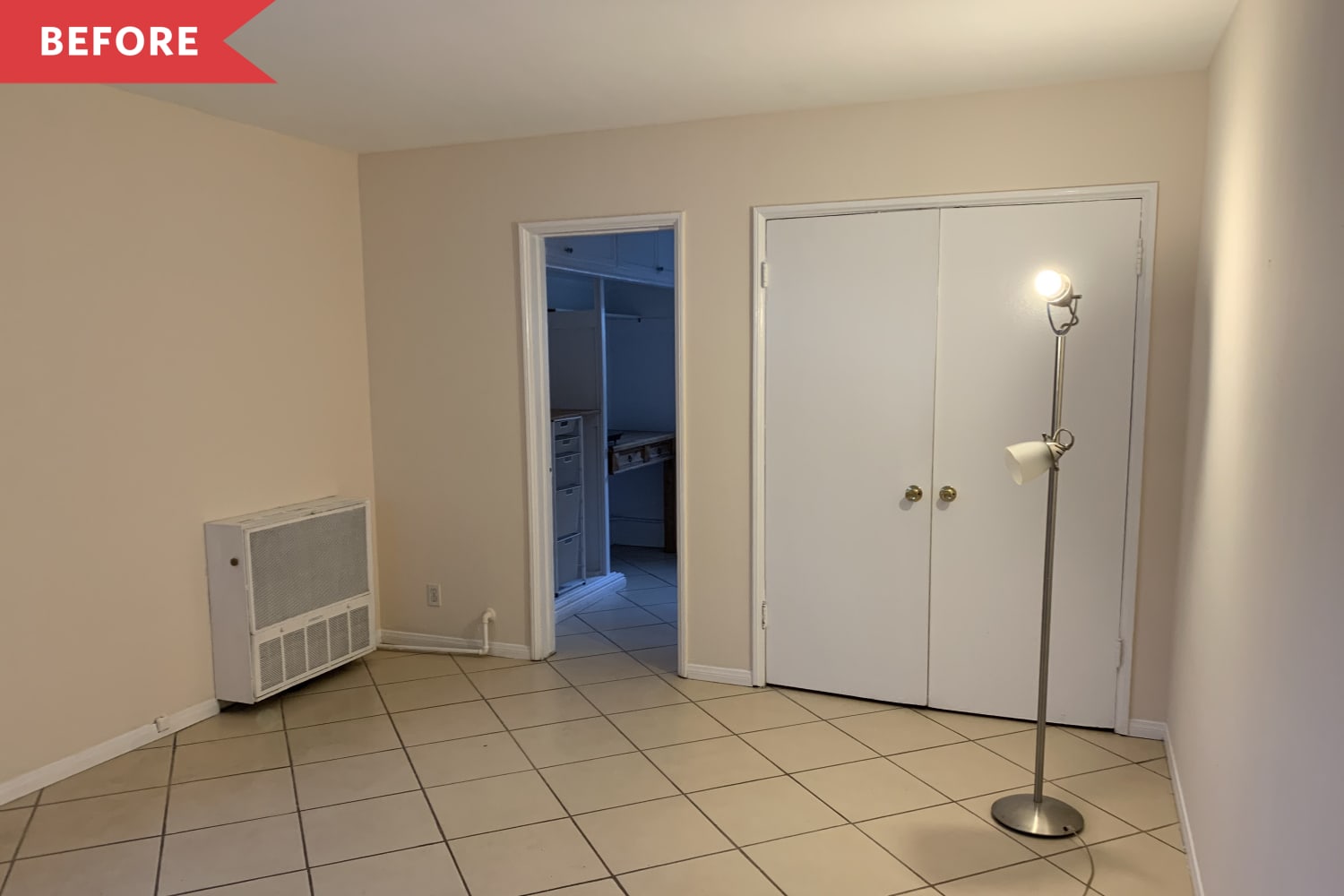 We independently select these products—if you buy from one of our links, we may earn a commission.
There's a lot of value in decorating with neutrals. White paint can make nearly every room look bigger, brighter, and even cleaner (seriously). But if you're looking to give your space a real shake-up, it's time to step out of the neutral section of the paint aisle and into the brights.
Of course, even for the non-color-phobic, it can be a little intimidating to jump headfirst into a bright and bold paint shade — especially on a large scale. But going big with color doesn't have to be scary! For proof, look to Apartment Therapy's best, most colorful before and afters. Each of these projects uses color in impactful and sometimes surprising ways, from furniture to fixtures to ceilings and more. Scroll through these 15 bold and beautiful room redos, then pick up a paintbrush — your own project is calling!
1. This Gray-Cabinetted Kitchen That Got WAY More Fun
2. A Bright & Budget-Friendly Hallway Refresh
Staircases can sometimes get the short end of the stick when it comes to decorating, which makes this ombre staircase redo all the more fun. Natalie Jacob of Arsenic Lace took these stairs from dingy, mustard to ombre shades of pink. Her trick? Paint every other stair so she could still use them while in progress. After letting those dry for a few hours, she painted the rest. Brilliant!
3. A Plain Rental Dining Room That Now Looks Seriously High-End
To create her colorful, cheerful dining room, Ashley Poskin began with a chinoiserie wallpaper in canary yellow from Graham & Brown. Many people might be too scared to add more color on top, but not Ashley! She re-painted her old chairs pink to pop against a new jade green rug, and replaced her boring ceiling fan with a pink version of the Orion chandelier from Sazerac Stitches.
4. A Boring Builder-Grade Bathroom Becomes a Colorful, Eclectic Retreat
Emily May had long felt that her builder-grade bathroom lacked interest and character. The answer: bold teal on the vanity, a breezy blue tie-dye-style wall mural, and a glam three-mirror display shelf.
5. A Cheap Collage of Browns & Creams Gets a Bold, Blue Modern Remodel in Queens
When Peggy Wang, BuzzFeed's founding editor, purchased this 1100-square-foot home in Queens, it needed work—and color! The once all-white kitchen now features IKEA base cabinets and an island that are all painted in a rich navy (Farrow & Ball's Hague Blue). A copper Watermark faucet and Menu pendant lights accent the deep blues and grays.
6. A Tiny Blah Beige Studio Goes Tropic-Glam for $1500
Upon moving in, Mary Kenny simply could not with the beige-on-beige look of her new studio. Using a green velvet sofa as the centerpiece, she brought it to life with vinyl peel-and-stick flooring for a dark wood look, and leafy jungle cat peel-and-stick paper as her closet's accent wall. On the other side of the space, she painted the door blush pink and added a funky triangle accent in the corner behind her bed.
7. A Plain Modern Loft Was Transformed Into an Incredibly Colorful, Patterned, and Playful Home
Adrianne remembered it feeling cold when she and her partner, Seth, first moved into their Chicago loft. She made it a goal to warm it up through color, pattern, texture, and maximalism. A true highlight is the living room accent wall—it's actually a DIY project that Adrianne did free-hand.
8. This Home Office Nails the Beverly Hills Hotel Vibe on a Budget
Kate was inspired by the iconic Beverly Hills Hotel to give her home office a new look. She chose a classic palette of cool pink, greens, and blues, adding a striking striped accent wall behind her desk. To save money, Kate reused her previous furniture, using fresh paint to bring new life to her old desk.
9. A Plain Bathroom Gets a Splashy Redo that Makes Clawfoot Tubs Even More Appealing
Clawfoot tubs don't need to stick to a neutral palette of whites and creams. In her bold bathroom redo, Lissi Walker went big, choosing a juicy orange shade for the tub and inky blue for the cabinets and new wainscoting. A punchy accent wall featuring orange-and-blue jellyfish wallpaper helps tie it all together.
10. Budget Upgrades Totally Transformed This Kitchen and Its Dark Wood Cabinets
From day one, Courtney Hierath despised the buttermilk-yellow walls and dark wood cabinets of her kitchen. Inspired by two-tone looks found on Pinterest, she chose a white-and-green update, with leafy green base cabinets (Behr's Eastern Bamboo) and white uppers. The combo is fresh, vibrant, and way more modern.
11. A Kitchen Paint Job No One Saw Coming
Here's proof that when it comes to paint, no risk is too big or too bold. For her rainbow-fied kitchen redo, Stephie Stalker used a combo of 20 different Farrow & Ball paint colors. What keeps this look from veering into childish territory is Stephie's color placement, which has a random, whimsical feel. Will everyone be brave enough to give their kitchen a 20-color palette? Maybe not, but let Stephie's impressive results inspire you to take a colorful risk or two when it comes to your own home.
12. A 1983 Dining Room's Dramatic Redo Is Both Luxurious and Inviting
Sometimes, the biggest impact comes from going all-in on a single hue. Here, in actress and singer Laura Bell Bundy's dining room, a rich shade of blue envelops the walls, fireplace, chair rail, and even the ceiling — making this dining room feel ultra luxurious. The same shade is found in the wallpaper used on the fireplace accent wall, and a similar one is used on the dining chairs, too.
13. This Bathroom's Affordable Accent Wall Is Totally Unexpected
Paint isn't the only material at your disposal when it comes to imbuing your walls with color. DIYer Zoe Hunt gave her mom's bathroom a dreamy ombré look by staining wood shingles in various shades of blue before nailing them into the wall. The result adds both color and texture, and gives this bathroom a wow-worthy focal point.
14. A $2,200 Redo Turns a Cluttered Home Office into a Stylish Haven
15. This $5000 Vintage Bathroom Redo Honors Its Pink-Tiled Roots
Some spaces need help in bringing out the best in color they already have, like this vintage bathroom that boasted a pink toilet, pink sinks, and a pink tiled shower. Homeowner Kristi Waite bought the house from her grandparents, and she and her wife wanted to keep the bathroom's charming pink tile — but give the rest of the space an update that would help it shine. White flooring and a white toilet in combination with a pink vanity and shades-of-pink spotted walls did the trick.