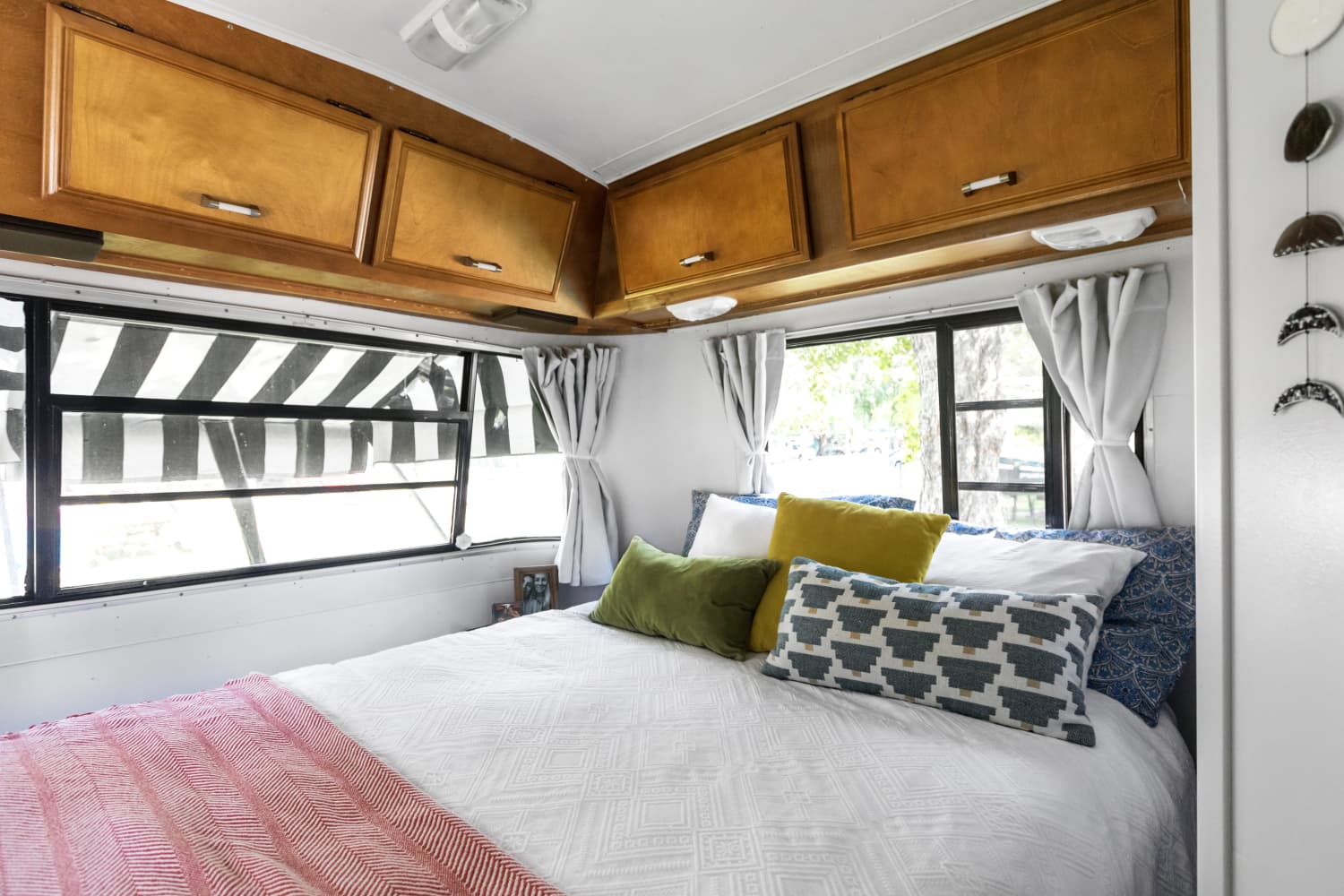 Although camping is an all-season activity, summertime in particular calls campers to tented accommodations near woods, lakes, and beaches. And why not? The allure of cooking over an open fire, hearing the sounds of nature, and communing with the environment can give you a break from the hustle and bustle of city living (no matter how big or small your town). But then night falls, and there are bugs, slippery sleeping bags, and the not-so-comforting bumps in the night. All of which can keep you from getting a good night's sleep.
Feeling rested is critical to gearing up for the next day's adventure. And while sleeping seems like it should be intuitive, there are a few additional best practices to follow while you're camping. From essential gear to a few sleepytime tricks, here are seven sleep mistakes you're making while camping — and how to fix them.
You aren't accounting for temperature fluctuations.
Some people toss the covers off at the slightest hint of heat, while others never feel warm, no matter the temperature. So whether you skew towards hot or cold while you sleep, be prepared by accounting for either. "You always want to be prepared for different weather," says Sharon Carpenter, Assistant General Manager at Costanoa in Pescadero, California.
Ironically, Carpenter finds that their camp store sells more sweatshirts in summer than winter because folks expect California to be warm year-round. However, once evening hits, like most places, the temperature drops. "Wear layers and double-check that you have all of your stuff for both hot and cold weather," she states. So, bring warm clothing and an extra blanket for each person to get extra cozy at night.
You're skimping on your sleeping bag.
Comfort and your sleeping bag go hand in hand, as a quality one will regulate temperature. "Make sure to choose a sleeping bag that will keep you warm," says Bridget Machacek, the owner of Roam'n Around in Rapid City, South Dakota. "There is nothing worse than lying awake shivering all night and thinking about morning coffee."
"A good choice for most adventures is to choose a sleeping bag with a rating around 15 degrees," advises Machacek. "You can always add a sleep liner to increase the warmth. Too hot? Unzip and lay on your pad and use your bag as a quilt." A good sleeping bag is worth the investment with the dual purposes of temperature regulation and comfort.
You're not sleeping on a suitable surface.
"The best way for campers to ensure a good night's sleep is by investing in a quality pad, especially during winter," suggests Kim Hatcher, Public Affairs Coordinator at Georgia State Parks. "Air mattresses don't insulate as well as Therm-a-Rests, so you could be cold during the night with just an air mattress."
Machacek echoes this sentiment. "The sleeping pad you choose can make or break a good night of sleep," she advises. Comfort pads are usually made of foam and give the feel of sleeping on a traditional bed. However, they are a bit heavy, so hikers might want to try a lighter option. "There are foam style pads for backpackers also, so you don't have to deal with the noise factor," says Machacek. They are less comfortable than their thicker counterparts, so find what works for you.
You aren't storing your food correctly.
While you might be excited to witness a wild animal or two during your camping trip, it's less exciting to deal with nocturnal critters looking to feast. Many campers have been woken up in the night by a hungry bear scavenging their campsite for food, or raccoons and coyotes looking for scraps. To prevent wayward wildlife and protect your stash, keep your food locked up.
Bear-proof food containers are available for food storage, and while bears could technically pick up and run away with your storage container, they'll be less interested in what they can't smell. Another option is to keep your food in a locking cooler. Also, be aware that animals are attracted by scent. Therefore, clean up grill grates and wash pans, so critters don't come around.
You aren't properly securing your valuables.
Worrying about valuables can keep someone up at night, even when they are at home, so it's a valid concern while on the go. "Lock your valuables away, whether that is at your site with you or in your car," says Carpenter. However, as an avid camper, she always chooses to store her items in her car for extra peace of mind. Such treasured items would include cash, credit cards, expensive camping gear, jewelry, and any technology-related items, such as a laptop. It's also a good idea to only pack the essentials while you're away and leave irreplacable items at home.
You simply aren't prepared.
As with any trip or experience, planning ahead is your best bet. "I would say that you just want to be prepared," recommends Carpenter. "Have a flashlight. Prepare your stuff. Take along water, batteries, and other essentials." When you hear an unfamiliar crash or feel a bug crawling around, the last thing you want is to be without a flashlight or have dead batteries.
If you're a first-time visitor to a campground, head to their website and look at their checklist of recommended items. "A lot of sites do have lists of what to bring, so check the camp's suggestions," she states. In addition, sites may have additional information, such as their quiet hours and campfire rules to ensure that everyone at their campground sleeps well.
If you're a sensitive sleeper, bring earplugs, a sleep mask, or a tent liner with you to minimize distractions like sound and light. You can also download white noise tracks on your phone if you're used to falling asleep with a machine — just set your phone's playback on a timer so you don't exhaust the battery. Knowledge is key, and realizing what makes you comfortably sleep before you head out can do a world of good.
You aren't immersing yourself in the experience.
Sometimes what an experience boils down to is the person's outlook on a situation. Unless you are camping in frigid temperatures in the middle of winter, there will be bugs. You most likely will have bad cell reception. There could be a downpour at 2 a.m. Yes, there may even be questionable animal footsteps outside of your tent during the twilight hours.
If you wake up for any of these reasons, comfort yourself with positives. Being out in the fresh air and cooking excellent meals over an open fire with fellow campers will give you something to look forward to the next day and may help you lull yourself to sleep.