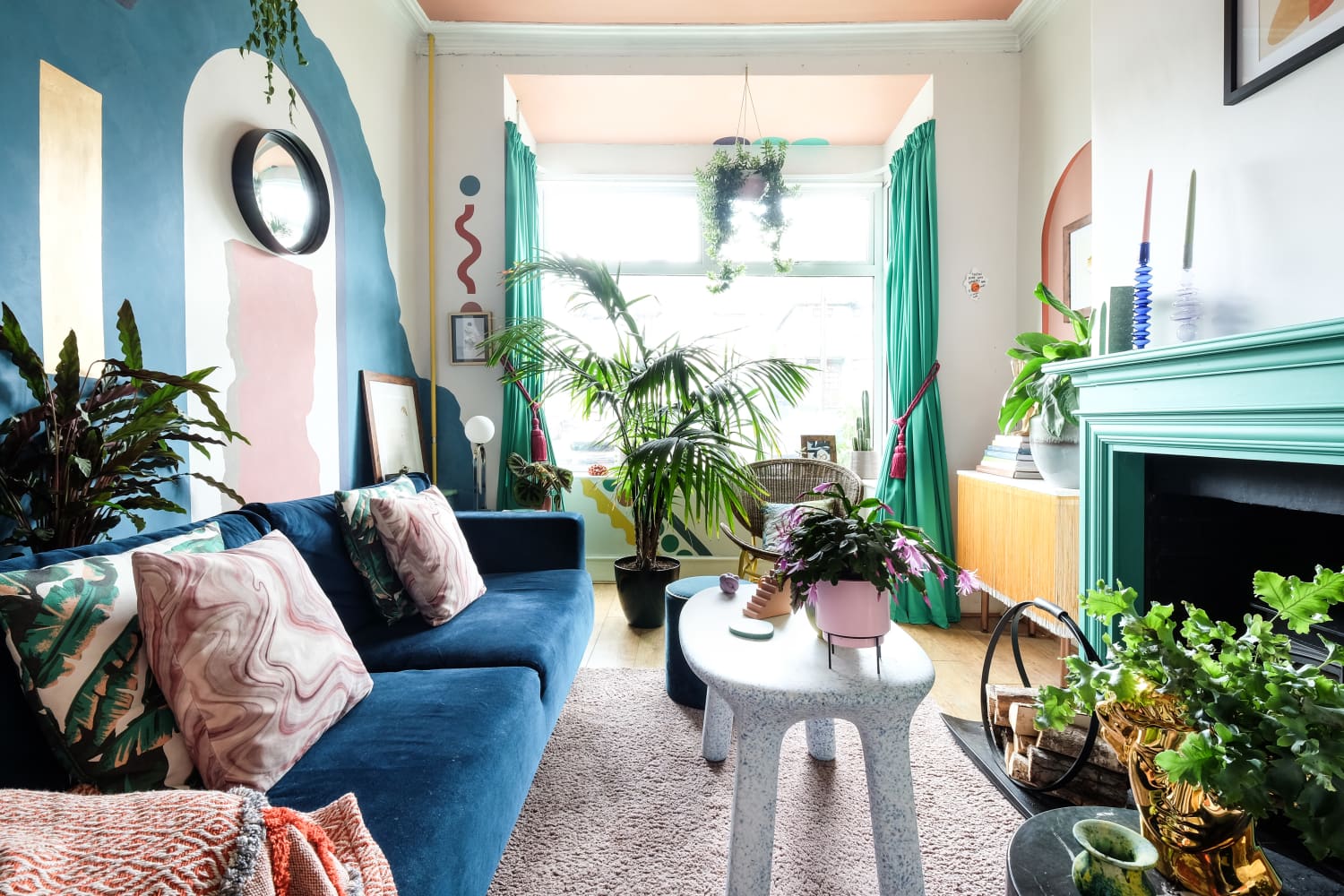 We independently select these products—if you buy from one of our links, we may earn a commission.
Name: Rich O'Gorman
Location: Birmingham, UK
Size (in square feet): 1000 square feet
Years Lived In: 1 year, owned
Rich O'Gorman lives in Erdington in Birmingham, in a two-bedroom Victorian home he bought only a year ago. "It's just outside the city center and has some gorgeous parks, beautiful Victorian houses, and it's definitely up and coming," describes Rich of his new neighborhood. Having purchased his home during the pandemic, he, unfortunately, lost his job during this time, too. With lockdown in place and nowhere to go, Rich turned his focus into his house and transformed it into a colorful space, and started documenting on Instagram, which has now turned into a full-time gig.
"You know how they always say you'll find something when you're least expecting it? I went to view this house on a whim and as soon as I opened the door, I fell in love. I immediately felt at home and knew I needed to bring some color to the beige walls!" Rich writes. So with a few buckets of paint and some paintbrushes, Rich did exactly that and used the walls as blank canvases, turning them into these fun, bright, and colorful murals. "There's nothing more joyful than walking into a bright, colorful room and people are denying themselves that!" writes Rich. "I think people are worried about getting it wrong or it looking silly, but homes should be fun and reflect your personality!"
Apartment Therapy Survey:
My Style: I describe my style as retro futurism; it's a term used in fashion for designers like Prada and Louis Vuitton but I feel like it rings true in Househomo — lots of retro color palettes and textures with bold, unexpected color choices!
Inspiration: I am inspired by fashion (Prada and Louis V always and forever!), the amazing work of Peter Tarka, Mr. Buckley Interiors, and artists like El Dibujo, Printed Goods. I try to absorb as much inspiration as I can before designing and try and emulate them ALL in my work, which is probably why there's always so many shapes and colors!
Favorite Element: My favourite element is the pineapple light in my hallway; it was a housewarming gift from my grandma but also a low-key dig as I have a pineapple tattoo that she loves to rip me for.
Biggest Challenge: The biggest challenge was probably the bathroom; I've never plumbed anything before but I was determined to do everything myself, including tiling the floor, a bespoke sink cabinet, and new tapware, but a handful of YouTube videos and a couple of glasses of wine later, Shazam!
Proudest DIY: My favourite DIY is the fringe table in the living room; it was an old piece of marble hearth that I added legs to and later added fringe, which gives it an amazing texture and movement!
Biggest indulgence: The biggest indulgence is the furry chair I'm sat on, by far the most expensive item in the house but no question it was completely worth it! It's a well-known styling trick but high low styling — having one expensive piece surrounded by less expensive pieces elevates the whole space!
Is there something unique about your home or the way you use it? I think it's probably unique in its use of colour; I'm not sure the neighbours even know about the colourful wonderland inside.
What are your favorite products you have bought for your home and why? Definitely the dining room table and chairs! As the dining room is quite large, I wanted something to fill the space in an opulent, shapey way and they have given the room such a clean aesthetic (from which I've gone crazy with color and shape). The chairs were actually old boardroom chairs (think chrome and black leather) which I spray painted gold and recovered in shades of velvet; I think they cost just under £50 for all 6!
I've redecorated the dining room twice since moving in; it was the first room I painted when I moved in and as my aesthetic grew it no longer felt right, so now it's a full vibe and I can't WAIT to have friends over for dinner parties!
Please describe any helpful, inspiring, brilliant, or just plain useful small space maximizing and/or organizing tips you have: I'm actually the worst for organization; I never think about practicality or storage. Luckily I have a basement for collecting! But maybe my best tip is to look at the designs from DOIY; most of their homeware serve as multi-purpose and they look STUNNING in the process, so a great way to double up.
What most people get wrong about using color in their home: Being afraid of it; there's nothing more joyful than walking into a bright, colorful room and people are denying themselves that! I think people are worried about getting it wrong or it looking silly, but homes should be fun and reflect your personality!
What are the biggest tricks/secrets to using color in decor? Go big or go homo; try pairing bold colors together, work through the whole color wheel (even if you think they won't work, it might surprise you!). Try and go for a color story of four to five colors; a warm pink, a cooler blue/green, and a surprise orange and red, even if they're just accents like cushions and tchotchkes, but the more you lean into color, the more rewarding it is!
What's your favorite wall paint color of all time: It has to be "Fleurie" from Craig & Rose; it's the color on my fireplace in the living room and the jumping-off point for this whole color maximalist journey I'm on; I owe it a lot!
Finally, what's your absolute best home secret or decorating advice? PLANTS! They bring a space to life, they add depth to murals, and they add natural texture (and they give you oxygen, too!)
This house tour's responses were edited for length and clarity.