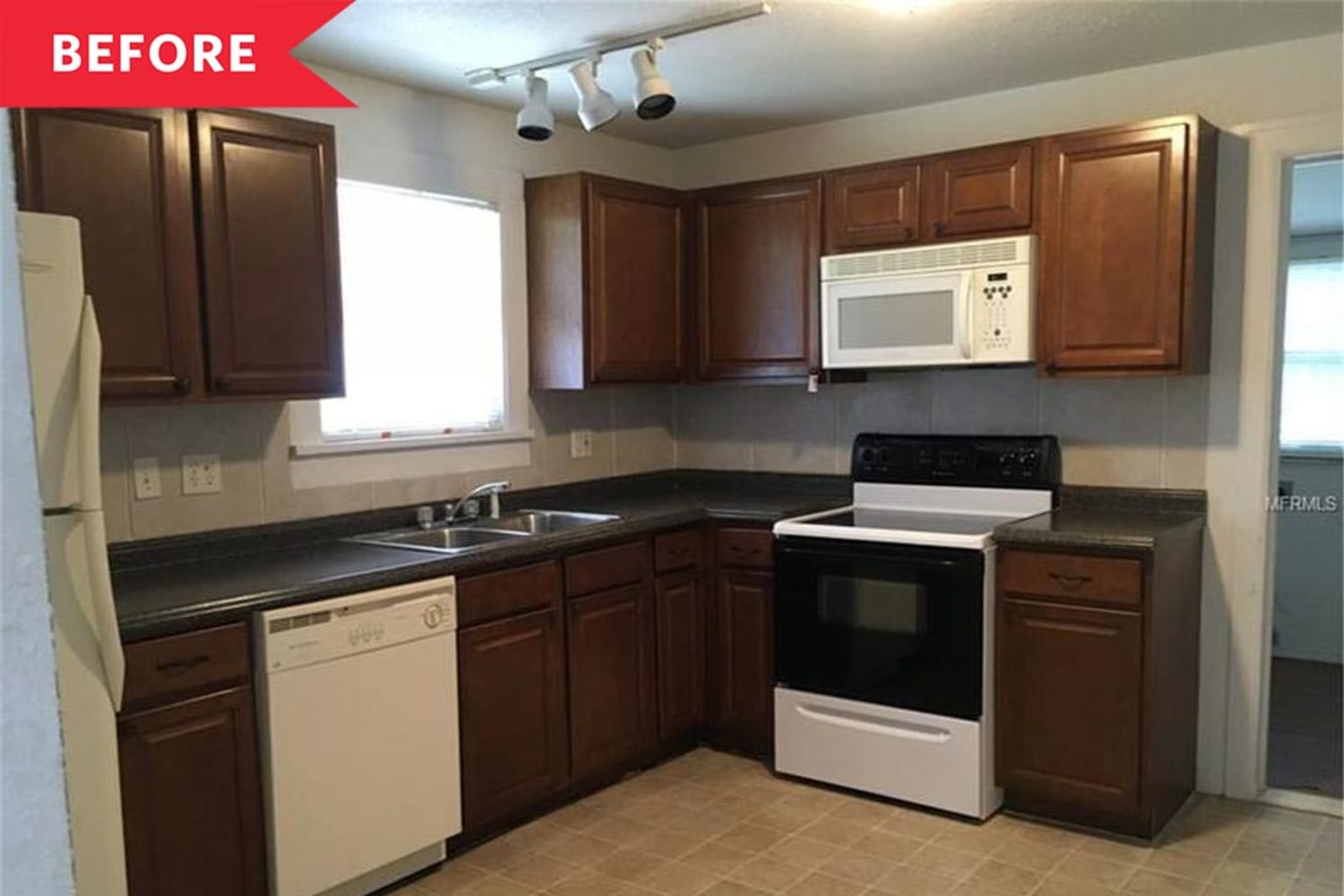 We independently select these products—if you buy from one of our links, we may earn a commission.
Kitchen renovations can feel intimidating — and that goes double when you aren't working with a ton of square footage. But as tricky as it is to work within a smaller footprint, it can also inspire you to get creative with your ideas.
That was certainly the case for DIYer Karlin Summer, whose house was built in 1925 and had a historically tiny kitchen to match (about 170 square feet). Despite its size, though, she felt like the layout held promise. "The kitchen was just at the cusp of being functional," she says.
What held it back: the lack of design elements or long-term upgrades, and the out-of-date appliances that often didn't work. The floors were covered with a peeling vinyl, and the backsplash was made of large floor tiles "haphazardly put in place," Karlin says. Fortunately, Karlin was up for the challenge: "I knew I wanted to restore a space and make it totally my own, so this kitchen that needed a lot of love was perfect," she says.
Karlin's goal for this kitchen was to create a clean look that was welcoming and original. "I love a white kitchen with lighter colors, but so many white painted kitchens are starting to look the same," Karlin says. She was determined to bring in some unique ideas that made her kitchen remodel stand out, like gold fixtures, complex shapes, and bold colors.
The first two things Karlin did were have new stone countertops installed and order new stainless steel appliances. After the appliances were up and running, the DIY remodeling began! With only Karlin, her fiancé, and her dad working on the project, it took about six months from start to finish.
"My dad has always been great at tile projects," Karlin says, so she was really excited to learn from him how to tile backsplash and floors. With his help getting started, Karlin was able to install the subway tile backsplash herself.
After tackling the backsplash, Karlin says it was way less overwhelming to take on the hexagon floor tiles. "I really love tile work now," she says."I also love setting an example for other women that they can handle tile work, too." The floors and the backsplash were both grouted with charcoal-colored sanded grout to give the tile a high-contrast look.
Next up, it was time to paint the cabinets. "This really transformed the space and was incredibly easy and inexpensive," Karlin says. After searching for a shade that was commonly used in the 1920s, she went with minty green (Behr's Spring Stream) on the lower cabinets. For the upper cabinets, Karlin used a crisp, clean white (Behr's Ultra Pure White), which helps the space feel bigger. Gold hardware on all the doors and drawers helps tie the uppers and lowers together, and a new gold kitchen faucet and the pair of hanging lights complement the gold cabinet pulls perfectly.
In total, Karlin spent about $6,000 on her kitchen renovation — a figure that would have been way higher without all of her DIY elbow grease. The results are worth the spend and the effort, she says. "I love how the kitchen is so light and bright, even with the lack of windows," Karlin says. As for the DIY aspect of the remodel, Karlin says as long as you're not putting yourself, or your home, in danger then there's nothing that can't be fixed or re-painted in a DIY project — so she advises other wannabe DIYers to just go for it. "Getting started is half the battle, and there are plenty of resources to help you along the way," Karlin says.