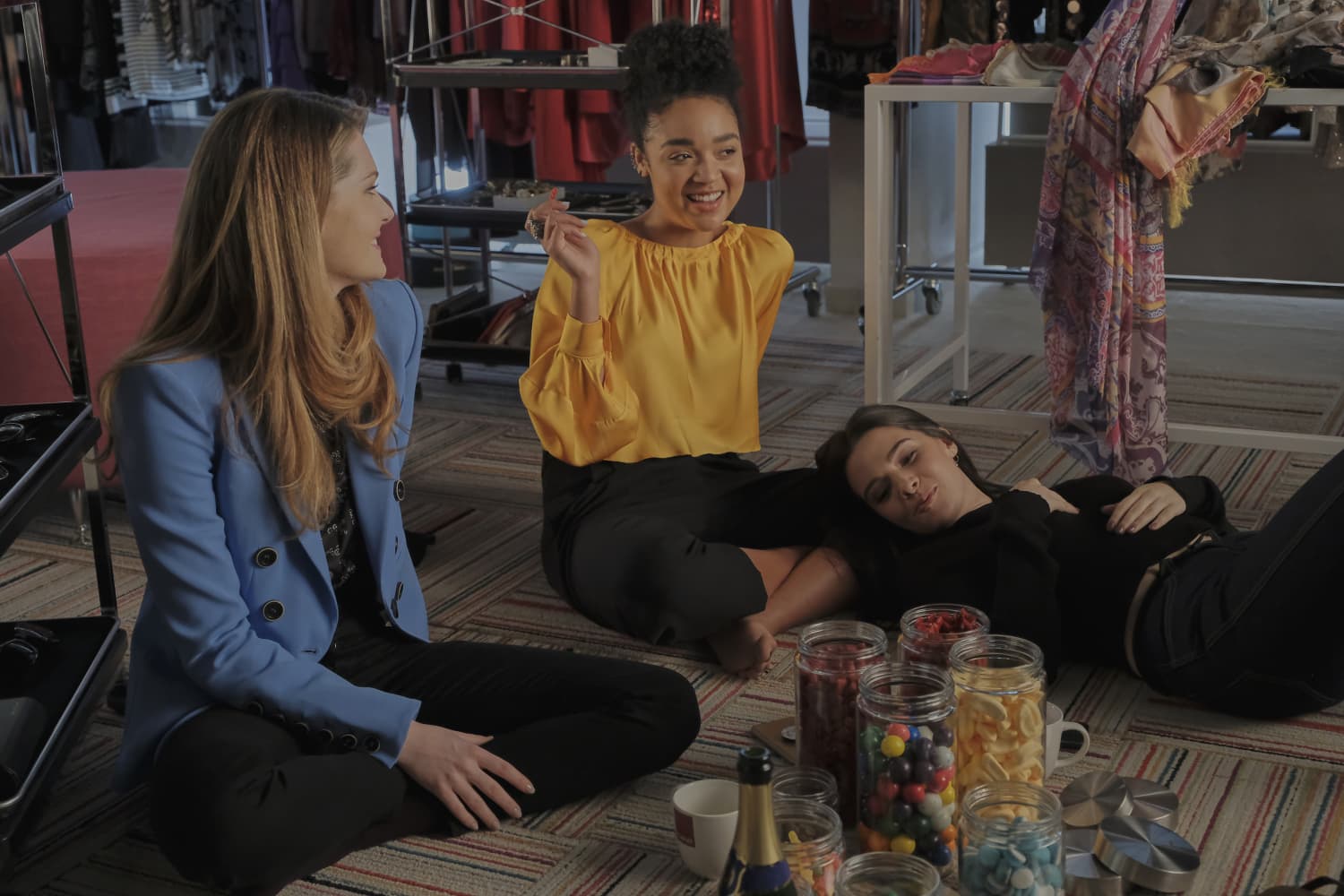 We independently select these products—if you buy from one of our links, we may earn a commission.
After five seasons, "The Bold Type" is officially coming to an end, and it's absolutely devastating. Okay, okay, devastating is a strong word, but adventures with Jane (Katie Stevens), Kat (Aisha Dee), Sutton (Meghann Fahy), and the rest of the crew as they navigate life, love, and everything in-between while working at Scarlet magazine will definitely be missed.
But you'll find it comforting to know that there are a lot of good TV shows out there that offer a similar feel. So, if you're looking for something to binge-watch after saying goodbye to "The Bold Type," then try one of these five shows:
This show is similar to "The Bold Type," both focusing on fantastic female friendships and steamy and complicated romantic storylines, but "Younger" offers a twist. The series stars Sutton Foster as Liza Miller, a forty-something year old pretending to be a 26 year old in order to land a job in the publishing industry. Sutton befriends Kelsey (Hilary Duff) and the two women work to shake up the publishing world while dealing with their own drama, including Liza's on-again, off-again love affairs with Josh (Nico Tortorella), a local tattoo artist, and Charles, her very professional boss.
Available to watch on Hulu, Paramount+, and Amazon Prime.
"Twenties" follows Jonica "JoJo" T. Gibbs as Hattie, a Black lesbian in her 20s who's struggling to get her life on track. At the beginning of the series, we learn that Hattie has big plans of becoming a TV writer, but she's unable to focus because she's homeless and too busy entertaining women who are unavailable. Much like "The Bold Type," this show highlights amazing friendships, and Hattie seeks comfort and advice from her two straight best friends, Marie (Christina Elmore) and Nia (Gabrielle Graham), who are also stumbling through their own lives.
Available to watch on Hulu and Amazon Prime.
"Good Trouble" is spin-off of "The Fosters," and it follows two sisters — Callie (Maia Mitchell) and Mariana (Cierra Ramirez) — as they leave home and move to Los Angeles to follow their dreams. The duo ends up living in a communal living apartment building with a host of interesting characters. During the series, Callie works to make a name for herself in the world of law while Mariana tackles the male-dominated field of coding. Sure, it is a little different from the fast-paced magazine world of Scarlet, but it is Freeform, which means there's a lot of drama.
Available to watch on Hulu and Amazon Prime.
"The L Word" was arguably ahead of its time when it debuted in 2004, but there was still a lot of room for improvement. In 2019, the show's creators introduced "Generation Q," which offered improvements in the form of including new characters that better represented those in the LGBTQ+ community played by more racially diverse actors. While Gen Q does bring back a few of the OG cast members, it focuses more on a group of young queer friends trying to leave their mark on the world — kind of like our ladies of "The Bold Type."
Available to watch on Hulu and Amazon Prime.
"Girlfriends" paved the way for many of the shows on this list. The series follows Joan (Tracee Ellis Ross), Maya (Golden Brooks), Lynn (Persia White), and Toni (Jill Marie Jones), who show that you don't have to have it all figured out in your thirties (though it would be nice). The series debuted back in 2000 and tackled topics such as race, privilege, HIV, sexuality, and a lot more.
Available to stream on Netflix and Amazon Prime.