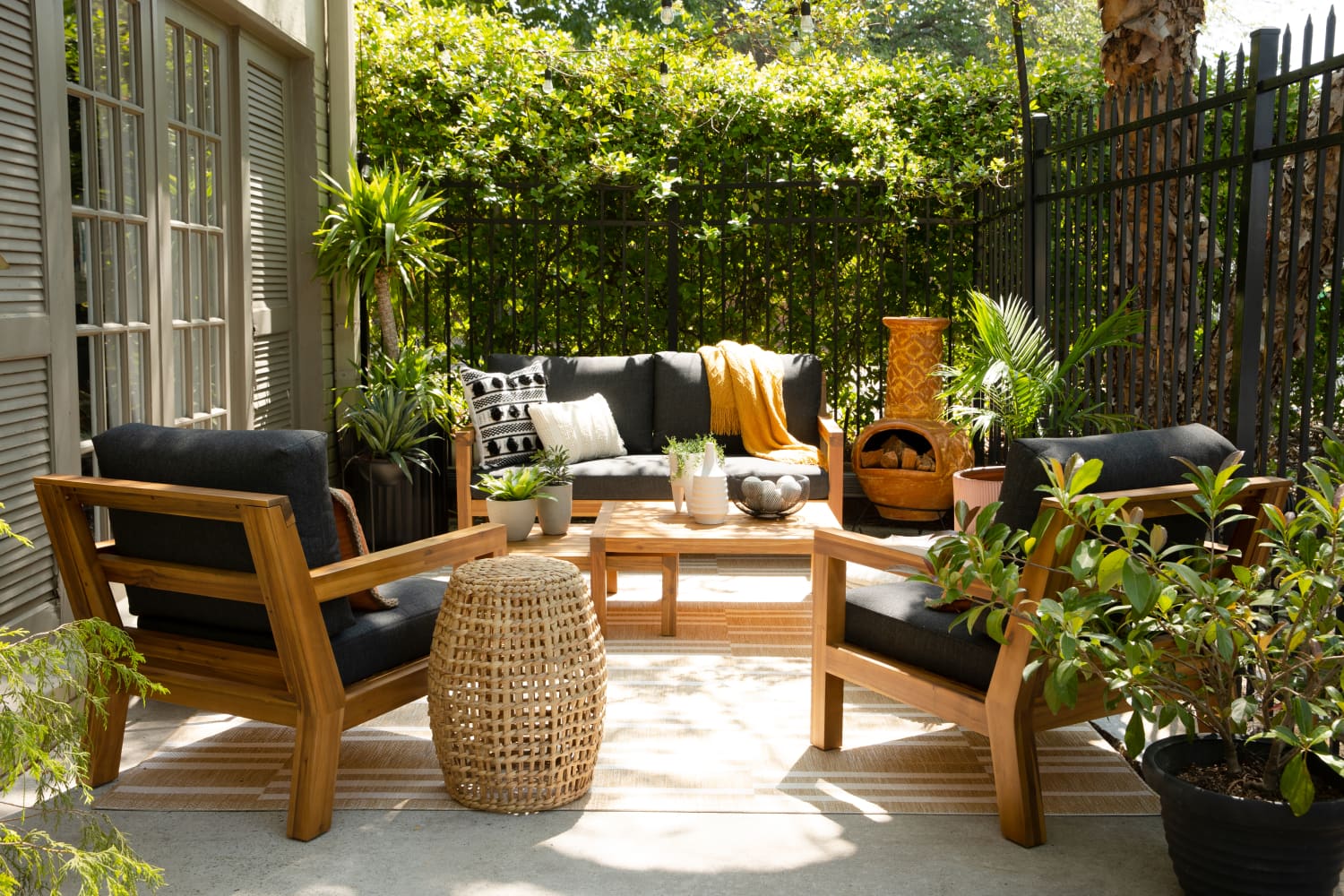 Apartment Therapy's lifestyle director Taryn Williford lives in a beautiful loft in Atlanta that over the years she has designed with a calm and comfortable touch. The loft is one of seven in a converted pickle factory, which gave the building its sweet (but briny?) name of the Pickle Factory Lofts.
Taryn describes her style as Industrial Eclectic, an aesthetic that embraces her space's former life but warms it up with cheeky tchotchkes, well-placed dramatic colors, and plants. Oh, the plants. At last count, Taryn had 37 of them, each named after a pop star. (There are five new additions without names. If you have suggestions, Taryn reads the comments!) For years, Taryn has bought her planters from At Home. At Home is a home decor superstore that carries a staggering amount of pieces at affordable prices. It offers everything from small accent pieces to large furniture in a wide variety of styles — Taryn particularly likes their concrete planters.
With the Atlanta summer already well underway (it unofficially begins on April 1), Taryn wanted to give her patio a refresh, bringing that warm industrial style outdoors. Since she'd had good luck at At Home over the years, she had a hunch they'd have what she was looking for. Here's what she found…
It's not much of a spoiler to say Taryn found everything she needed in one trip. But in addition to finding all the right patio furniture and accessories, she also came away with three takeaways on setting up an outdoor space she'll love (mostly) year-round.
1. Think of your space's "architecture"
Put away your slide rule and compass. We're talking about architecting the way people flow around a space. Taryn's patio will mostly host her and a couple friends at a time, so she was able to give up some real estate in favor of bigger furniture pieces that make the space feel really grounded. To start with, Taryn found a large (8′ x 10′) rug in natural colors that defined the seating area. The seating includes a loveseat and two armchairs from At Home's Sabana Acacia collection in a natural color, establishing a palette. Her coffee table is from the same collection, and it's actually two nesting tables that give Taryn some modular options to rearrange the space as needed.
2. Consider a continuity of style
Many of us think of our outdoor spaces as only an afterthought. It's a shame, because these areas are just as ripe for personal expression as any of their indoor counterparts. Taryn's loft has a raw urban feel — lots of concrete and cinderblocks — that she balances with well-placed natural materials that are a little more warming. She continued the look outside which makes her patio feel connected. A handmade clay chimneystack chimenea and a tall planter in terracotta continue the idea while colorful throw pillows bring out that signature Taryn Williford Pop of Bold Color®.
3. Work in a variety of textures
This rule works in any room, and a patio is no exception: One of the most overlooked tricks to make a space feel richer is to use a variety of textures. Taryn has a natural affinity for urban materials that show up in a cool bowl-concept metal planter and that Tracey Boyd concrete planter mentioned above, but she softens out the look with plenty of soft goods that are extra textural with the addition of fringe, such as a throw pillow in black-and-white and this sassy boho pouf that adds some extra ad hoc seating.