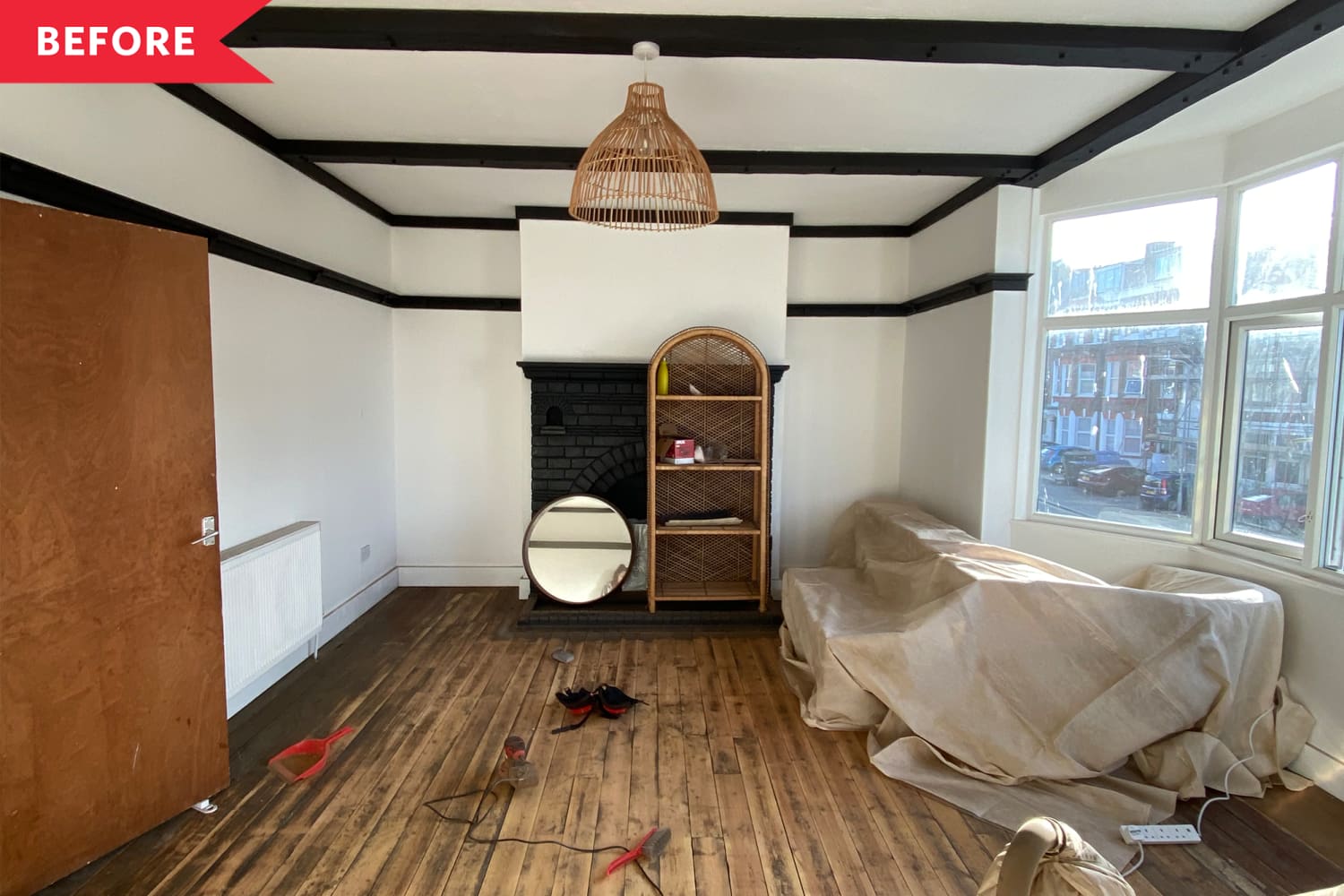 We independently select these products—if you buy from one of our links, we may earn a commission.
Name: Emma Jane Palin, Joshua John Parker, and George (Chihuahua cross Miniature Dachsund)
Location: Margate, a seaside town in the United Kingdom
Size: No idea, but a four-bedroom home (fairly large by UK standards)
Type of Home: We call it the floating house, but it's actually a coach house; it's basically a three-story house that starts on the first floor rather than the ground floor.
Years lived in: 1.5 years, renting
Interior stylist, art consultant, and blogger Emma Jane Palin and her partner, Joshua John Parker, completely transformed this rented four-bedroom coach house in Margate, UK. "I found it by putting a call out in a local Facebook group for creatives; as I work in interiors, I was specifically after something that was in need of a little love, or the landlord was totally happy with me putting my own spin on. I'm a big advocate for renters being able to make a home their own," explains Emma.
"When we first went to visit the house, there was carpet over lino, over wooden floors. There was no bathroom and the loft bedroom had no flooring at all! Now that I look back, I wonder whether taking it came out of a place of desperation, because it was a huge project for a renter to take on! We came to an agreement with the landlord for a slightly lower rent to justify the improvements we would make."
"Since then we've ripped out floors, sanded back floorboards, laid vinyl tiles, painted walls, removed textured wallpaper and much more! We've really made it our own over the last 18 months and I feel like we've now got a good grasp of what we would and wouldn't do again. Some things, like sanding floors, are just worth paying for."
Emma and Joshua will be using all the skills and lessons learned from transforming this space on their new endeavor: a recently purchased house, which Emma will no doubt be putting her own interior design spin on. She's also finishing up a fun project — a caravan rental called Club Jupiter — with two other designers, Whinnie Williams and Anna Hart.
Apartment Therapy Survey:
My Style: I'd say it's a mix of bohemian and mid-century design with lots of references to popular culture — a combination of our fashion, music and art influences.
Inspiration: The rock and roll scene of the '60s and '70s.
Favorite Element: Our vintage '70s orange sofa. I found it on eBay for £300 and I am so obsessed with it. It's low and super comfy, plus there's a matching side table with mirrored top — perfect for styling magazines and small mementos.
Biggest Challenge: There are a lot of strange layouts going on in the house, which does make it difficult. If we owned it, I'd make some major changes. One of the things that frustrates me the most is the tiny galley kitchen. It's also how we enter the house, meaning it's almost like having a kitchen in your entryway. We've had to work hard to make it feel like less of a cloakroom and more of a kitchen. I'm not sure we've managed to completely overcome that, but as I don't really love cooking, it doesn't matter to me so much.
Proudest DIY: This is a tough one. It's either the stripes and scallops I painted in the guest bedroom, or the IKEA IVAR cabinet hack. I feel like I was ahead of these trends coming in so it's brought a nice sense of satisfaction. I think that DIY hacks are perfect for tapping into interior trends as you can always change them up later on. I might even change up the cabinet with a fresh lick of paint in the near future to give it a bolder look.
Biggest Indulgence: Our Samsung Frame TV. I am incredibly fussy about TVs and I refused to have one until I could buy the Samsung Serif. This was a big investment at the time, but when the frame came out, I knew I had to have it. We saved for a long time to get one and I'm so glad we did. I absolutely love it.
Is there something unique about your home or the way you use it? As it's just the two of us, we pretty much act as if we have some kind of mansion. We use two of the bedrooms as an office and a dressing room. The main bedroom also houses Josh's studio setup as it's in the loft and has good acoustics! To be honest, I think all of our home is really unique in terms of entrance, layout, and how we've decorated it! That's why we love it.
What are your favorite products you have bought for your home and why? We're both huge music fans and have a massive music collection so sound is super vital to us. We have a Sonos x Pro-ject vinyl player, various Sonos speakers, and I love Marshall speakers, too. Our record storage is Tylko, which is another one of my favourite pieces of furniture.
Please describe any helpful, inspiring, brilliant, or just plain useful small space maximizing and/or organizing tips you have: I'm all about multi-functional furniture. I love a coffee table that serves as a desk (ours is from West Elm) or a console that's a design feature as well as storage — again Tylko is brilliant. Other than that, I recommend making use of the backs of doors and cabinets as much as possible; it's all about considering those unused spaces.
What's your absolute best home secret or decorating advice? Just do you! It's SO easy to be influenced by others, but ultimately your home is yours. I've been told so many times that I shouldn't be putting money into a rental, or had comments saying they don't like what I've done in places. These things never bother me because it's where I live, not them. As well as that, use eBay and Facebook Marketplace to find one-off pieces of furniture and decor. You need to be patient, but sometimes that statement piece can make your entire room.
Thank you Emma and Joshua!!
This house tour's responses were edited for length and clarity.